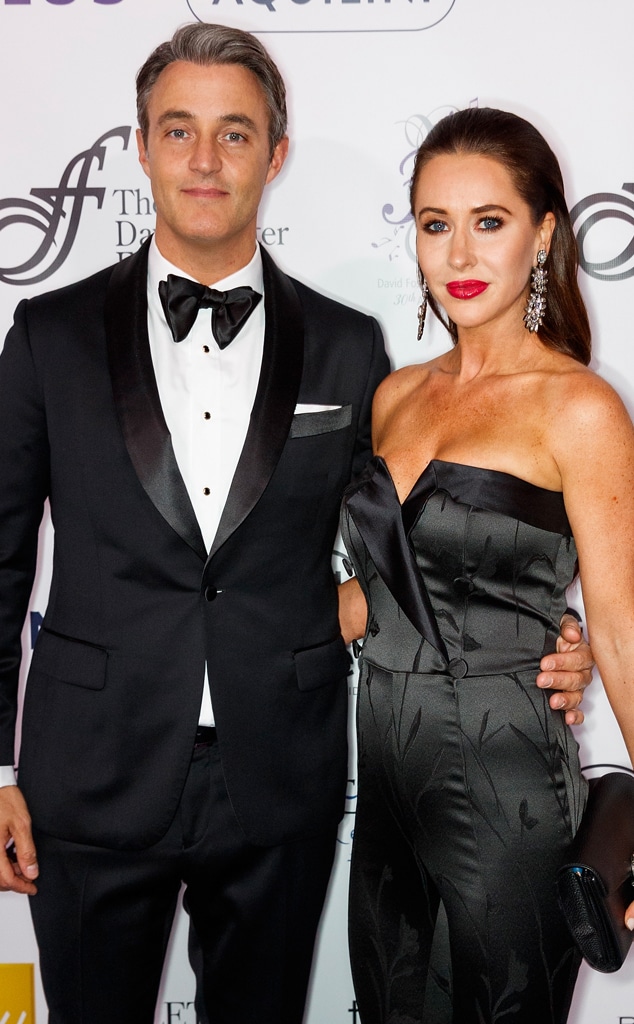 Andrew Chin/Getty Images
Jessica Mulroney's husband Ben  Mulroney announced Monday that he is "stepping down" from his role as co-host for the CTV show eTalk.
The son of former Canadian Prime Minister Brian Mulroney announced his decision on CTV's Your Morning, which he also co-hosts. He told the viewers, "I want to take a moment to speak about the situation surrounding my wife, Jessica, and the next steps I will be taking with Bell Media. I love my wife; however, it is not my place to speak for her. And today—together—we are both committed to doing the work to understand more about anti-Black racism as well as learn and understand more about our blind spots."
Ben's decision to step away from his longtime role comes two weeks after his wife allegedly made threatening remarks to Sasha Exeter, a Black, Toronto-based influencer.
During his announcement, Ben explained that in the past few weeks he's come to understand just how much he's benefited professionally because he is a white man.
"While I have certainly worked hard to build my career, I know that systemic racism and injustice helps people like me and harms those who aren't like me, often in ways that are invisible to us. This needs to change," he said.
Ben continued, "More than ever, we need more Black voices, more Indigenous voices, more people of color in the media as well as every other profession. And that is why I have decided to immediately step away from my role as an anchor at eTalk to create a space for a new perspective and a new voice. It is my hope that the new anchor is Black, Indigenous, or a person of color who can use this important platform to inspire, lead, and make change.​"
While he will no longer be an official co-host of the eTalk show, which he has hosted since its creation in 2002, Ben will maintain his position as co-host of Your Morning and will contribute to eTalk as a special correspondent for red carpet shows like the Oscars, according to a statement from CTV's parent company Bell Media.
Vice-President, Bell Media Studios and President, Pinewood Toronto Studios Nanci McLean commended the 44-year-old "for his decision" and shared the studio's excitement for their future collaborations with him. 
In the meantime, McLean stated that their Content Diversity Task Force is already searching for Ben's replacement, with the hopes of announcing a new co-host in "a few weeks."
Nearly two weeks ago, Sasha publicly accused Jessica of using her "white privilege" to "threaten" her career by allegedly suggesting she planned to contact brands and companies Sasha often works with.   
Jessica has since apologized for her role in what she described as a "disagreement" that "got out of hand." In a statement to Instagram, the public figure said, "I want to say from my heart that every word of my apologies to Sasha over the course of the last two weeks privately, and again both publicly and privately today is true. I did not intend in any way to jeopardize her livelihood."
However, the backlash against Meghan Markle's stylist and close friend has been swift. On the day that Mulroney publicly apologized, CTV stated they would no longer air her reality show I Do, Redo, as her alleged actions conflict with their "commitment to diversity and equality."
In addition, Hudson's Bay, Citytv and Good Morning America have revealed they will no longer be working with the stylist. 
Mulroney has since retreated from the spotlight and said in her last post to Instagram that she will use this time "reflect, learn and listen." 
Since speaking out about her alleged interactions with Jessica, Sasha has also stepped away from social media, save for one occasion when she revealed she has been the target of "threats." According to The Toronto Sun, she said on her Instagram Story, "Threats to my personal safety will not be tolerated."