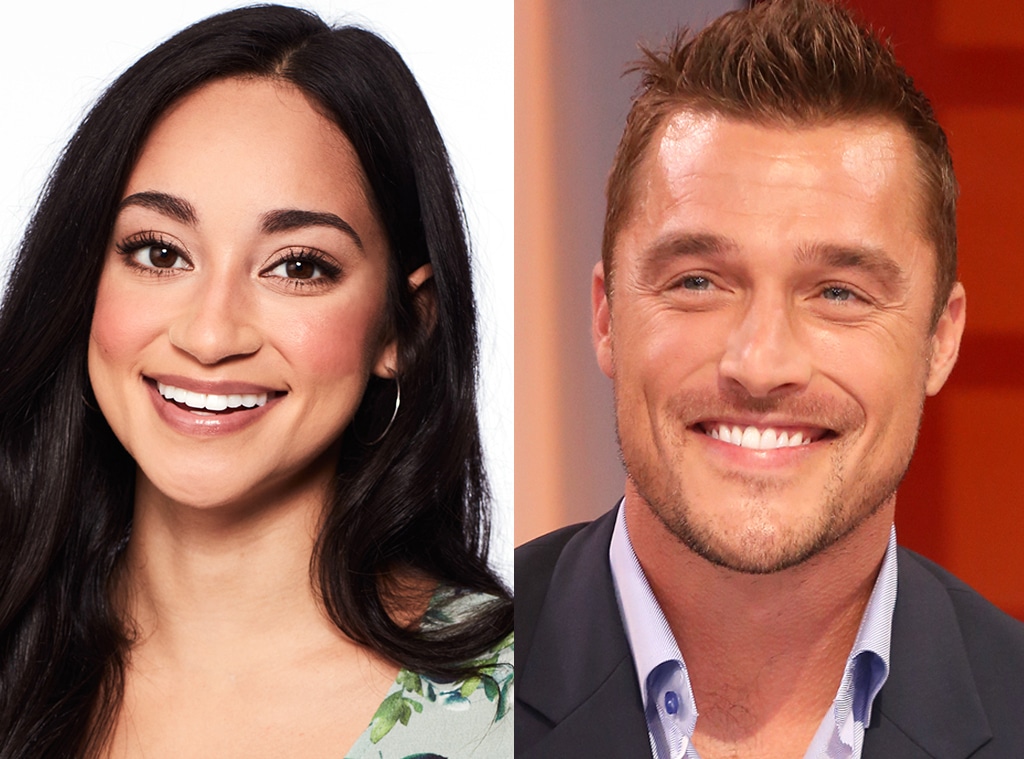 ABC Press, Fred Lee/Walt Disney Television via Getty Images
A picture says a thousand words!
After sparking romance rumors for a few months now, Bachelor Nation stars Chris Soules and Victoria Fuller aren't hiding any longer. Over the weekend, the two stepped out and posed for a picture during an afternoon date in Fuller's hometown.
The duo, who has yet to confirm their relationship themselves, snapped their first photo together at the local Leaping Lizard Cafe & Bakery in Virginia Beach, VA.
"Loved having the cutest Bachelor couple join us for lunch today! Thanks for coming," the cafe shared on Instagram, alongside a snapshot of Chris and Victoria smiling and hugging each other.
For their Saturday outing, the pair kept things casual and chic. The Bachelor star dressed up in a pastel green two-piece set, which entailed an oversized denim jacket and mini skirt. The former Dancing With the Stars contestant donned a baby blue plaid shirt and jeans.
Back in April, Chris and Victoria sparked romance rumors after multiple publications reported they were seeing each other.
RealitySteve was the first to stir up pot on Twitter. 
"(EXCLUSIVE): One of the more random Bachelor 'couples' that I can't say I ever would've guessed," his tweet read at the time. "I don't know how long this has been going on or how serious it is, but I can confirm that Victoria Fuller is currently together in Iowa for the week with Chris Soules. Discuss." 
Following RealitySteve's post, Us Weekly reported (through its sources) that "Chris slid into Victoria's DMs... He apparently DMs a lot of people."
A few weeks later, Victoria added more fuel to the fire after posting an Instagram picture with the location tag, "Arlington, Iowa," where Chris lives. "Farm life," she captioned her post.
Watch:
Chris Soules to Pay $2.5 Million in Fatal Car Crash Settlement
Bachelor Nation fans first met Chris on Andi Dorfman's season of The Bachelorette. While he didn't win Andi's heart, we would soon be in charge of handing out the roses when he was announced as The Bachelor.
During his season of the ABC dating series, he proposed to Whitney Bischoff. However, they both decided to go their separate ways and ended their engagement shortly after the show.
In 2017, Chris was arrested following a car crash in Iowa. At the time, the Iowa State Patrol told E! News that he was driving his pickup truck, and rear-ended Kenneth Mosher's tractor trailer. The Bachelor alum was accused of leaving the scene of the accident before law enforcement arrived. He was arrested at his home. Kenneth was taken to a nearby hospital, and soon after, he was pronounced dead. 
A year later, Chris entered a conditional guilty plea to leaving the scene of the accident resulting in serious injury. In 2019, he accepted a suspended two-year prison sentence to serve two years on probation. He also reached a $2.5 million settlement with the Kenneth's family.
Victoria appeared on Peter Weber's season of The Bachelor, which aired last year. She was one of the final three women in the dating series, however, went home after the fantasy suite dates.
Soon after her time on the ABC franchise, she came under fire after a past campaign she modeled for had resurfaced. She appeared to model in "White Lives Matter" merchandise, which was apparently done for a marlin conservation group.
She issued an apology following the backlash.
"The company 'We Love Marlins' is in support of catching white, blue & black marlins and releasing them back into the wild," Fuller wrote on Instagram at the time. "In regards to a sensitive topic, I come from a very diverse background & am in support of all races! Virginia Beach is a VERY large fishing town where marlin tournaments are held every year! Glad to clear this up."