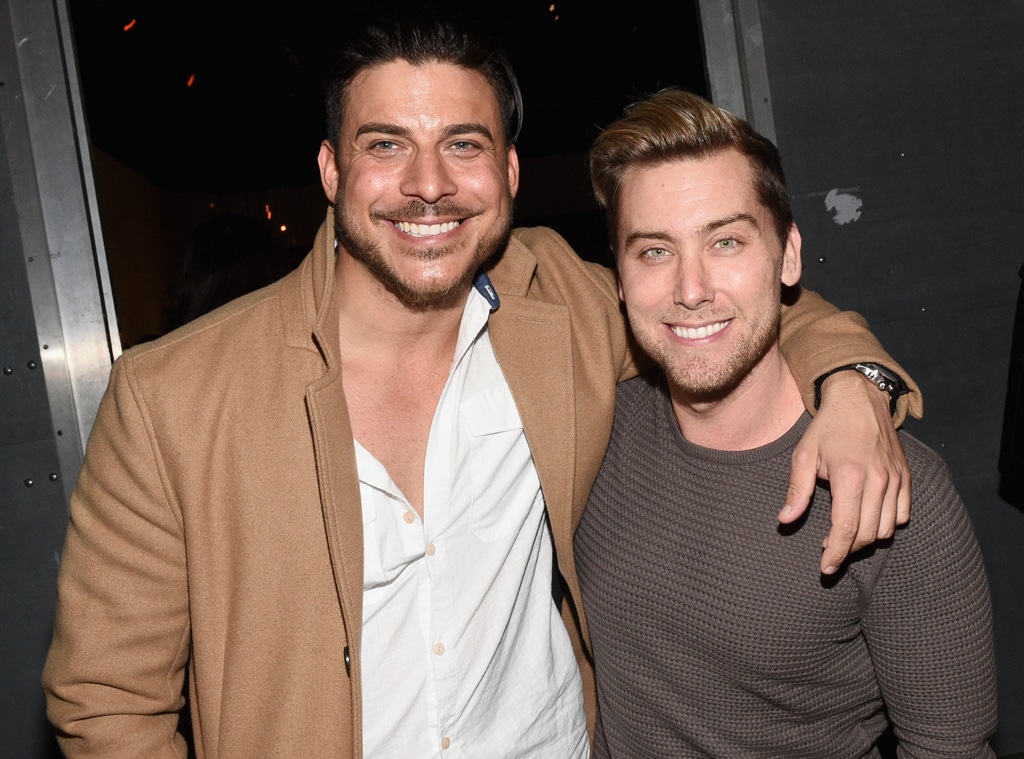 Michael Buckner/Getty Images for Chevrolet Volt
Lance Bass is giving his side of the story.
On Monday's episode of Daily Popcast, Bass revealed that Vanderpump Rules star Jax Taylor was "stepping down" from Just Add X, the drink company the two recently launched. His comments prompted a response from Taylor's rep, who told E! News that Lance's statements are "not only untrue but also extremely confusing and shocking to say the least."
Today, on the latest episode of his podcast, Bass said he wanted to clarify what happened in regards to Taylor's involvement with Just Add X. According to him, the two had a text exchange amid what was "going down with [the Vanderpump Rules] cast and everything." Just last week, Stassi Schroeder and Kristen Doute were fired from the Bravo show following former cast member Faith Stowers' claims that the two had called the police on her. (Stassi and Kristen have since apologized.)
"He text[ed] and said, look, I think it's smart for me to step down," Bass recalled. "And we're like yes, that is the only we can do right now. And it sucks. And it's very big of him to, like, get that."
Bass continued, "But then the publicists and managers get involved, and lawyers, and just threw the biggest wrench in everything. And basically said I was lying that he's stepping down."
According to the statement from Taylor's rep, "Last week the Just Add X website had been hacked, showcasing some hateful slurs, which Jax felt horrible about. In an emotional state, Jax had texted Lance and the Just Add X team offering to step down from the company if that was the direction they wanted to take. The team immediately followed up with a phone call with Lance and the team reassured and fully supported him."
"Well, you want to know what really went down?" Bass said after one of his Daily Popcast co-hosts read the rep's statement.
But before he delved into any specifics, Bass wanted to make one thing clear after Monday's podcast episode, in which he and his co-hosts discussed some of Taylor's problematic behavior.
"Look, I'm gonna preface this right now 'cause I know we have a lot of new listeners here. So, I do not think Jax Taylor is a racist. Or a homophobe," Bass explained. "And I've said that millions of times. I would not be acquaintances with someone if I thought you were a flat out racist or homophobe. It just doesn't make sense."
Bass added that the "whole reason" he agreed to officiate Taylor and Brittany Cartwright's wedding last summer, was because he was replacing someone who had made homophobic comments. 
"To me, that was a statement. And I thought it was big of them to make that statement," Bass expressed.
He went on to further clarify his side of the matter, starting with how he became business partners with Taylor in the first place: through a mutual friend, and Just Add X's CEO, James Kirtley.
According to Bass, when he and James were in the beginning stages of building what would become Just Add X, they realized, "Wow, like on the show, Jax is looking great. Like, he looks reformed," Bass said.
He continued, "And all that past stuff of cheating and all that, you know, he's got a great fiancée now. They're getting married. He's so pleasant to be around. Zero drama. Like, nothing. He changed. He turned his life around. And we all saw it, we all watched it, you know, on television."
Bass said James later approached Taylor, telling him, "This is now your opportunity to show that you've grown up. Take responsibility. You're an adult. Now you need to show the world that you can have your own company and you're looking for the future." 
"So, you know, I was happy to back him and believe in him I always want the best things for him," Bass explained. "But then, this season started airing, and he reverted back to the same crap that he was spewing."
Bass added that hasn't "heard anything racist come out of [Taylor's] mouth," but that he's heard of tweets that "everyone's pissed about." He also acknowledged the comment Taylor left on 90 Day Fiance star Ashley Martson's photo of her and her husband. According to a screenshot Martson posted last week, the comment read "Your mans nose is the size of his head..." 
Ultimately, Bass closed out the conversation with an apology.
"I know this is all just a lot of words, but I mean, hopefully that answers questions out there," he said. "I'm an open book. I want to do the right thing. I'm trying to do the right thing. I make bad decisions. I'm ignorant. A lot of stupid things. I should've known better. But I'm just trying to do the right thing.
He continued, "So, sorry this got dramatic. But I have to defend myself. Once someone calls me a liar, I gotta tell you what happened. I felt like I needed to go on record."
Listen to entire Daily Popcast episode here. 
(E! and Bravo are both part of the NBCUniversal family.)