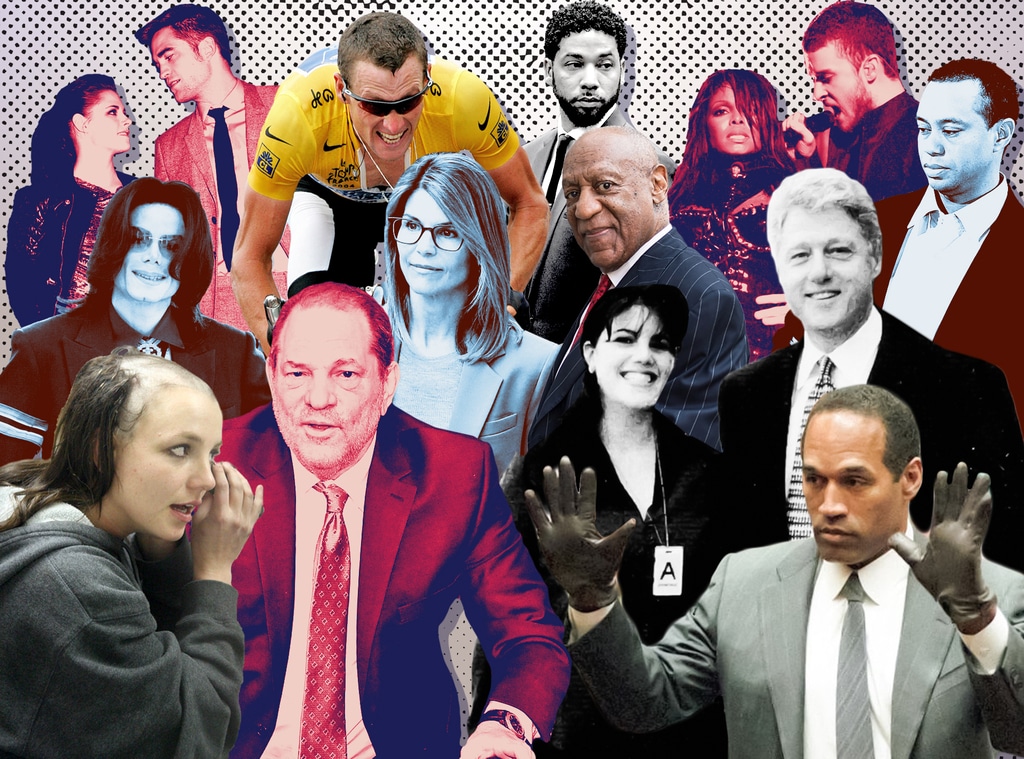 Getty Images; X17; Melissa Herwitt/E! Illustration
This June, E! turns 30! To celebrate we're looking back at the most monumental moments in pop culture.
Even before the events of the past few weeks and months shifted our perspective on pretty much everything, what does and doesn't constitute a scandal has always been awfully subjective. One person's OMG is another's half-hearted shrug and all. 
And to be fair, Hollywood's had more than a handful that run the gamut from garden-variety (think a solid early 2000s Hilary Duff-Aaron Carter-Lindsay Lohan love triangle or a surprising celeb split á la Blake Shelton and Miranda Lambert) to mildly shocking (Ariana Grande's #donutgate, any breakup that can be attributed, at least in part, to the nanny) to the type of wrongdoing that involves a potential jail sentence. 
Watch:
5 Biggest Scandals of 2019 - Just the Sip
And while those are the ones that garner the most attention (see: Cosby, Bill, Weinstein, Harvey), a situation doesn't have to involve a courtroom to get people talking as evidenced by how many fans weighed in on Kanye West, Kim Kardashian and Taylor Swift's salacioussssssss feud. 
Bottom line: we all love a juicy controversy—the fights, the infidelity, the inevitable missteps that happen when your life plays out on the biggest stage. It affords us a chance to dissect every detail, hash it out with friends and share our opinion with whomever on the Internet deigns to listen. 
And the truly groundbreaking ones become embedded into the fabric of our own stories. Who among us (that was of a certain age in the 90s, that is) can't remember where they were when they heard about O.J. Simpson's slow-moving chase taking over L.A.'s freeways or waking up that morning in 2007 to discover how truly wild Britney Spears' previous evening had been? 
There are some celebrity mishaps so mind-blowing, so preposterous, so straight-up fascinating that we simply can't pass up an opportunity to talk about and obsess over each jaw-dropping detail. And the past three decades have delivered more than a few. Pour yourself a piping hot cup of tea and relive all the insanity.