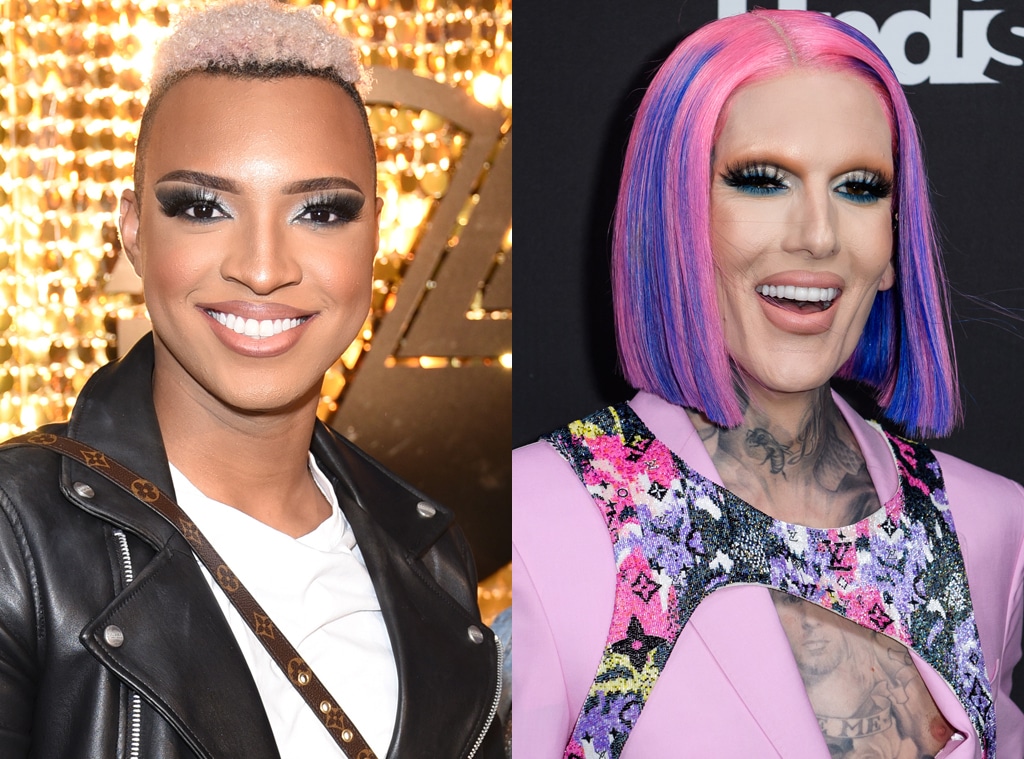 Presley Ann/Getty Images for Patrick Starrr / Jason Koerner / Contributor
Beauty YouTube star Kameron Lester is sharing his story.
The 23-year-old makeup artist and influencer recently opened up about his experiences with Jeffree Star, and how he felt "manipulated," like the "token Black kid" and "uncomfortable" in certain situations.
In addition to cutting ties with Jeffree, Kameron also explained why he will "no longer support Jeffree Star Cosmetics or Shane Dawson."
"Hi guys, I want to get on my platform and just be [as] transparent as possible... I really have been super scared to use my platform, I've been super scared to speak from my heart and speak up for myself," Kameron began his 27-minute IGTV video.
Kameron discussed his relationship with Jeffree and how he felt they were never truly friends.
"I just felt like it was never a friendship, it was never a friendship in the beginning to start with, it was always just something like I was the kind of like the token black kid," Kameron expressed.
Moreover, he opened up about the time he and Jeffree worked together on a beauty campaign for Jeffree Star Cosmetics. Kameron modeled for the YouTuber's eponymous cosmetics company once, and revealed that he was set to do another campaign but was replaced by his "ex-best friend," who he doesn't name.
"I felt like [Jeffree] was trying to send the message in some way that I was replaceable as a Black boy," Kameron said. "I felt like this was a game. Even with Shane Dawson posting me on his platform... I was grateful, but I felt like it was kind of to silence me to be like 'We're gonna keep giving you breadcrumbs and hanging you by a string and manipulating you so you can stay quiet.' I felt always silenced."
On June 4, Shane promoted Kameron on his Instagram page, along with others, to highlight his "favorite makeup artists."
Watch:
Jeffree Star Talks Feud With James Charles & Is "Not Friends" With Tati
In the video, Kameron also touched on an experience with Jeffree that he says took place during a shopping trip. According to the 23-year-old, Jeffree asked him if he liked fellow YouTube star, James Charles.
"I didn't even know what to say to that...," Kameron recalled of the question. "[Jeffree] was so blunt and out of nowhere. James helped me with my career when I first got into the beauty space... he's always been very supportive of me. [Jeffree] was like, 'Well you don't f--king owe him forever.'"
Another moment that stood out to Kameron was when he allegedly spoke to Jeffree about Jackie Aina, another prominent figure in the beauty community on YouTube.
"I brought it up to [Jeffree] and said, 'It would really say a lot if you could apologize to Jackie and the community.' He kind of shut it down and said, 'She doesn't deserve a f--king spot on my platform,'" Kameron said of their conversation. "Which is understandable, and it is his platform, and he has all rights to do whatever he wants to do on his platform. I just left it at that, but I was definitely hurt as a Black boy and as a Black influencer who loves Jackie, that he was not trying to grow or amend that disconnect or wrongdoing he has done."
Kameron explained that from this day forward, he "will no longer just be the token Black boy."
"I will no longer just be the Black boy that is there to make you look good or speak up for you, because it's not reciprocated," he shared. "As a Black beauty boy, I have fought for my spot to be heard and seen in the beauty community... I have been told not to say anything, to keep the network and benefit from it, and I'm just not that type of person. I want to remain authentic."
At this time, Jeffree and Shane have yet to publicly address Kameron's claims. However, the Instagram page Here for the Tea 2 alleges Jeffree reacted to Kameron's accusations with a "voice note."
"This is a voice note Jeffree Star allegedly sent to Kameron Lester following Kameron's IGTV where he publicly cut ties with Jeffree," Here for the Tea 2 claimed.
"That is the most craziest and manipulative and most insane thing I've ever heard in my entire life," Jeffree allegedly said in the voice note. "I know you're upset... and now people are coming for you for supporting me, so you trying to flip the script and make up a bunch of lies and make me the devil, is so boring."
Following the Instagram account's post, Kameron took to Twitter and further called out Jeffree and his alleged response.
"He was just preaching about Black Lives Matter on his platform. Then send this to a black gay beauty boy who just said he was scared for his life because of his manipulation tactics. He sent this voice note to keep painting a narrative that I was lying and doing all this because... I was upset with the things going on in my life. Trying to spin the narrative and plant the seed that everything was false was why that voice note was sent. This man is 34 and I'm 23 he knows how to maneuver and exactly what to say and how say."
E! News has reached out to both Jeffree and Shane's reps for comment, but have not heard back.
You can watch Kameron's full Instagram video above.