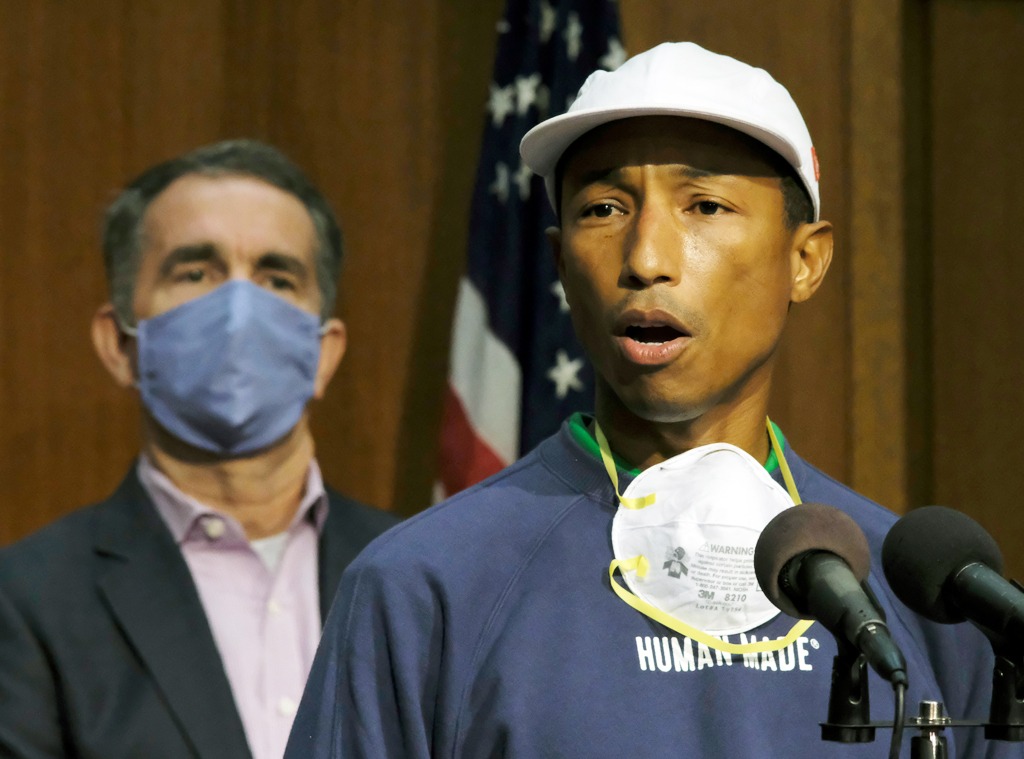 Bob Brown/Richmond Times-Dispatch via AP
Pharrell Williams is helping to make history in his home state of Virginia.
On Tuesday, the musician joined Virginia Gov. Ralph Northam at a press conference to propose that June 19—the day that the Emancipation Proclamation was signed—is officially made a state holiday. Virginia would be the second state in the United States to make the historic date, or Juneteenth as it's referred to, a holiday, the first being Texas.
During the press conference, Pharrell, a native of Virginia Beach, said of the proposal, "This is our chance to lead, to truly embrace the importance of Juneteenth and to treat it as a celebration of freedom that Black people truly deserve."
According to Northam, all state employees would be given a paid day off to celebrate the newly minted holiday. Although, Williams added, "I would like to see corporations that call Virginia their home give people the paid day off." 
June 19 is a significant date in American history, as it marks the day that the Black people of Texas learned they were no longer slaves. While President Abraham Lincoln signed the Emancipation Proclamation in January 1863, it didn't apply to states that were in the Confederacy until the Civil War ended in April 1865. When Union soldiers, led by Major General Gordon Granger, arrived in Galveston, Texas on June 19, 1865 with news of the war's end, Black people celebrated their freedom and the abolition of slavery. 
Watch:
Teen Activist Organizes Peaceful BLM Protest Amidst Adversity
According to The Virginian Pilot, Williams told reporters at the press conference, "From this moment on, when you look up at the vastness of the night sky and you see stars moving up there, know that those stars are our African ancestors dancing. They're dancing in celebration because their lives are finally being recognized."
While legislators contemplate making June 19 a holiday, companies have taken matters into their own hands. Nike, Twitter, the National Football League, Target and more join a growing list of corporations that have declared Juneteenth a company holiday.
To learn how to take action and get involved with the Black Lives Matter movement, please click here.