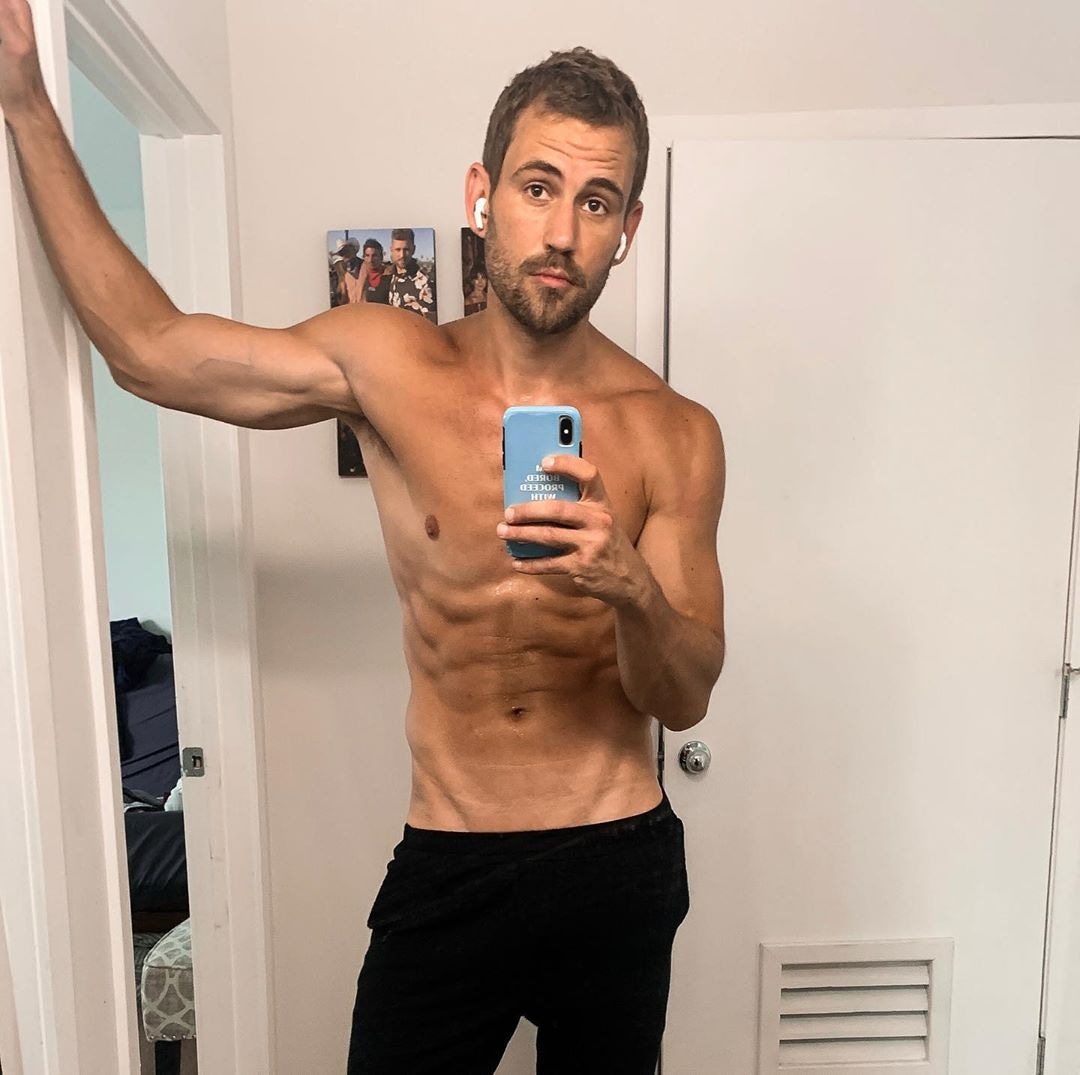 Instagram
Nick Viall is responding to comments about his appearance.
On Monday, the Bachelor Nation star took to Instagram to share a shirtless selfie with his social media followers. Explaining his reason for posting the photo, Nick wrote, "Because I get dumped AGAIN on National TV tonight."
Nick's caption was a reference to Monday night's airing of The Bachelor: The Greatest Seasons—EVER!, during which ABC replayed his "failed" proposal to Kaitlyn Bristowe in 2015. After posting the shirtless selfie, Nick began to receive a number of comments about his weight.
"90lbs soaking wet...I am sure there is a steak out there with your name on it," one commenter wrote. After reading the comment, Nick replied with the weight, "190 lbs."
And in response to a social media user who wrote, "So thin you need a burger," Nick replied, "Ate 5 this week."
Many fans also came to Nick's defense after reading the comments, with one social media user writing, "Hey just to be clear, body shaming is body shaming at any weight or size and it's never ok."
Nick then addressed his followers in a separate post.
"Dear internet. I never thought you would make me self conscious about my body. Yet I woke up to hundreds of comments on my last post about my weight, eating habits, and mental health all from posting a post workout pic where I looked particularly lean," he began. "I have never lacked confidence about my body (I know this isn't news to most of you) but if the internet can get to me it can get to anyone."
He also advised them to be careful with their words before giving "feedback on people's physical, emotional, or mental health."
"I don't want to even admit that the comments made me feel self-conscious, but I assume many of you would think I can't be bothered," he continued. "So I'm here to say it did. I hope that's OK. I don't feel like I should have to say that the past few months I have been running 4 miles a day and feel like I am in the best shape of my life. Or that I eat bacon and snickers ice cream bars [every day]. If [I] told you how much pasta I eat, I would just annoy you. The point is, the next time you want to criticize someone based on a bad angle, just be careful. A pic doest tell people's story. You could be stripping down months of work and process someone has made on their own self improvement. And god forbid you cause them to never want to post shirtless selfie again. Me…I'll be ok (I'm still pretty sure I look fantastic naked)."
Hours before posting the shirtless selfie, Nick took to Instagram to reflect on his proposal to his ex, Kaitlyn.
"It was like waving at someone who's waving at the person behind ... but million times worse," the 39-year-old star wrote. "TBH I look back on this time of my life and have nothing but positive memories. I just didn't think ABC would make us relive the entire failed proposal tomorrow night..It really was a season for the ages."
Watch:
Kaitlyn Bristowe & Jason Tartick Aren't Rushing to the Altar
"You never know how you view things as time passes," Nick continued. "Glad to be able to call KB a good friend!"
In response to Nick's post, Kaitlyn commented, "WHY DIDN'T YOU PUSH ME IN THE POOL?" Before adding, "Also, so glad we are friends now too."