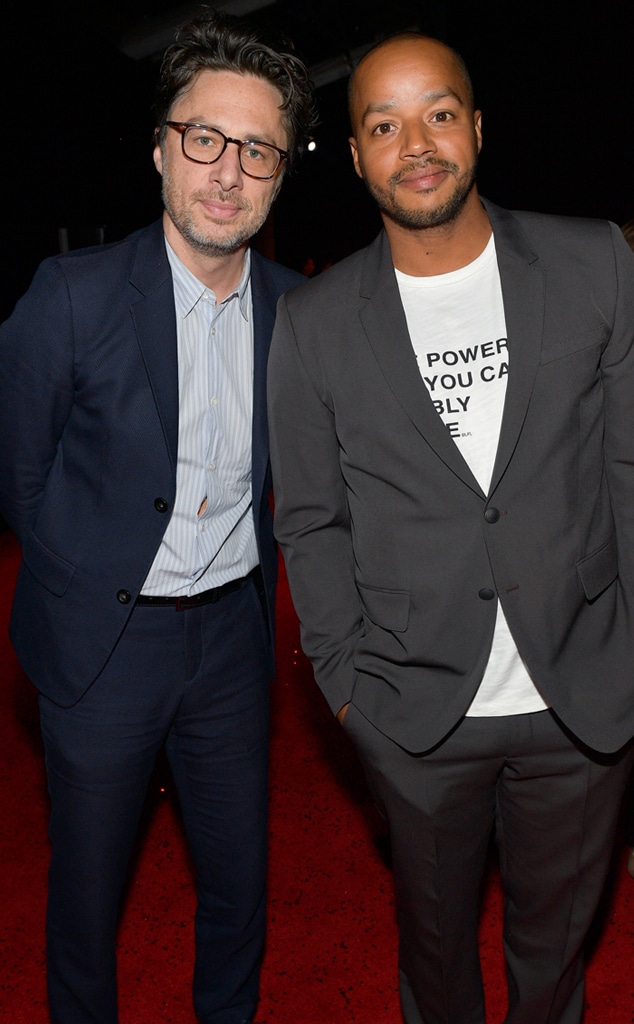 Matt Winkelmeyer/Getty Images
Donald Faison and Zach Braff are ready to have tough conversations.
During their visit to The Kelly Clarkson Show, the Scrubs co-stars and best friends encouraged fans to speak more openly about race. Pulling from his own experiences, Faison shared that he's been "judged" based on his skin color in the past.
"When you're a kid, you don't look at color. Your friends are your friends, you know what I mean?" he told host Kelly Clarkson. "And it's not until your parents get, you know, into your head or outside influences get into your head and tell you that people are different than you are. So, I encourage everyone who is not a minority or not a person of color to really learn about people of color by listening and doing your research."
"It's very, very scary to be judged by the color of your skin," he continued. "It's happened to me quite a bit my whole life." 
"Even how people describe me on Scrubs," Faison added. "I'm the Black guy from Scrubs. I'm not even one of the actors from Scrubs. I'm the Black guy from Scrubs." 
The Clueless star then encouraged fans to educate themselves. 
"Once you educate yourself, you'll be able to see that everyone is pretty much the same. We might do things differently, but we all are the same and together, we can abolish racism," Faison shared. "And it's everywhere. Also, once you recognize that—once you recognize racism is everywhere; it never left. It's always been here. It's not a surprise that this is going on right now. It's finally coming to a head is what's happening. It's been here forever. And once you don't take that for granted and you recognize that there's racism out there, you'll start checking yourself."
For Braff's part, he explained that recent events have shed light on how he could be a better ally. 
"I grew up in New Jersey and New York and L.A., so I've always grown up in very diverse places," he recalled. "It was never, you know, having African American friends and Hispanic friends and Asian friends—I mean, I grew up in an area where I thought there just as many Jewish people as Christian people because I grew up in an area where there were so many Jewish people." 
Crediting his upbringing with giving him "a leg up in a sense of loving and being around people of all different types," the Garden State star pledged to be more proactive moving forward. 
"I think this conversation is new, for me in a sense, because I'm now going—as I'm listening to everyone whose speaking and reading, I know that I too have lots to learn," Braff said. "It's not enough to just say, 'Oh, my best friend is a Black man.' It's not enough to say, 'Oh, I grew up with a diverse population.'"
Watch:
Black Lives Matter Protests That Are Changing The World
"There's ways that I can be way more proactive than I'm being. I can't just be—just sit back and go, 'Oh, no. I'm cool. I have a Black best friend.' I mean, that's B.S.," Braff continued. "There's plenty of ways I haven't been proactive in my own life and my own privilege. And I'm really learning that now. I'm taking this opportunity to really listen and to really learn and to see how I can improve my way of being as well."
After Clarkson applauded the duo for being open to leading the discussion, Faison explained that there's more work to be done.  
"It's all for naught if we don't continue the conversation and the conversation needs to continue," he said. "It's not just about police brutality. It's also about equal rights. It's about everyone being able to live in America the way everyone else does. I should be able to—you said, you know, walking into a store and getting your bag checked—that doesn't even faze me anymore because I'm used to it...It is exhausting." 
"But we're at the point where the conversation is being talked about, and more than usual; more than it used to be," Faison concluded. "And I am very appreciative for everyone who is willing to learn and listen. I'm very appreciative for that. I'm glad that we are all taking steps in the right direction. We still have a long to go, but we're taking steps in the right direction."
(E! and NBC are both part of the NBCUniversal family.)