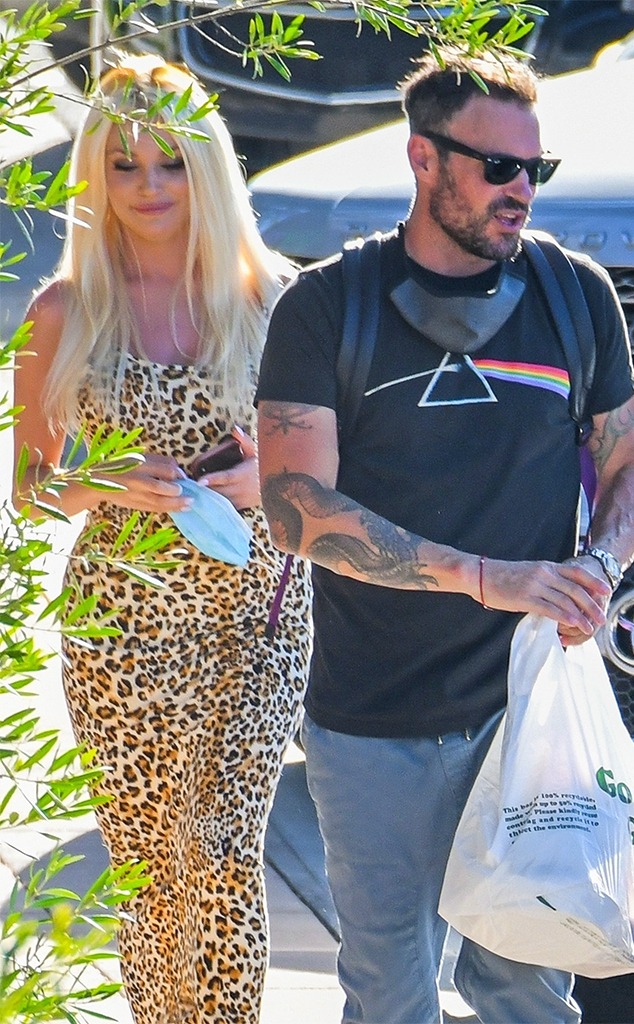 BACKGRID
It looks as though Brian Austin Green is ready to move on after his recent split with Megan Fox. 
The 46-year-old actor was spotted out and about on Monday, June 15, with Courtney Stodden. While Stodden kept it cute and chic, rocking an all leopard print ensemble, Green was looking casual in a black T-shirt and jeans. 
According to an eyewitness source, the two seemed quite friendly during their outing to Mejico Grill in Agoura Hills, Calif. The eyewitness source added that Green was "very attentive to her" and "opened the door for her when she got in the car." 
"They were laughing together in the car," the eyewitness shared. Although it was a brief and quick trip out, the two seemed happy to be in each other's company. 
Green and Stodden's outing comes weeks after Fox was spotted for the first time since the actor confirmed the two were going their separate ways during an episode of his podcast ...With Brian Austin Green in late May. The 34-year-old actress, at the time, was photographed grabbing coffee and running errands, rocking a black T-shirt and leopard-print pants. 
At the time, Green told podcast listeners that Fox had gone on a five-week work trip last fall and when she was away, he dreamt that the couple became "distant" upon her return. When the Transformers actress came back, she assured him that everything was fine. Nonetheless, Green still felt like the two were distancing themselves from each other. 
"She said, 'You know what? I realized while I was out of the country working alone that I feel more like myself and I liked myself better during that experience. And I think that might be something worth trying for me,'" Green added. "And I was shocked, and I was upset about it. But I can't be upset at her. And I wasn't upset at her because...she didn't ask to feel that way. It wasn't a choice she made. That's the way she honestly felt."
Watch:
Brian Austin Green's Cryptic Post After Megan Fox Seen With Machine Gun Kelly
"She's always been honest with me. I've always been honest with her. We've had an amazing relationship. I will always love her, and I know she'll always love me. I know that, like, as far as a family, like, what we've built, it's really cool and it's really special," Green continued. "So, we decided, 'Let's make sure we don't lose that. Let's make sure that, no matter what, we're always friends with each other and we're a united front with the kids. And we'll still do family vacations and we'll do holidays as a family and really make that a focus for the kids.'"
During the podcast episode, Green also addressed the romance rumors that were floating around about Fox and Machine Gun Kelly but denied that it played a role in their separation.
"I don't want her to be looked at in a negative way or him to be looked at it a negative way for doing that," Green explained. "That's what good people do. Good people step up and help people that need help, and that's what he is doing."
Fox and Green started dating in 2004. The two wed in 2010. They share three children together: Noah, Bodhi and Journey.