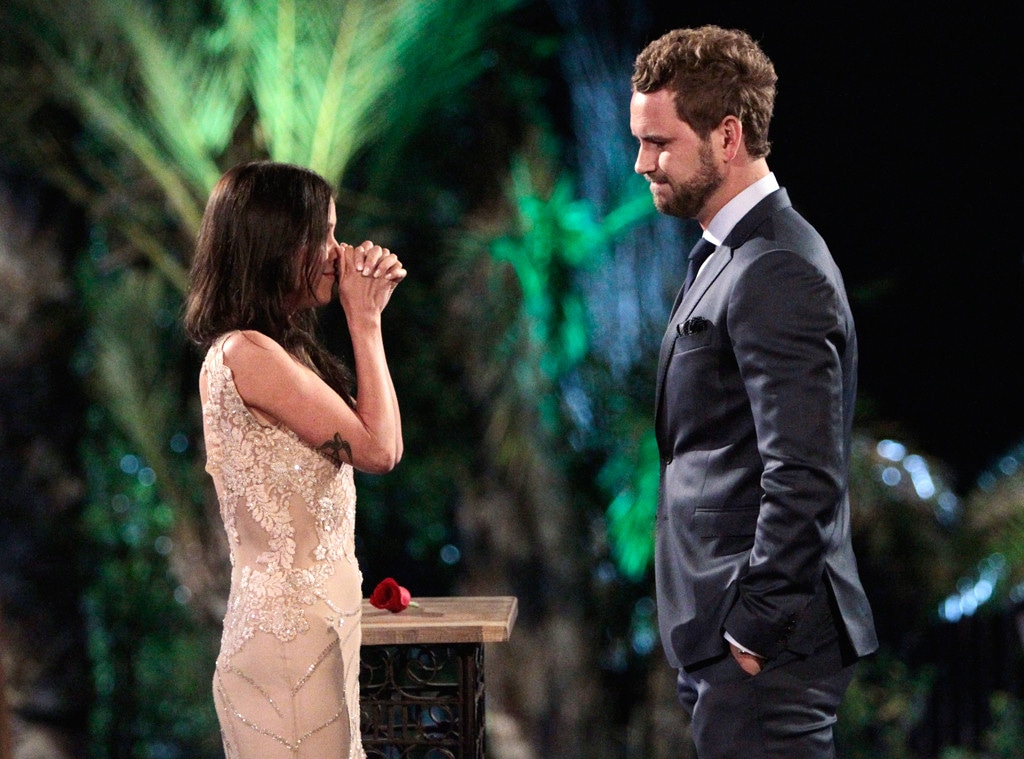 ABC/Rick Rowell
Ready for a Bachelor flashback?
Nick Viall just threw it back to 2015 by sharing an Instagram video of Kaitlyn Bristowe rejecting his Bachelorette proposal.
As fans will recall, Bristowe handed out the roses on season 11 of The Bachelorette. Viall, who already had his heart broken on Andi Dorfman's season of The Bachelorette, joined Bristowe's cast during week four and ended up being one of her final two suitors. He even tried to pop the question during the finale, but Bristowe stopped him midway through the proposal. 
"It was like waving at someone who's waving at the person behind...but million times worse," Viall wrote on Sunday alongside footage of the rejection replay.
However, he made it clear he has "nothing but positive memories" from this time. 
"I just didn't think ABC would make us relive the entire failed proposal tomorrow night," he continued. "It really was a season for the ages. You never know how you view things as time passes. Glad to be able to call KB a good friend!"
Bristowe seemed to share Viall's sentiment.
"WHY DIDN'T YOU PUSH ME IN THE POOL?" she wrote in the comments section, then adding, "Also, so glad we are friends now too."
Viall and Bristowe weren't always on good terms. In fact, they didn't speak for a few years.
As fans are well aware, Bristowe ended up getting engaged to Shawn Booth. During a 2019 interview on Viall's podcast The Viall Files, Bristowe told the runner-up she was "totally trying to protect" her relationship with Booth and that she felt "shame" around Viall for "how badly" she "had hurt Shawn." While Bristowe didn't get into specifics, she seemed to hint that Booth was upset that she and Viall had been intimate during her season.
"I think I was made to feel shame but deep down I knew I wasn't ashamed," she said during the podcast. "But that's why I acted the way I did, or that's why we didn't talk or that's why I made little jabs here and there because I know he had been so hurt by it and I hated that."
In fact, she said Booth "almost broke up" with her after Viall became The Bachelor for season 21. The two ended up calling it quits in 2018.
Speaking of Booth, he also reacted to the flashback by writing "Well said, 'other guy,'" along with a smirking emoji underneath Viall's post.
Bristowe has since moved on from these relationships and is now dating fellow Bachelor Nation star Jason Tartick.
Fans can rewatch her season by tuning into The Bachelor: The Greatest Seasons—EVER! on ABC tonight at 8 p.m. Kaitlyn further reflected on her experience in a heartfelt note penned to her 29-year-old self. 
"It might be easy for you to look back and question some decisions that were made," she shared on Instagram. "But it is unfair to punish yourself for them. You made each decision for a reason. A reason that doesn't have to make sense to anyone but you. As you learn, you evolve."
Viall commented on her post, "Dear 29 Kaitlyn... younger Nick was super pissed at you for taking it has far as you did. But older Nick just wants to say thank you. You gave me a gift for taking it a far as you did giving me a chance to express myself. Ways in which I am thankful I get a chance to look back on with great fondness. I forget he exists sometimes. Thank you."
Watch:
Chris Harrison Explains How They Pick "The Bachelor" & "Bachelorette"
Clare Crawley and Matt James are next to hand out the roses on their upcoming seasons of The Bachelorette and The Bachelor.