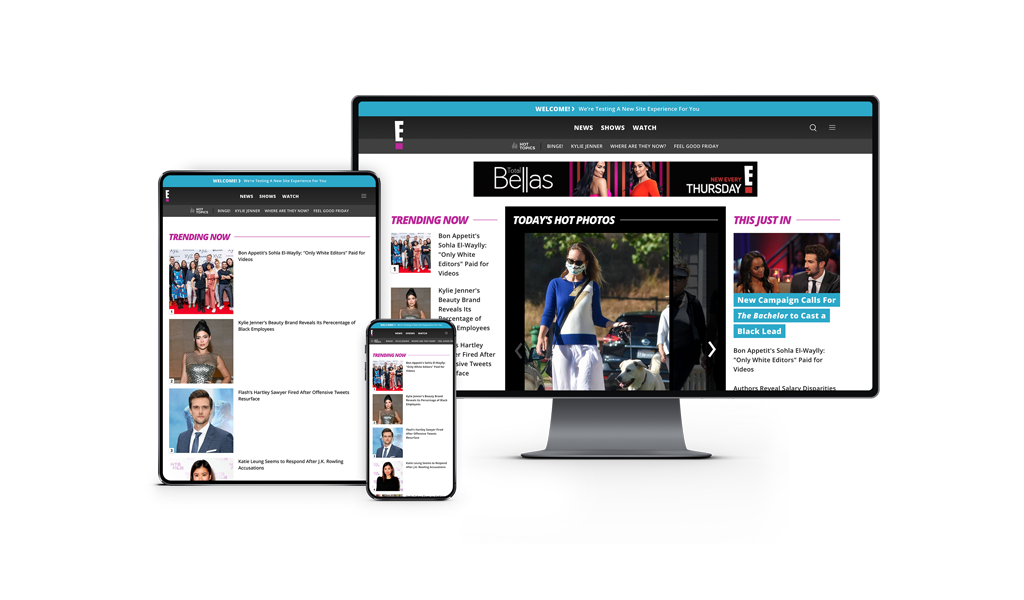 You may have noticed a little change to our website. 
For nearly two years, we've been tirelessly working on a passion project of our own: An overhaul to the site you know and love. After all, the look of EOnline was so last season. (Or, better yet, so mid '90s.)
Right away, you'll notice a our redesign, a mix of breezy and unexpected layouts. We have added a pop of color to our scheme, which not only frames our photos but also makes it easier to find the great stories you're looking for. And that's the case regardless of what device you're using. Our updated design will follow you from your phone to your tablet, computer or wherever you consume content.
We have also simplified navigation, adding a new hot topics bar to help provide you with the latest trending stories, photos and videos. Plus, the search option is now front and center.
As pop culture fans, you want to be the first to know about a Bachelor breakup or a royal rift, so our new website is designed with efficiency in mind. Rebuilt from the ground up, our photo galleries will load quicker and our videos will play sooner, so you'll always be informed as news happens.
Plus, are you constantly keeping up with the Kardashians? Do you never miss an episode of Daily Pop? Whether you love the drama or the entertainment news, it's all part of the E! family. So, we've revamped the site to house all the content from all the shows you love. Exclusive videos, photos and articles are easily accessible—and, with just one tap, you can catch up on all the latest episodes. 
As you can tell, we're proud of the finished product. But this is just the beginning. We're storytellers who are passionate about what we cover and how we cover it. We plan to continue refining the website to offer all 600 million of our readers the best experience possible.
From all of us at E!, enjoy!
For more on the evolution of E!, click here.