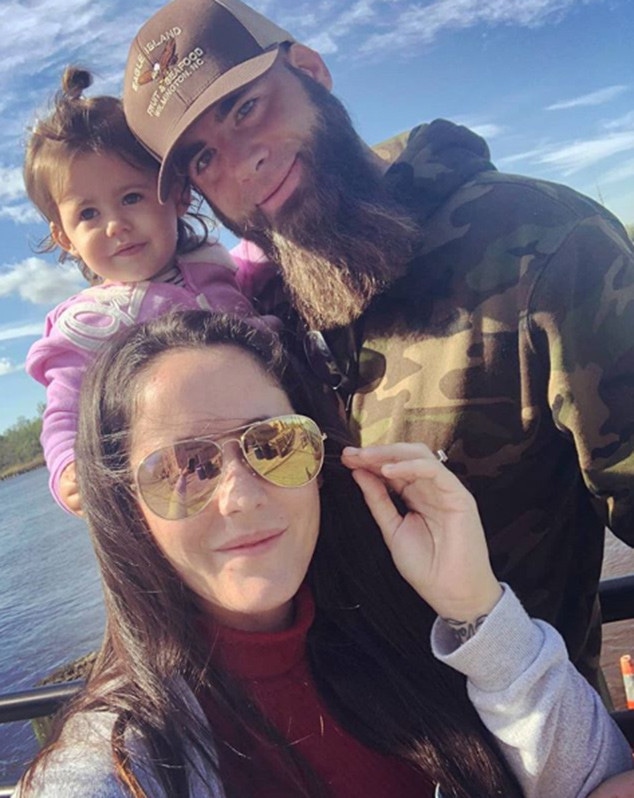 Instagram
Jenelle Evans wants her fans to know that she's safe and sound following the recent arrest of her husband David Eason. 
On Saturday, the former Teen Mom 2 star took to Facebook to "let the public, tabloids, and my fans know that IM OK, IM SAFEAND SO ARE THE KIDS!" Along with the social media update, the mother of three shared an article from a tabloid site, Celebernation, that stated that Eason had allegedly been arrested on Friday. 
"I'm going to take a few days out to myself to gather my thoughts and focus on what's going on so I won't be on social media much," Evans shared on Facebook. "I love you all for the support that you all have shown me and I'll be stronger and better than ever soon!" 
News of Eason's arrest comes nearly three months after the two reconciled. "Yes, me and him are deciding to work it out right now and uh, we're taking it slowly," Evans shared back in March during a YouTube Q&A. 
The couple had separated in Oct. 2019 and following the split, Evans obtained a temporary restraining order against Eason. 
In an interview with E! News in February, Evans also shared that the two were "considering counseling."
According to The Sun, a detention facility spokesperson for Columbus County Jail said 31-year-old Eason was arrested on June 12 in North Carolina on charges of assault with a deadly weapon and communicating threats. 
The detention facility spokesperson also told the outlet that he was "bailed out of jail on an unsecured bond." 
According to Celebernation, who spoke with Evans about the incident—the quarrel between Eason, the former Teen Mom 2 star and two of her male friends. 
"I'm upset how everything ended up and wish the situation was taken in a more serious manner, I didn't agree with the unsecured bond," Evans told Celebernation about Eason's arrest. She also added that it's "time for me to move on from this relationship and find happiness for my kids and myself elsewhere. I'm shaking and saddened by this."
Watch:
Jenelle Evans Loses Temporary Custody of Her 3 Children
In early May, Evans shared pics of herself looking happier than ever with Eason and wrote, "I don't care what they say, I love you no matter what. Here's to new beginnings. #MarriedLife #HappyWifeHappyLife." 
Evans shares a 3-year-old daughter Ensley with Eason and is also mother to sons Jace, 10, with ex Andrew Lewis, and Kaiser, 5, with ex Nathan Griffith. 
Evans and Eason have not yet responded to E! News for comment.