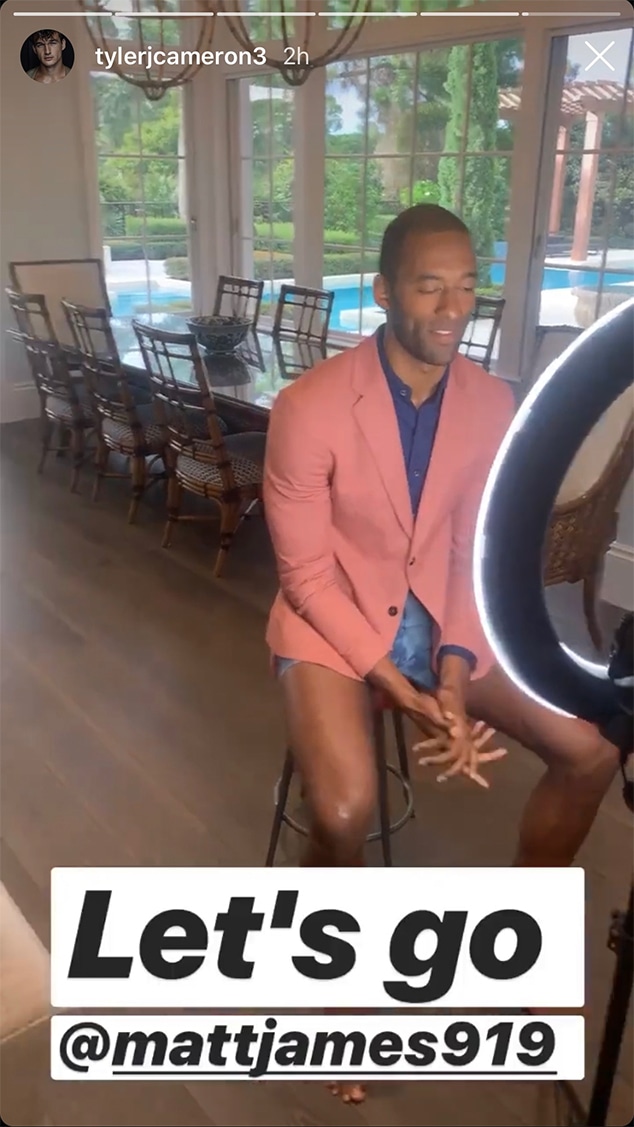 Instagram
Matt James is the first Black lead of The Bachelor and he did his first interview in style—quarantine style. Matt was interviewed on Good Morning America after the history-making casting was announced. He wore a salmon-colored blazer that may look familiar to fans of The Bachelorette, but what you didn't see was what he was wearing from the waist down—until now.
Thanks to Tyler Cameron, Matt's pal and a contestant on Hannah Brown's season of The Bachelorette, we now know Matt wasn't wearing pants while on national TV. Well, it looks like he's not wearing pants ins Tyler's Instagram story post. If there are shorts on, they are mighty tiny. Maybe he was inspired by ABC News' Will Reeve.
In April 2020, Will Reeve gave a report on GMA and his camera angle revealed it was business on top, party on the bottom. "Trying to be efficient I got ready for a post-GMA workout a little too soon this morning," Will Reeve said on Twitter. "The camera angle, along with friends, family and several hundred strangers on the social media made me rethink my morning routine. Any sartorial tips from these people who are wearing a belt, trousers and shoes during their work video calls at home are most welcome. Now, back to work. Wearing pants."
Watch:
Rachel Lindsay Breaks Down Convo With Hannah B., Racism & More
Matt's casting as the first Black lead of The Bachelor—the franchise's only lead of color besides Rachel Lindsay headlined The Bachelorette—came after fans and veteran cast members called on the show to diversify. A petition supported by a number of Bachelor Nation stars called on ABC to cast a Black lead and improve diversity behind the camera as well. During his interview (sans pants) on GMA, Matt was asked if his casting was too little, too late.
"I don't think it's ever the wrong time to do the right thing. Too little too late for me is this happening and we can't have change until we put that first foot forward, and that first forward for The Bachelor franchise is having a black lead. So, I'm excited to take on that role," he said.
Rachel Lindsay said the series needs to do more besides having a Black lead.
"I want producers of color," Rachel said on GMA. "I'd like for them to cast leads that are interested in dating outside of their race that aren't just getting their first-time experience—for the first time—on national TV. I need the acknowledgment of that. Not putting a band-aid over the situation and just saying, 'Here, we're going to put this here. Are you happy now?'"
Diversity has been an issue on the ABC series with executives always promising to do better.
"Matt has been on our radar since February, when producers first approached him to join Bachelor Nation, as part of Clare's season. When filming couldn't move forward as planned, we were given the benefit of time to get to know Matt and all agreed he would make a perfect Bachelor. We know we have a responsibility to make sure the love stories we're seeing onscreen are representative of the world we live in, and we are proudly in service to our audience," Karey Burke, president of ABC Entertainment, said in a statement. "This is just the beginning, and we will continue to take action with regard to diversity issues on this franchise. We feel so privileged to have Matt as our first Black Bachelor and we cannot wait to embark on this journey with him."
The Bachelor is set to premiere in winter 2021 on ABC.