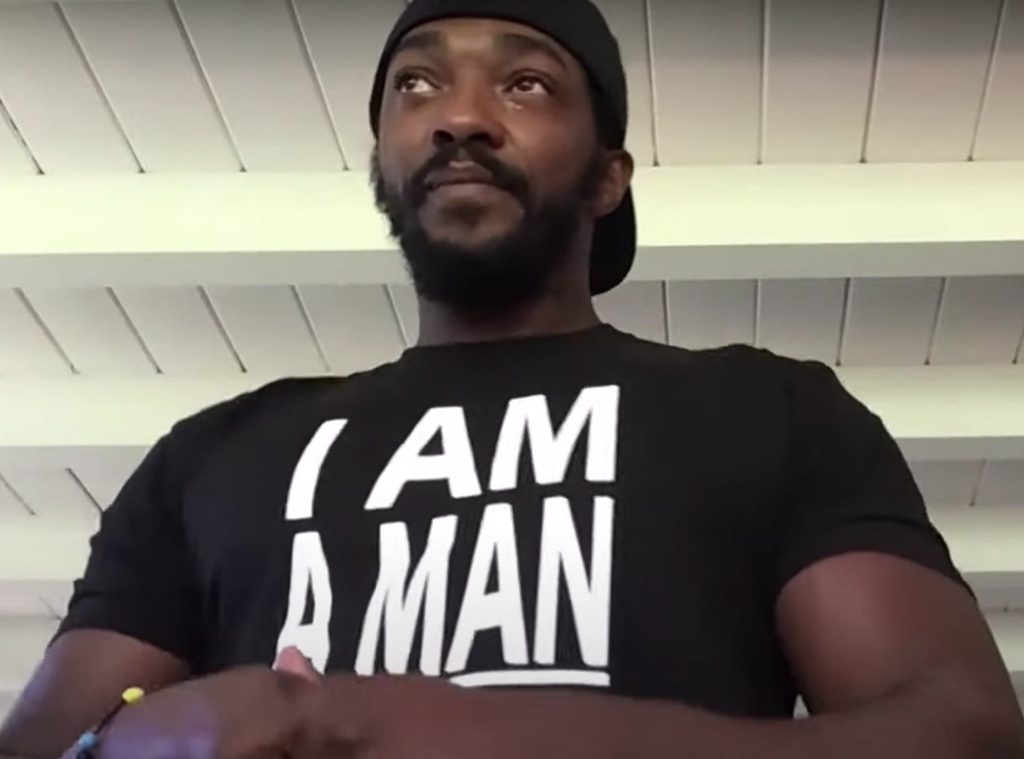 YouTube
Anthony Mackie appeared on Thursday's episode of The Tonight Show and gave a powerful talk about the importance of voting.
During the interview, the 41-year-old actor looked back at the premiere of The Banker—a movie he starred in with Samuel L. Jackson that tells the story of Bernard Garrett and Joe Morris. The premiere was held at the Lorraine Motel in Memphis, Tenn., where Dr. Martin Luther King Jr. was shot and killed in 1968.
"I was able to stand out on the balcony where Martin Luther King was assassinated. It blew my mind to think that this man worked so hard and gave his life and here we are 50, 55 years later dealing with the exact same thing," Mackie said while wiping away tears. "And that's what hurts. Because I know my grandfather was a sharecropper; my dad was a contractor, and he had to drop out of school in eighth grade to work with his grandfather so that he could give me the opportunity to go to Juilliard and be a stupid actor."
Mackie said the visit changed his life and he knew he had to do something. Knowing "there's power in numbers," he decided to launch IAmAMan.Vote with his friends.
"We have a great opportunity right now to change the scope of the world," he said, later adding, "A sheriff is an elected position, a mayor is an elected position, our president is an elected position, your D.A. is an elected position."
He then explained their goal is to register one million men to vote.
"We're going to do everything we can so that these people that are jeopardizing the future for our kids," he said before tearing up and taking a pause. "You want to hurt somebody, you get rid of their job and you put somebody in that position who can actually help. Because so many people out here, it's just not right."
In addition to talking about voting, Mackie spoke about George Floyd's death at the hands of police. He said he sat his 7 and 11-year-old sons down for a "long conversation" and said "they don't understand the lack of humanity in a person to do that to another person."
"Being a father of sons, you know, you have to open your kids' eyes to the world they live in," he said. "When I was growing up, like most boys, you want to be a fireman or a police officer. You want to be a, you know, a first responder in some way. Then comes the harsh reality of the day you have to tell your kids that, you know, you have to open their eyes to what the world is around them to how police view them as young Black men."
"So, you know, it's a tricky slope," he added. "Because I want my boys to have those dreams; I want my boys to look at police and, you know, officials in the military and police in a higher esteem. But at the same time, you have to be honest with them about what happened."
Watch the video to see Mackie's interview.
(E! and NBC are both part of NBCUniversal).