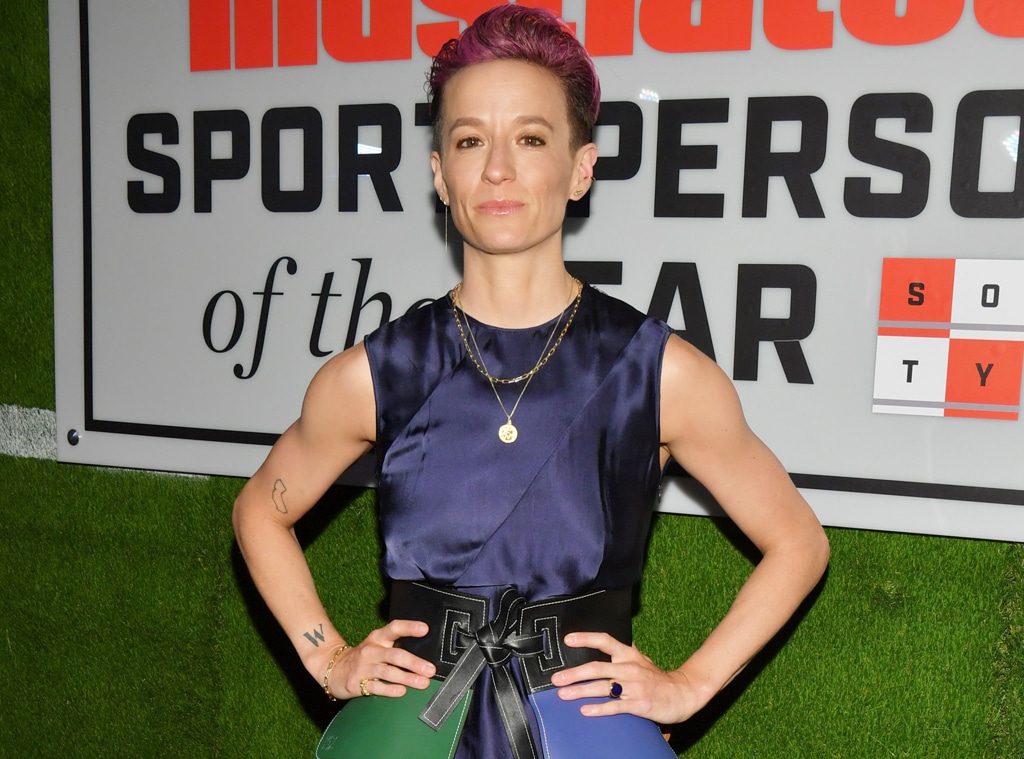 Andrew H. Walker/Shutterstock
Megan Rapinoe has an inspiring message.
During her virtual visit to The Late Show, the soccer pro opened up about the recent surge in activism across the nation in the wake of George Floyd's death. 
"Honestly, I'm really encouraged by it—I mean, and in the same breath, it's devastating that we have to get to this point," she told host Stephen Colbert. "But I think people are really getting it. They're like, 'Got it. We can't say all lives matter anymore because the all lives house isn't on fire right now; it's just the black lives right now.'" 
Rapinoe continued, "I feel like people have been sort of, whether consciously or unconsciously, consuming information over these last three, four, five years and you know, I think couple this with the disaster that was coronavirus, and continues to be coronavirus, in this country, I think the people are starting to realize they have a lot more power than they've been told."
While reflecting on her own activism journey, particularly when she began kneeling during The National Anthem at games in solidarity with NFL star Colin Kaepernick, the FIFA Women's World Cup champ said, "I feel like it took me a little bit to get down to it because as soon as I started kneeling, people were like, 'What the hell? Where did this come from?'"
"I'm from a pretty small conservative area in Northern California," she continued. "But honestly, it came from my mom and my dad. Both of them, very much, taught me that you just help people. Period."
In recent weeks, Rapinoe has been using social media to inspire change. Through #ShareTheMicNow, an Instagram campaign where Black women take over the accounts of influential white women, she collaborated with musician Fresco Steez to discuss design, culture and Black liberation with Rapinoe's followers.  
"So, #ShareTheMicNow, basically, is just how—I mean, women's voices in general are not heard enough, particularly in the Black community," she explained to Colbert. "We push out women's voices all the time, so a moment like this comes and, you know, all these white women, we want to help but, like, we are very loud and our voices are very loud."
"And often times, whether it's mainstream media or whatever it is, we have more followers or whatever, so we actually need to listen to the women who are boots on the ground, in the movement, doing the work—who have been doing the work the whole time. Black women have always been at the forefront of change and progress," she continued. "And so, to not only give people a different perspective, but to actually hear from the women who are doing the work and the ones we should be following during this time."  
Leaving The Late Show viewers with some empowering words, Rapinoe shared an encouraging message about the importance of getting involved.
"Do it. It's always worth it do it, whether people like it or not," she shared. "Everybody likes it now. Everyone's like, 'Wow, good job.' Four years ago, at the time, they were like, 'Bad job. Don't do that.' So, don't worry about it. I think, it's just always worth it, to be honest. Use your voice in whatever way that you can. I truly believe that we all have a responsibility to make the world better in whatever way we can do best."
"E! stands in solidarity with the black community against systemic racism and oppression experienced every day in America," the network said in a statement on May 31. "We owe it to our black staff, talent, production partners and viewers to demand change and accountability. To be silent is to be complicit. #BlackLivesMatter."