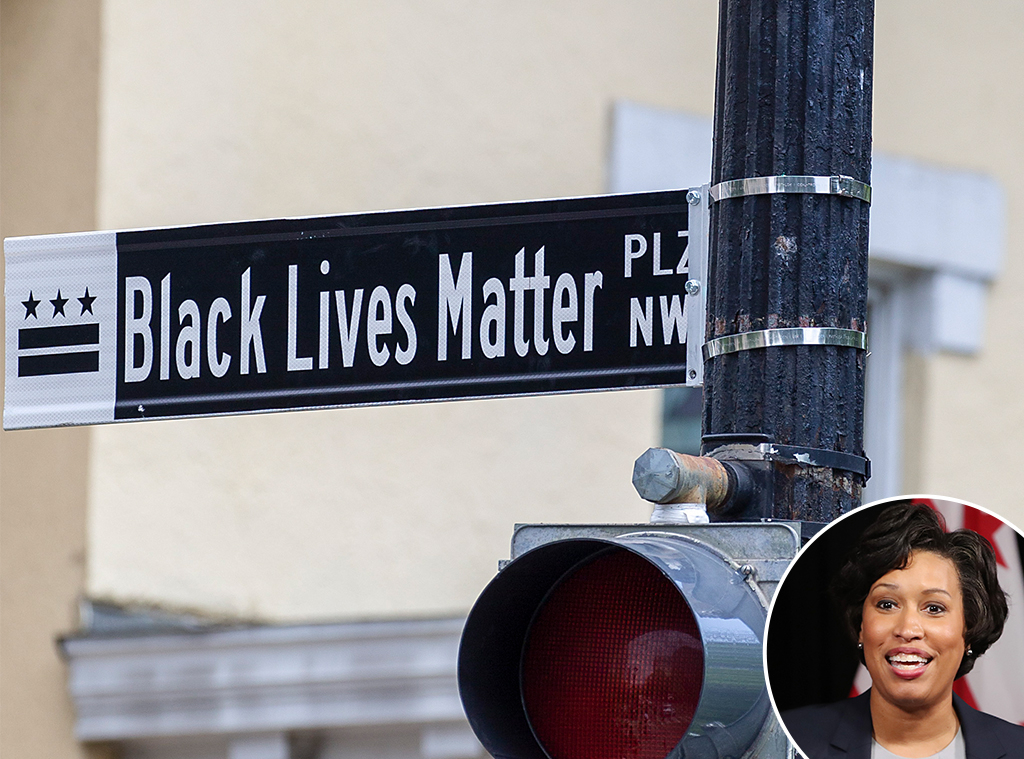 Tasos Katopodis/Getty Images, Mark Wilson/Getty Images
Washington, D.C. Mayor Muriel Bowser announced that the city has renamed a street in honor of the Black Lives Matter movement. 
Taking to social media on Friday, she shared footage of an intersection being renamed to Black Lives Matter Plaza. In the video, people can be seen gathering and applauding as the street sign is installed. 
"The section of 16th street in front of the White House is now officially 'Black Lives Matter Plaza,'" Bowser declared on Twitter. Her followers were quick to voice their support. 
"Honestly, this is a great symbol," one Twitter user wrote, followed by another who tweeted, "THANK YOU MAYOR!!!!." Another follower chimed in, writing, "Thank YOU 4 making HISTORY today." Celebrating Bowser's initiative, one person tweeted, "Thank you, Mayor, for standing up for justice and all residents of DC."
Earlier in the day, Bowser also had the words "Black Lives Matter" painted in massive yellow letters along 16th Street NW.
"We want to call attention today to making sure our nation is more fair and more just and that black lives and that black humanity matter in our nation," Bowser said, according to NBC Washtington.
Sharing an aerial view of the newly transformed street on Twitter, Bowser paid tribute to Breonna Taylor, a Black woman who was killed by Louisville police, in her caption. "Breonna Taylor, on your birthday, let us stand with determination," she wrote. "Determination to make America the land it ought to be."
Addressing the death of George Floyd and the protests that have formed in the wake of his passing, Bowser shared an uplifting message to encourage activism. "Our power is in peace, in our voices, and in the ballot box," she tweeted. "It's in our families and our children. It's in the hurt we feel translated into activism and community organization. It's in the despair we feel translated into help for one another."
She continued, "Our power DC, is in who we are as a city. We show up, we get heard, and we hold hands through tough times. Count on each other and on us to move our country forward. On my commitment to take steps to continually improve police community relations."