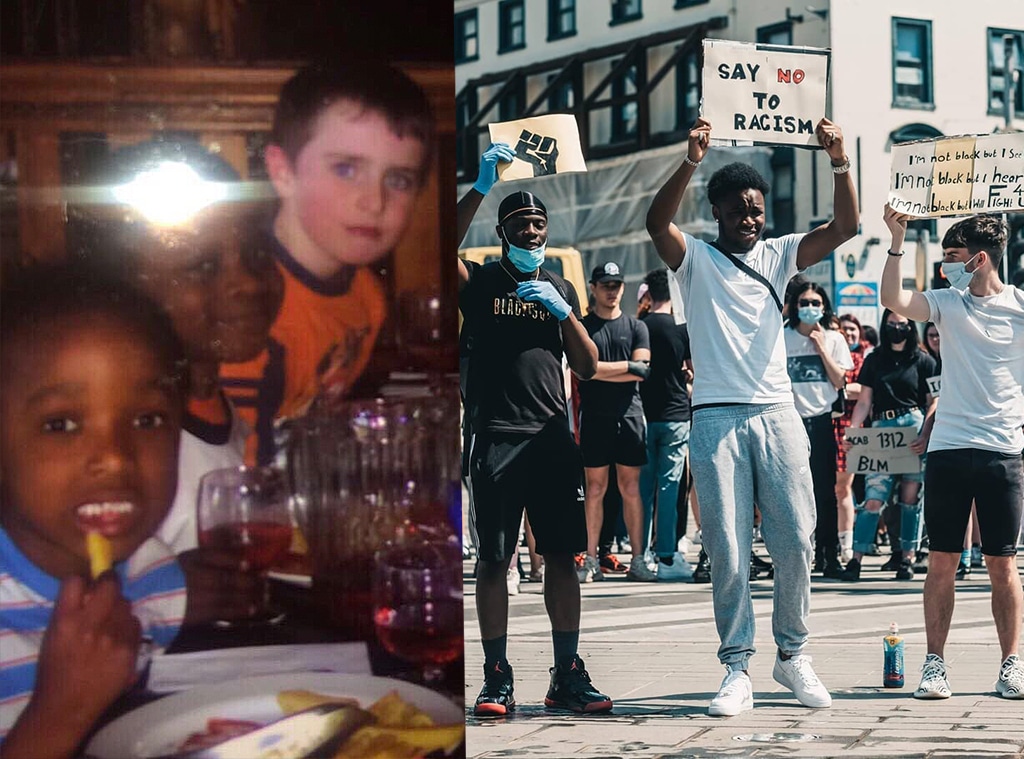 @kiitanamao/Instagram; Fra Lucchesi Photography
When Kiitan Amao, Moyo Badun and Sean Hill went to a protest in the small Irish town of Dundalk, they never expected to become the focus of a viral moment. 
However, the three men are now being celebrated after two photos from their childhood and current day circulated online. As of June 4, the tweet has garnered over one million likes and over 200,000 retweets, in addition to thousands of comments.
Kiitan, who is on the left in the above photo, tells E! News that the response to their pictures "has been crazy." But he says he's happy because he and his childhood friends are able to show the world that "the support from [their] town was overwhelming."
"We as a small town called Dundalk managed to send such a strong message to everyone around the world. As such a small community we combined our talents to push a message out to the world," he explains. "This town is a hidden treasure full of talent and strength." 
As for what he hopes his friendship with Sean and Moyo represents, Kiitan wants people to know "that if you just unite and love one another you can achieve so much."
"Dundalk and this friendship did nothing but prove that the human race is stronger together than we are divided into subcategories," he adds.
Kiitan, Moyo and Sean are three of many thousands of individuals who've participated in global Black Lives Matter protests.
These mass marches began over a week ago when George Floyd died on Monday, May 25, after Minneapolis police officer Derek Chauvin kneeled on his neck for nearly 9-minutes, with the assistance of three other officers. This incident was captured on video by a witness and has led to the indictment of all four men involved. 
Though charges were brought against all the former officers, people, including celebrities like Halsey, Jamie Foxx and Jonah Hill, continue to demand justice and call for racial equality. To learn how to take action and get involved, please click here. 
 - Additional reporting by Spencer Lubitz