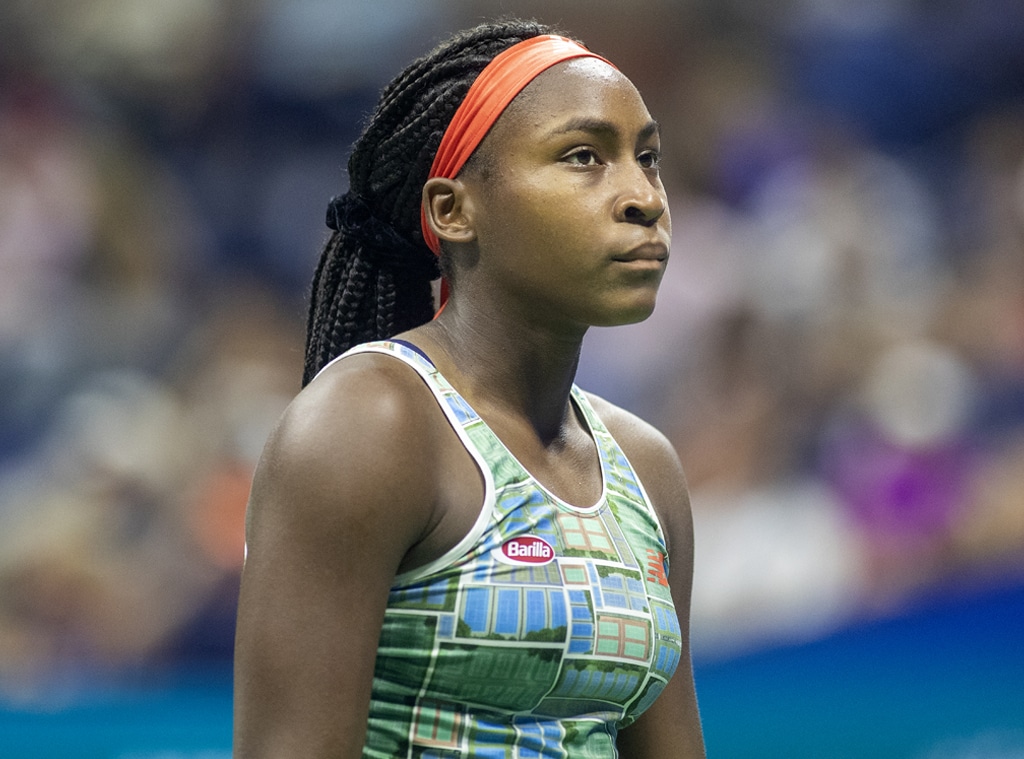 Tim Clayton/Corbis via Getty Images
Coco Gauff is taking a stand.
While attending a Black Lives Matter protest in Delray Beach, Fla., the 16-year-old tennis pro demanded change in a poignant speech. Addressing her fellow protesters, she urged those in the crowd to take action against racial injustice and encouraged them to use their voice. 
"I'm here to tell you guys this, that we must, first, love each other no matter what," she began. "We must have the tough conversations with my friends. I've been spending all week having tough conversations trying to educate my non-Black friends on how they can help the movement. Second, we need to take action. And, yes, we're all out here protesting, and I'm not of age to vote, but it's in your hands to vote for my future, for my brother's future and for your future. So, that's one way to make change." 
"Third, you need to use your voice," she continued. "No matter how big or how small your platform is, you need to use your voice. I saw a Dr. [Martin Luther] King [Jr.] quote that said, 'The silence of the good people is worse than the brutality of the bad people.'"
Gauff added, "So, you need to not be silent because if you are choosing silence then you are choosing the side of the oppressor. So, I've heard many things this past week and one of the things I heard is, 'Well, it's not my problem.' So, this is what I have to tell you this: If you listen to Black music, if you like Black culture, if you have Black friends, then this is your fight too."
Acknowledging the recent death of George Floyd, the young athlete pleaded for justice to be served.  
"I demand change now and it's sad that it takes another Black man's life to be lost for all of this to happen, but we have to understand that this has been going on for years," she said. "This is not just about George Floyd. This is about Trayvon Martin. This is about Eric Garner. This is about Breonna Taylor. This is about stuff that's been happening—I was eight years old when Trayvon Martin was killed. So, why am I here at 16 still demanding change?"
"And it breaks my heart because I'm fighting for the future for my brothers," Gauff continued. "I'm fighting for the future for my future kids. I'm fighting for the future for my future grandchildren. So, we must change now and I promise to always use my platform to spread vital information."
Watch:
Ariana Grande & More Protest Over George Floyd's Death
After sharing her speech on Twitter, members of the tennis community rallied behind her moving message. Belgian player Kim Clijsters wrote, "Thank you for being a girl that my daughter will learn from and look up to . I promise that we will keep on teaching our kids the right thing to do so that they can pass it on too. It all starts at home !"
Retired pro Chanda Rubin tweeted, "Coco, you are wise beyond your years. Thank you... for standing up, for your bravery, for your example, for your humanity." Pledging his support, United States Tennis Association president Patrick Galbraith wrote, "Well said Coco. We stand with you and all members of the black community."
"E! stands in solidarity with the black community against systemic racism and oppression experienced every day in America," the network said in a statement on May 31. "We owe it to our black staff, talent, production partners and viewers to demand change and accountability. To be silent is to be complicit. #BlackLivesMatter."