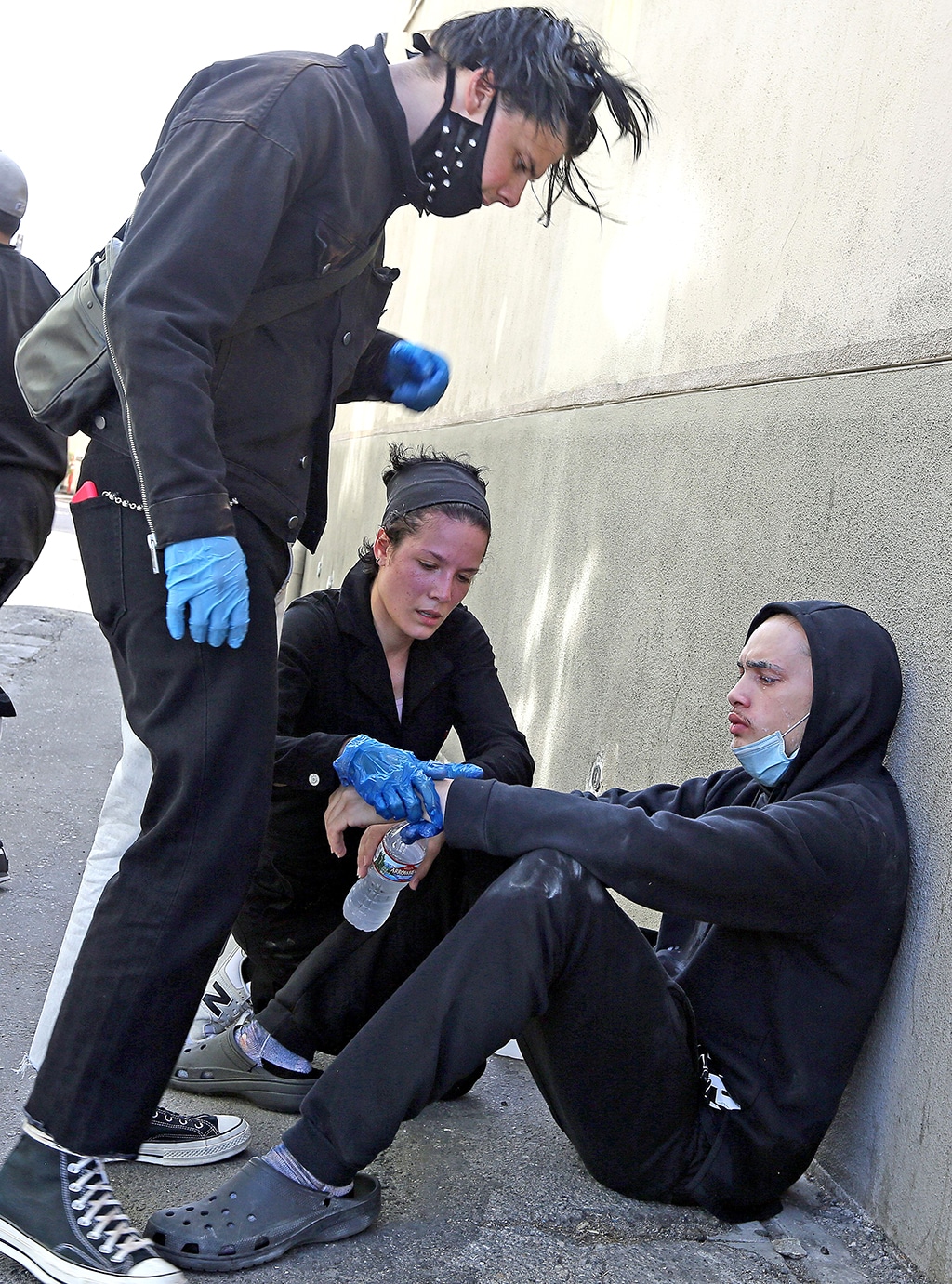 P&P / MEGA
After a weekend of protests in response to the killing of George Floyd, celebrities continue to use their platform and resources in support of the Black Lives Matter movement. 
Halsey, who stood on the front line of a protest in Santa Monica, Calif. this weekend, was photographed providing medical aid to to fellow protesters who had been injured. 
"do not underplay these rubber bullets bc you have been told they are 'not lethal'. I had to bandage a man who looked like his entire face had exploded today," the 25-year-old wrote on social media on Sunday, May 31. "So before you say, from the comfort of your home, that we're exaggerating, please consider the injuries some have suffered."
After attending L.A. protests, Halsey advised protesters to stay prepared and carry with them medical supplies including, "Alcohol, disinfectant, gauze for excessive bleeding, non stick gauze pads and medical tape, eye pads, butterfly bandages, cold packs, neosporin, bandage scissors, tweezers and ace bandages." 
When detailing her experience at the protest, Halsey expressed that she didn't know "how to articulate the horrors of today."
"[National Guard] + officers firing rounds into kneeling crowds," she wrote. "We dont have enough medics on the ground on our side. I was treating injuries I am not qualified to. So much blood spilled. If you have med training pls go + standby outskirts."
"And if you're a white ally who is gonna stand and shout and antagonize the officers and NG and then hide behind black bodies when the shots start firing, f-ck you," she added. "You couldnt understand a shred of the bravery of the black folks at the front line. Thank you to everyone who stayed
Halsey, born Ashley Nicolette Frangipane, was accompanied by 22-year-old Yungblud at the protests this weekend in L.A. 
"i need to say @halsey u were incredible today. u acted fearlessly and selflessly," wrote the artist on social media about Halsey. "u were so brave and inspirational. when innocent people were unlawfully wounded, u were there with a medical kit bandaging them up. u didn't think about yourself for one moment. i am proud to know u."
In response, Halsey also thanked Yungblud for accompanying her. "And a big personal thank you to @yungblud who literally ran exposed in front of rounds being shot to drag wounded people to safety without even thinking twice," she wrote.