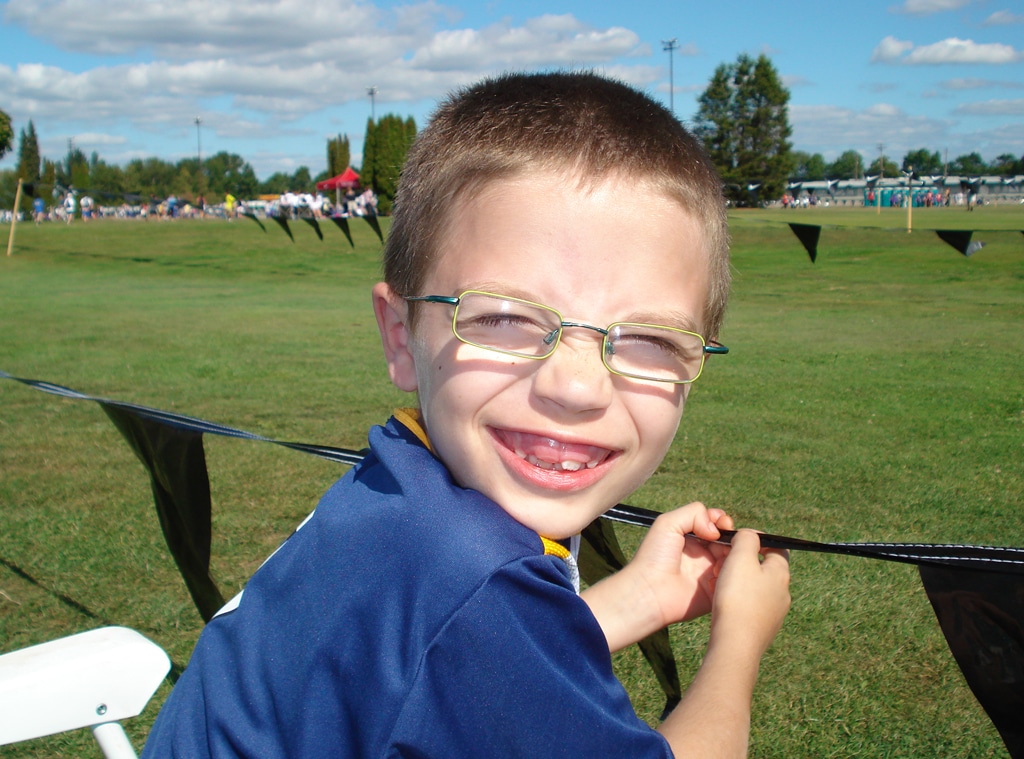 Discovery
Discovery ID is revisiting the mysterious circumstances surrounding the disappearance of Kyron Horman in the documentary Little Lost Boy.
It's been 10-years since the 7-year-old seemingly vanished from his elementary school in Portland, Ore. and authorities have yet to uncover the truth in this baffling case. But as the Investigation Discovery documentary reveals, the odds weren't in the investigators' favor. 
For those who haven't heard of the case or simply need a refresher, the details are relatively simple: On June 4, 2010, Kyron was taken to his elementary school's science fair by step-mom Terri Horman. After seeing and photographing the projects, Terri left Kyron, assuming he would go to class and she would pick him up at the bus stop later that day. However, when she and his biological father Kaine Horman went to the bus stop, they were surprised to discover that Kyron never got on the bus. Then, when they went to the school, it was revealed that Kyron was marked absent for that day. According to the teacher, she thought he had a doctor's appointment and that's why she never followed up. 
From that point on, police quickly worked to make up for the six hours when Kyron's location was unaccounted for. 
Meanwhile, his biological mother, Desiree Young, and Kyron's step-father raced from their home to help the hundreds of people who were searching for her son. Upon arriving, she immediately worried that Kyron could've been arrested by one of the science fair attendees, as she didn't believe the 7-year-old would leave the school willingly. According to Desiree, Kyron wore glasses and "can't see more than a few feet in front of him."
In addition, she revealed that he "has a fear of not being able to find his way home," leading investigators to believe something more sinister had taken place. 
Multnomah Co. Sheriff's Office
As the authorities continued to search for him, they began to question all those who might know where Kyron could be, including Terri Horman who's believed to be the last person to see him alive. In the process, Terri failed a lie detector test, although she suggested that was due to a "hearing problem."
"I went through the polygraph. They ask you if you can hear them; they do everything but roll out a red carpet so that you're comfortable," Desiree said of Terri's claims. "She heard just fine. So I don't believe it at all." This made Desiree question Terri's innocence and thus questioned Kaine about "what is going on" in their house, but all he could do was apologize. 
According to Desiree and husband Tony, investigators later told them that Terri wrote in an email to a friend that she blamed Kyron for problems with her marriage, including Kaine's extramarital affair. Tony said, "You can see in her own mind her disdain for Kyron and her resentment; wanting him out of the house. When you fit that in with everything else we knew, that is huge."
Watch:
Nancy Grace Gives Rapid Fire Answers on True Crime Cases
Then, the Horman's landscaper Rodolfo Sanchez comes forward with the accusation that five months prior to Kyron's disappearance, Terri "asked him if he knew somebody or if he would kill Kaine," for a sum of $10,000. Upon hearing these claims, the police "devised a plan" to have Terri admit to some type of crime. 
Soon after, Kaine filed for divorce from Terri and is granted a restraining order. Terri then moved in with close friend DeDe Spicher, who authorities briefly suspected of being an accomplice, although both women deny these claims. 
Though Terri was never named as a suspect or person of interest, she obtained a high-profile defense attorney. 
With the investigation stalled, Desiree and Tony filed a civil suit against Terri and accused her of kidnapping in the hopes of discovering more evidence. However, Desiree was forced to drop the case. 
Ten years later, Desiree said she prays for Terri to "grow a conscience and stop the torture," but promises she "will never give up" on her search for her son.
Officials for the Multnomah County Sheriff's Department say the case is an "ongoing investigation."