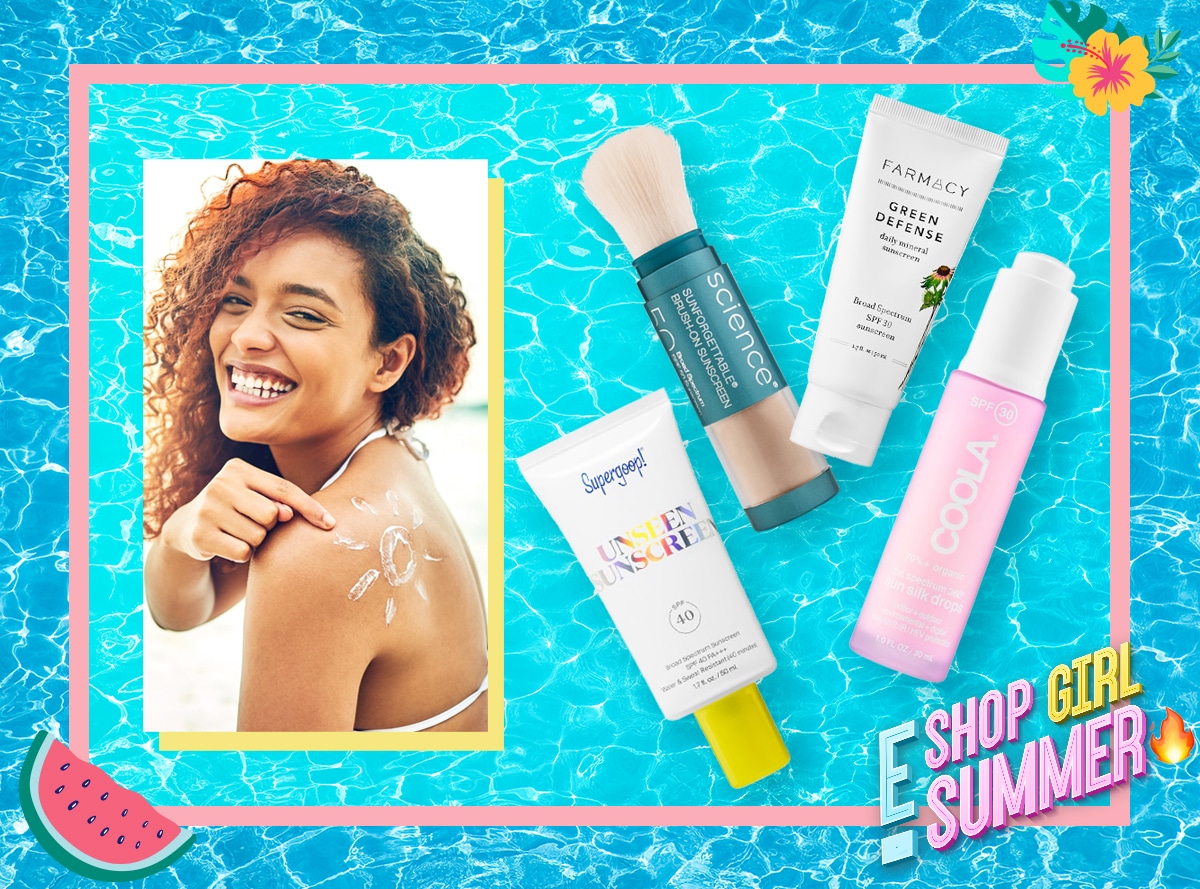 E! Illustration; Getty Images
We love these products, and we hope you do too. E! has affiliate relationships, so we may get a small share of the revenue from your purchases. Items are sold by the retailer, not E!.
Are you ready for the summer sun? If you haven't upgraded your sunscreen game, now is the time! Whether you're looking for something sheer to protect your face from harmful rays, a fantastic-smelling sunscreen for your body that will last throughout the day, or even something to give your lips some summertime support, we've hunted out some of the best clean, green options for optimal sun protection.
Before you step out in your best bathing suit, make sure you protect yourself and get your Shop Girl Summer on by checking out some of our favorite sunscreens.
Supergoop! Unseen Sunscreen SPF 40
Vegan, cruelty-free, reef-safe, and gluten-free, this unique gel formula is weightless, scentless, and totally invisible. In addition to offering sun protection with broad spectrum SPF 40, it also protects from blue light, preps your skin for makeup, and increases hydration to give your skin a more even texture.
Drunk Elephant Umbra Sheer Physical Daily Defense Broad Spectrum Sunscreen SPF 30
Pretty much everything Drunk Elephant has to offer is amazing, and this sheer sunscreen is no exception. It's a lightweight cream that melts into skin for sheer coverage, offering powerful broad-spectrum UVA/UVB protection that helps prevent free radical and oxidative damage. It's also free of numerous irritants, like essential oils, silicones and fragrance.
Tatcha Silken Pore Perfecting Sunscreen Broad Spectrum SPF 35 PA+++
Want a more matte look while you're protecting yourself from the sun? Then this is the sunscreen for you. While doubling as a primer, his lightweight mineral sunscreen offers broad-spectrum SPF 35 protection from UVA and UVB rays. It also features skin-loving ingredients such as silk extract for smooth skin, Japanese wild rose to minimize pores, and loquat leaf extract for extra protection.
Biossance Squalane + Zinc Sheer Mineral Sunscreen SPF 30 PA +++
This 100% non-nano zinc SPF 30 sunscreen protects and hydrates even the most sensitive skin in a lightweight lotion that blends in without a trace. Not only is it fast-absorbing to the point of invisibility, it's also vegan, cruelty-free, reef-safe, and gluten-free, and comes in recyclable packaging.
Farmacy Green Defense Daily Mineral Sunscreen
Another awesome invisible broad-spectrum SPF 30 mineral sunscreen, this one from Farmacy is a non-greasy lightweight lotion that features marigold, and black chokeberry, antioxidants known to help guard against pollution and blue light. Plus, it's cruelty-free and gluten-free.
Coola Full Spectrum 360° Sun Silk Drops Organic Sunscreen SPF 30
Sunscreen in a serum? It's a thing! Featuring Coola's Full Spectrum 360° Complex, this serum is designed to defend from damage from exposure to blue light, infrared, and pollution. It's traceless, blends into all skin tones and types, and it's vegan, cruelty-free, and gluten-free, and comes in recyclable packaging.
Coola Classic Face Sunscreen SPF 50 White Tea
When you're breaking a sweat in the summer sun, you want a sunscreen that will last... and this one is the one. It's light and non-greasy with sheer coverage, and water-resistant for up to 80 minutes. And not only is it organic, it offers broad-spectrum UVA/UVB sunscreen protection using plant-derived ingredients, effectively bringing the farm to your face. If you buy one at Amazon, you'll get a second one or 50% off.
Ren Clean Skincare Clean Screen Mattifying Face Sunscreen SPF 30
Another mattifying option for those looking for a less dewy complexion and oil management, this cream from Ren features non-nano naturally derived zinc oxide for broad spectrum protection. Plus, skin's natural free-radical defense system is supported by antioxidant passion fruit extract, while rice starch helps to mattify and keep your sunscreen where you apply it. And it's super clean and green... the list of ingredients it doesn't have is longer than the list of what it does!
Coola Mineral Body Organic Sunscreen Lotion SPF 30 Tropical Coconut
Channel the tropics with this coconut-scented mineral lotion, offering sheer reef-safe protection with SPF 30 coverage. The formulation is designed to help disperse non-nano minerals evenly, with zinc-oxide protection and antioxidant-rich Plant Protection to help fight free-radical damage, nourish, and support the skin barrier.
Ilia Super Serum Skin Tint SPF 40 Foundation
At first glance, you might look at this sunscreen and think, "But it's a foundation!" It's actually a clean, tinted mineral SPF 40 serum with light, dewy coverage in a vegan, cruelty-free, gluten-free and recyclable package. Fusing makeup, skincare and sun protection into one innovative product, this serum is weightless, safely shields your skin from UVA, UVB, UVC, blue light, and infrared light, and even hydrates as it protects you.
Supergoop! Lipscreen SPF 40
Make sure your lips get some sunscreen love, too! This luxurious yet powerful broad spectrum SPF topcoat transforms any lip color into a UV shield, with SPF 40 protection. It also hydrates and defends against dehydration and photoaging, imparting a soft shine and water-resistant finish.
EltaMD UV Clear Broad Spectrum SPF 46
We love the EltaMD UV Clear sunscreen because it won't cause break out and it doesn't leave an unsightly white-cast. It has 16,000+ 5-star reviews from satisfied Amazon shoppers.
Colorscience Sunforgettable Brush-On Sunscreen SPF 30
This is the only powder sunscreen recommended by the Skin Cancer Foundation for active use. It has a brush attached for easy application over makeup or on bare skin. It even helps set makeup and keep your look in place. This sunscreen protects from UVA/UVB rays, pollution, blue light, and infrared radiation. It's available in multiple shades to accommodate different skin tones.
The Bachelor alum Cassie Randolph has been using this since middle school and she highly recommends it.
Eir NYC Surf Mud
Eir NYC Surf Mud is an all natural sun protection balm, which has received rave reviews. One fan said, "I've tried hundreds of sunscreens in my attempts to protect my maturing skin from the Texan sun during my hours of outdoor activities in 100+ degree weather and high humidity. This one ticks all the boxes: from its smart, reusable packaging (no melting and leaking in the car or a pack), to its super clean formulation, to its creamy texture and unisex scent (tea tree), to its refusal to run down my face in sweat rivulets, this is the one."
Originally published May 27, 2020 9:50 AM PT