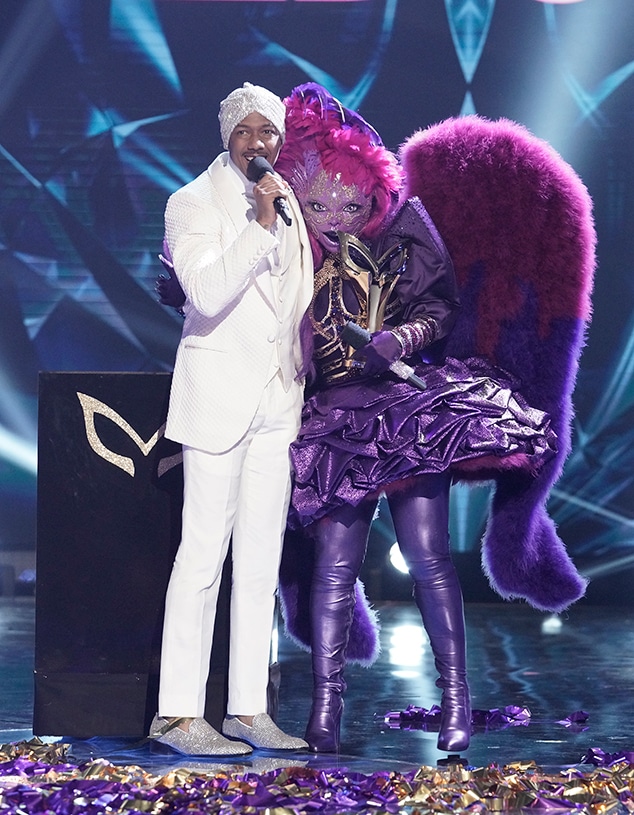 Fox
It took three seasons, but The Masked Singer finally crowned a woman. And not just any woman, but a contestant that has been a guess of viewers and the judges for the first two seasons. Warning, spoilers follow!
Yes, the Night Angel won and was unmasked as The Real Housewives of Atlanta star and Xscape member Kandi Burruss.
In a remote interview on The Ellen DeGeneres Show, Kandi told host Ellen DeGeneres she has been pursued for the show in the first season, but couldn't participate due to other commitments. "But after I saw T-Pain do it, I was like, 'Hmmm. I need to try to do this if the opportunity ever comes back up.' And it did," she said.
Kandi said The Masked Singer her confidence back, despite her previous success in the music industry. "I think for a long time I haven't put out any music as a solo artist, and then doing this show it just kind of revitalized me and made me want to do music again. Like, I actually dropped a new single right now and I'm super excited about it," she said.
It's a sentiment she expanded on in an interview with EW.
"I think it's a boost of confidence. I didn't know I was going to win. Of course, you would love to win. I guess in my mind I wasn't totally sure. I wasn't totally confident about it. You just go in there and do your best. There's no limit to what you can accomplish. Like, stop psyching yourself out. Stop getting in your own head, telling yourself what you can't do. Those are the things that I say to other people. This show made me apply that to my own life," Kandi said.
Watch:
Hunter Hayes Reveals the Toughest Part of "The Masked Singer"
As for the Night Angel, Kandi said on The Ellen DeGeneres Show that it took her a minute to get used to performing in costume, which was so hot. "It was challenging," she said.
The costume didn't really have a meaning for Kandi, it was an outfit picked out by the costumers.
"At first I was actually supposed to be a different costume. They gave me a couple options when they first offered me the opportunity to be on the show. I had picked a different costume out of the three and though I wasn't sure, I was like, 'Okay, this should be cool.' And then they came back and were like, 'Actually, we have this other one that if you want to try it. 'When I saw it, I was like, 'Oh, I gotta have that one. That's me. That's me all day,'" she said.
The Masked Singer will return to Fox in the fall of 2020.