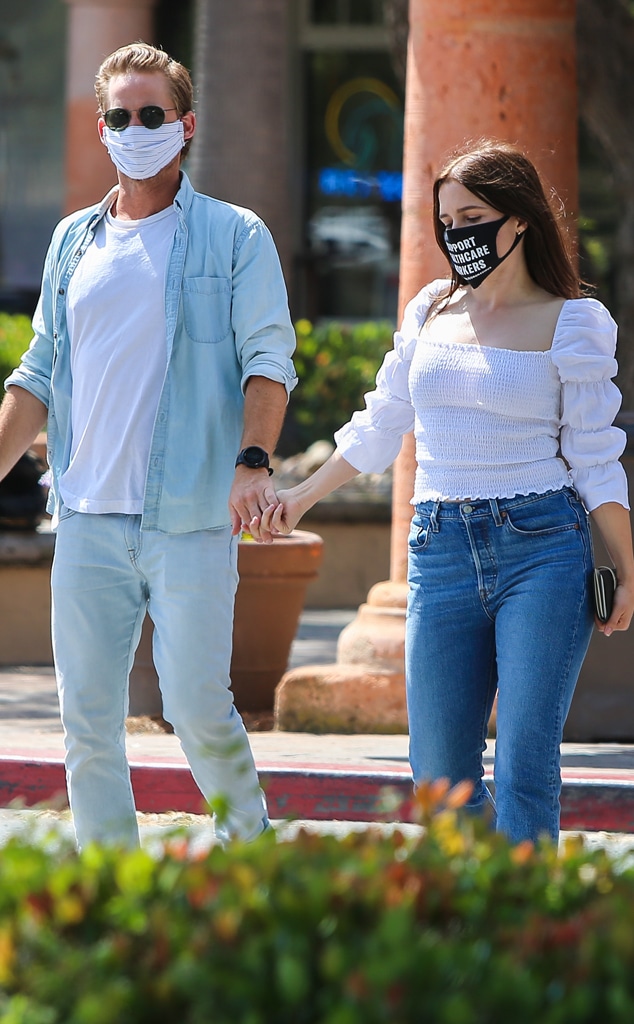 RF/Coleman-Rayner
The former One Tree Hill star has found a new beau. 
Sophia Bush was spotted getting cozy with new boyfriend Grant Hughes during a casual date out in Malibu, Calif. on Sunday, May 17. 
In pictures snapped of the two, Bush and Hughes were seen holding hands as they took a walk down the neighborhood and in one picture, in a cute PDA moment, the actor was pictured holding her in a warm embrace.
The former Chicago P.D. actress wore the perfect outfit for a casual date out donning a pair of light wash jeans, a white peasant top, sandals and of course, a face mask with a statement: "Support Healthcare Workers." 
Amid the ongoing coronavirus pandemic, Bush has been an advocate for healthcare and essential workers working at the frontlines. Throughout the last couple of months, she has shared her social media platform to spread positivity and awareness. 
"Let's talk about masks. I'm masking for my friend Doctor Robbin Cohen, my UPS man JP, the staff at my local grocery store, my immuocompromised poppa, and my mom of course, my best friends, and YOU! Why? Well, these little face coverings matter, in a big way. We've seen some incredible effects of the early adoption of face masks (look up the stats in the Czech Republic!) at dramatically slowing the spread of COVID-19," she wrote in April on Instagram. 
"Here in LA, I'm so grateful for every person I see on essential errands who is wearing a mask, which is almost everyone I see! And because I know that their masks protect me, and my mask protects them, I know I'm doing my part to love and support my neighbors and essential workers by wearing mine," she continued. "As some states are considering opening back up slowly over the next few weeks, it's TRULY ESSENTIAL that we ALL do our parts. Y'all! The universal use of face coverings -- not PPE grade, let's leave those for healthcare + essential workers -- is an important step to add to our practices of not touching our faces, extended handwashing, keeping to safe distances if we're out, and of course, staying home!"
Previously, Bush has been romantically linked to her former Chicago P.D. costar Jessie Lee Soffer.
The two dated from 2014-2015 and split after nearly a year together.