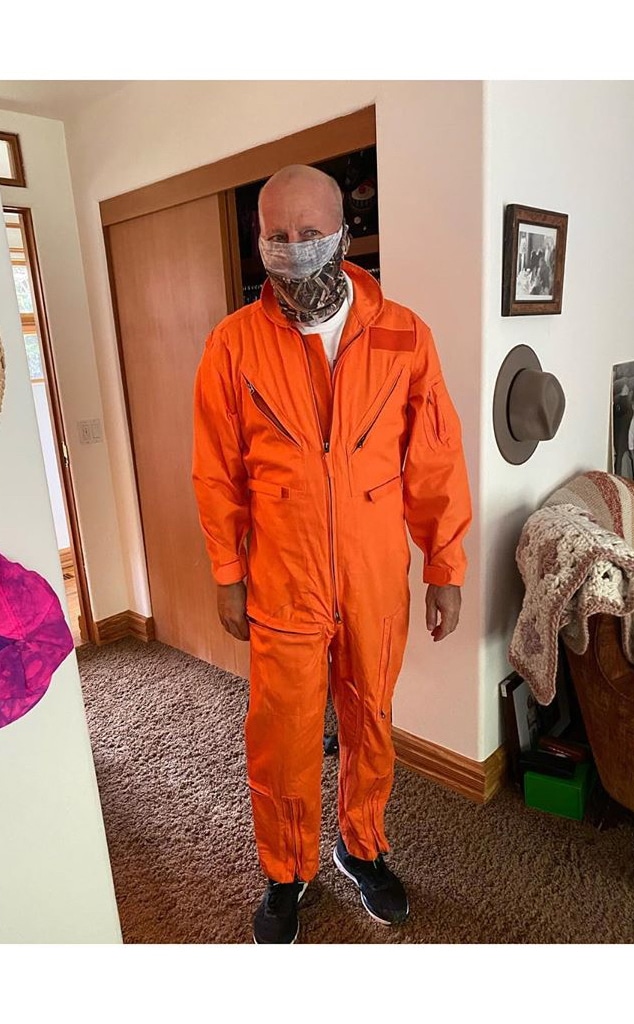 Instagram
Bruce Willis is here to save the day.
His daughter, Rumer Willis, took to Instagram on Thursday to share a photo of the 65-year-old actor wearing what she claimed is the same suit he wore in Armageddon.
"He said this is 'His saving the [world] outfit' (Actual one from Armageddon)," she captioned the image along with the hashtag. "#ThisManIsADamnLegend."
The Harry Stamper star also wore a mask amid the global coronavirus pandemic.
The post earned thousands of likes from followers.
"If anyone can save us, it's Bruce!!" one fan wrote in the comments section.
"He's saved us from an asteroid. Now, can he please save us from the virus?" added another.
As fans will recall, Bruce starred in the 1998 movie along with Ben Affleck, Liv Tyler, Billy Bob Thornton, Will Patton, Michael Clarke Duncan, Steve Buscemi, Owen Wilson and more. He played an oil driller who gets recruited by NASA to destroy a giant asteroid before it hits the earth.
Bruce has been social distancing with his ex Demi Moore and their kids in Idaho amid the pandemic. From enjoying a "family paint night" to competing in a friendly "dance-off" the stars have found plenty of ways to stay busy at home.
Watch:
Exes Demi Moore & Bruce Willis Are Social Distancing Together
Scout Willis told the Dopey podcast Bruce's wife, Emma Heming, initially had to stay behind in Los Angeles after the couple's daughter accidentally poked her foot with a needle the child found in a park. Emma then waited in L.A. with her kids to get the test results. Then, "travel got crazy," Scout said. However, she was finally able to rejoin the group and spend time with the whole crew.