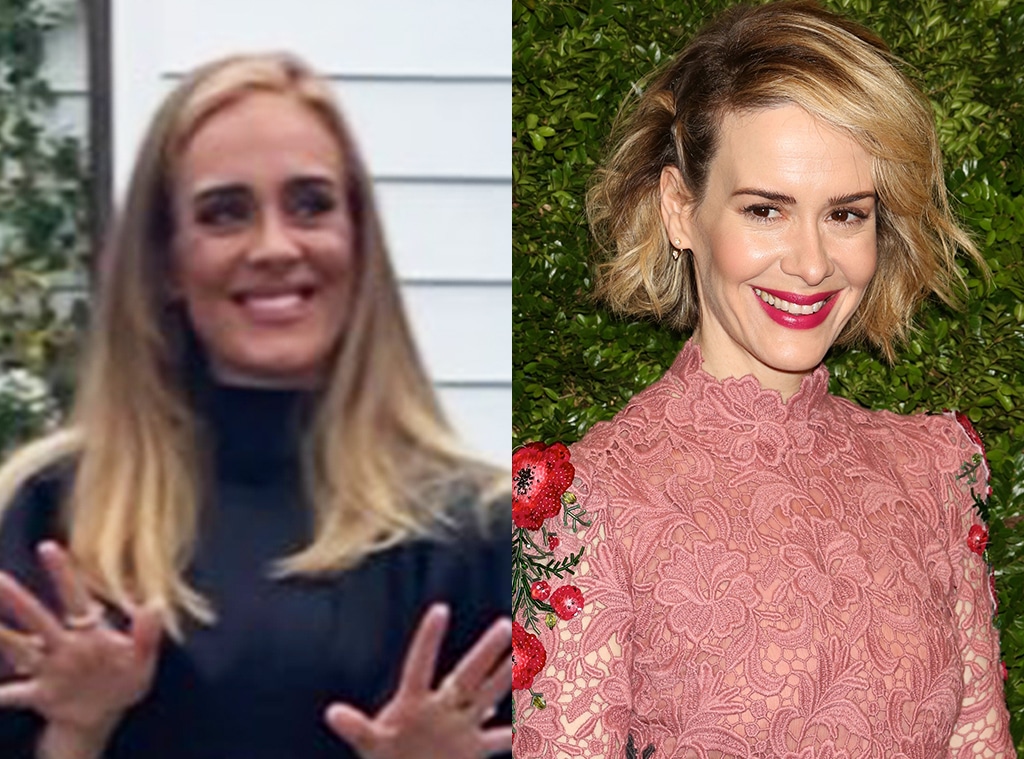 Adele/Instagram, Shutterstock
Rumour has it…some fans think Sarah Paulson and Adele look alike.
The 45-year-old actress weighed in on the comparisons during Wednesday's episode of SiriusXM's EW Live.
The American Horror Story star acknowledged she saw a few messages regarding a resemblance after the 32-year-old singer posted a photo of herself on her birthday.
"I was on Twitter and I just happened to be scrolling through and it said Sarah Paulson is trending," she recalled. "I was like, 'Wait, what?'"
Paulson soon realized it was "the Adele thing again" and said this wasn't the first time followers had claimed the two look similar.
"Listen, I'll take it," she said. "I mean, what I wish they were comparing was my talent to her talent and saying that mine was as great as hers, which quite honestly they can't say because no one's talent is as great as hers, which is really irritating. But I'll take looking like her. Man, she's a beauty. So, sure. Great. Give it to me. I'll take it."
In addition to comparing Adele to Paulson, many fans commented on the 15-time Grammy winner's new look.
"My jaw just hit the floor," Jenni "JWoww" Farley wrote underneath the post earlier this month.
"I mean, are you kidding me?" Chrissy Teigen added.
The post marked the first time the "Hello" artist had shared a photo on social media in more than four months. In fact, she's been staying out of the public eye for quite some time. In September 2019, she officially filed for divorce from Simon Konecki, with whom she shares a son named Angelo. Then, in October 2019, she posted a photo of herself at Drake's birthday party and captioned the image, "I used to cry but now I sweat."
Speaking of sweat, a source told E! News in February that the "Someone Like You" celeb was going to "different gyms," meeting with a trainer and "staying active" by "going on walks and getting in a lot of steps." A source also told People the star has changed her eating habits and that she follows a fitness routine consisting of cross training and pilates.
"It's easy to just focus on her physical transformation, but this is really about something bigger," the insider told the magazine. "She got to the point where she didn't feel great. She knew she had to change something because she wants to be the healthiest mom possible."