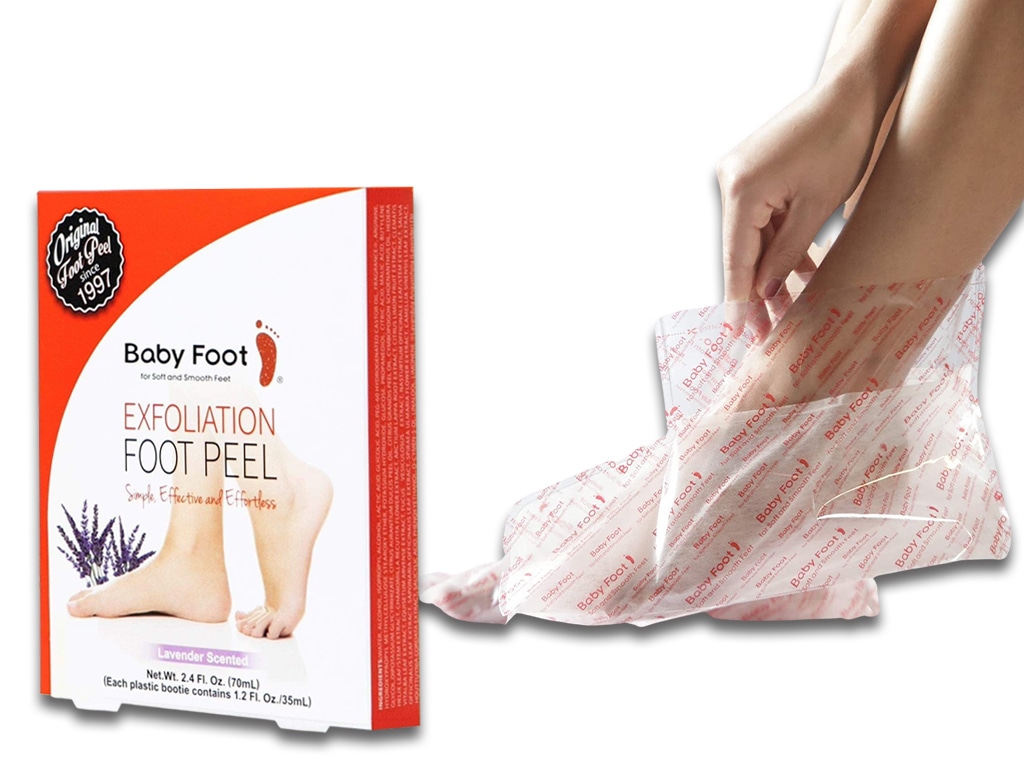 We independently selected these products because we love them, and we think you might like them at these prices. E! has affiliate relationships, so we may get a commission if you purchase something through our links. Items are sold by the retailer, not E!. Prices are accurate as of publish time.
If you've spent any time online scouring beauty blogs or TikTok over the past couple years, chances are you've heard of Baby Foot... and if you haven't, now's the time to learn about it!
Baby Foot is like a pedicure in a box for a fraction of the price. $25 gets you two little plastic booties filled with exfoliating acids, moisturizing ingredients and "natural extracts" (whatever those are) that combine to eat away at your rough-and-tumble tootsies to reveal super soft skin. All you have to do is slip your feet into the "socks," sit there for an hour or so, rinse off the goo, and wait.
The waiting is the hardest part. You might think nothing is happening, especially when your feet look exactly the same immediately after the treatment... but then, like magic, they begin to transform. Within days, your feet will start to peel a little, then a little more, then a whole lot. Some say they shed like a snake, others report leaving chunks of skin wherever they go until the process is done.
So yes, it's gross... but also oddly satisfying, especially when you see the results. The skin on your feet will look brand new and feel baby soft (as the name suggests). The hype is very real. Now, we won't start sandal season without it. This is truly a miracle product. There's just one catch (isn't there always?): it's selling out everywhere. Shop below to get yours while you can, and join us in the joy of experiencing the weirdest and most wonderful metamorphosis your feet will ever know.
Baby Foot Original Exfoliating Foot Peel
Each treatment comes with two plastic booties filled with exfoliating solution that works like a chemical peel, removing dry, dead skin and moisturizing your feet as it goes. After a couple days, your feet start to shed... and then like magic, you'll have incredibly soft feet. If you want to accelerate the process, soak your feet for 15 minutes every day.
This treatment has 28,000+ 5-star Amazon reviews and
If you want to hear more about this foot treatment, check out these customer reviews.
"An absolute miracle for my horrible feet," an Amazon shopper declared.
Another said, "BEYOND MY WILDEST EXPECTATIONS! WOW. Just WOW! I rarely take the time to write product reviews, but, honey, this stuff is the real deal. My feet were gross. Thick skin, crusty looking. And, to make matters worse, the salons here do not allow razors to be used when getting a pedicure. I have tried using blades myself to no avail.
Then a friend told me about this stuff, so I decided to try it.... Yes. TMI, I know. But this is really amazing stuff. Don't walk. RUN and buy this stuff."
A fan of the product raved, "These are the greatest! My mom and I use them a few times a year and it is so much fun to pick off the dead skin that just falls off!"
A shopper said, "COULD NOT BELIEVE MY EYES OR FEET!!!  I honestly cannot believe how amazing this product is!! Will definitely be treating myself to a peel every few months."
Someone else shared, "Most satisfyingly disgusting thing you will ever do. Your feet will be baby smooth.... It is so much fun and your feet will love you. Don't be disappointed if it doesn't work immediately. It takes a couples day for the real weird stuff to happen. Have FuNnNnNnNn."