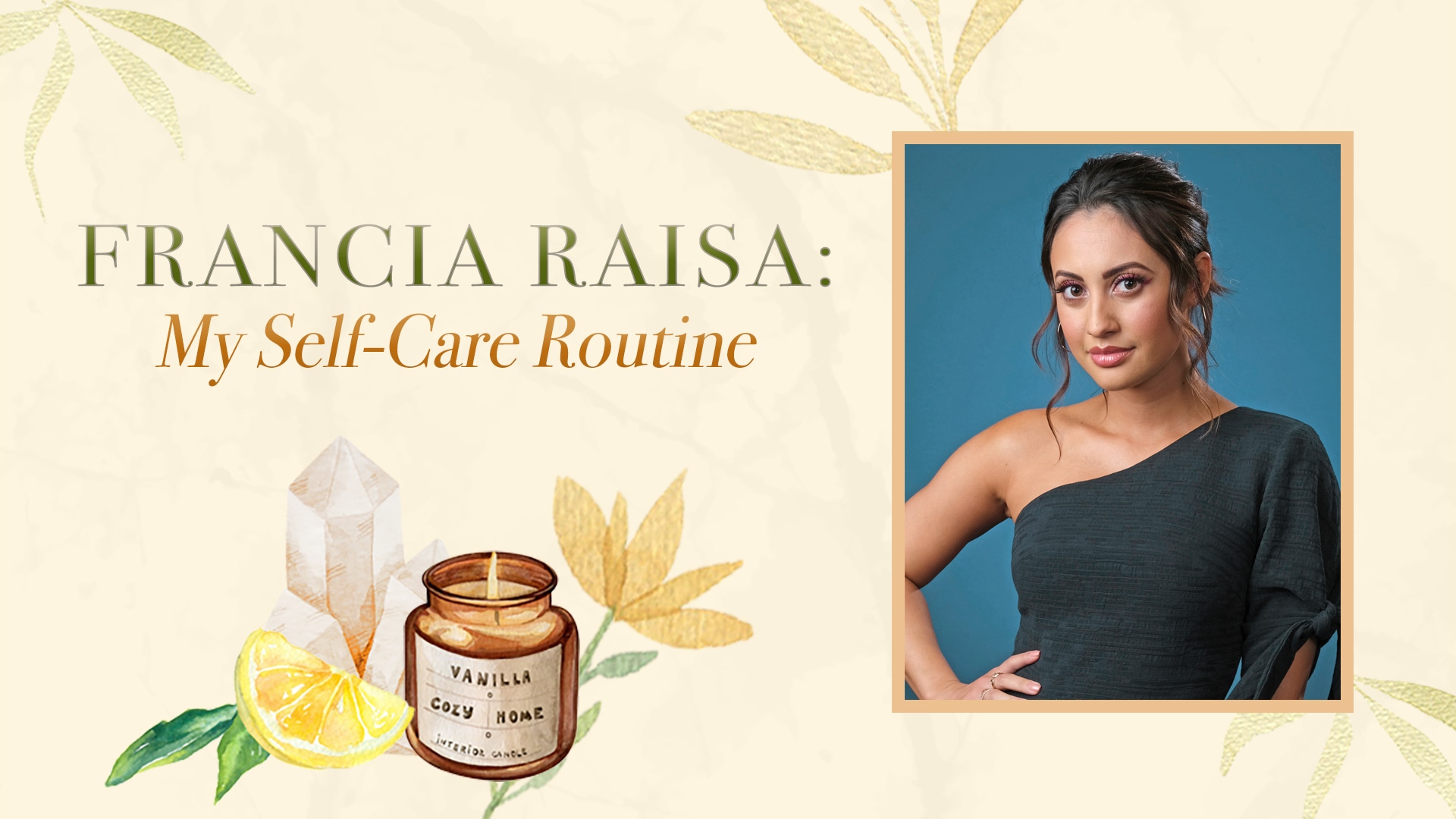 Shutterstock; Melissa Herwitt/E! Illustration
Are you ready to feel #FranciaFit?
Each week, as part of Wellness Wednesday, a celeb E! loves is going to give us a peek inside their self-care routine, including their go-to workouts, the three things they try to do every day and their easy beauty routines as they continue to practice social distancing.
This week, we're excited to have grownish star Francia Raisa give us her wellness essentials. If you didn't already know, The Secret Life of the American Teenager alum teaches yoga sculpt classes on her Instagram a few times a week, using the #FranciaFit hashtag to bring a community together through the power of breaking a sweat.
But as Francia told us, it's not just about the physical when it comes to self-care, with the 31-year-old's mantra sure to give you a surge of confidence. 
Plus, she told us the song she's been turning to now that she's newly single and revealing her go-to snacks.
Check out Francia's self-care routine...
Affirmation or Mantra You Tell Yourself:
A few of my friends and I have been doing a 21-day meditation and every day there is a new affirmation. On Day 6 the affirmation was "Everything I desire is within me" We had to write that 10 times in our journal and It stuck with me so now I say it to myself everyday and I repeat it when I hear no.
The First Thing You Do in the Morning:
First thing I do in the morning is walk my dog because he follows me around and stares at me until I do it but then I drink warm lemon water, journal, eat a light breakfast, work out, and then have my coffee and start my day. I wake up really early to get all of this done.
Three Things You Try to Do Each Day:
Journal, pray and work out. It helps set up my mental and spiritual energy for the day into a positive one. If I skip a day I do notice a difference in my mood and energy and I'm not my favorite person. I journal so I can emotionally pour my feelings on paper and not the wrong ears and they're also letters to God. I pray as my form of meditation and centering my spirit and I work out to release adrenaline and because I like the way my body looks when I do it.  
Social Media Account You Follow for Positivity:
@Jayshetty. Jay is actually a friend of mine and what you see on his Instagram is who he is. He genuinely cares about the minds and spirits of any human he encounters. He does his research and work to be able to feed us positive and effective information. He has great guests on his podcasts and I've honestly learned so much and grown from them. 
Your Favorite Way to Break a Sweat Right Now:
My own yoga sculpt class. During quarantine I'm teaching 3 times a week on IG live and I kick my own ass. I really get mad at myself for some of the stuff I make us do but feel great after.
Your Go-To Snack:
Hot Cheetos and fruit with tajin and lemon, yummy!
Your Go-To Easy Beauty Routine:
I just started a new one during quarantine. Every Sunday night I wash my face, then steam it for 15 minutes, then I apply a clay mask for another 15 minutes, rinse off with warm water, then I use a toner that I make with apple cider vinegar to close my pores back up, and then I moisturize.
Your Current Feel Good Song:
"Man" by JoJo. I'm newly single and its just my anthem right now. It talks about loving yourself and not settling for anyone who loves you less than you love yourself. I think its a great reminder for people to fall in love with themselves first.
Your No. 1 Self-Care Tip:
Be kind to yourself. Have a positive relationship with your mind.
You Can't Go to Bed Without:
Laying on my heating pad on the couch for my back and watching at least one show.