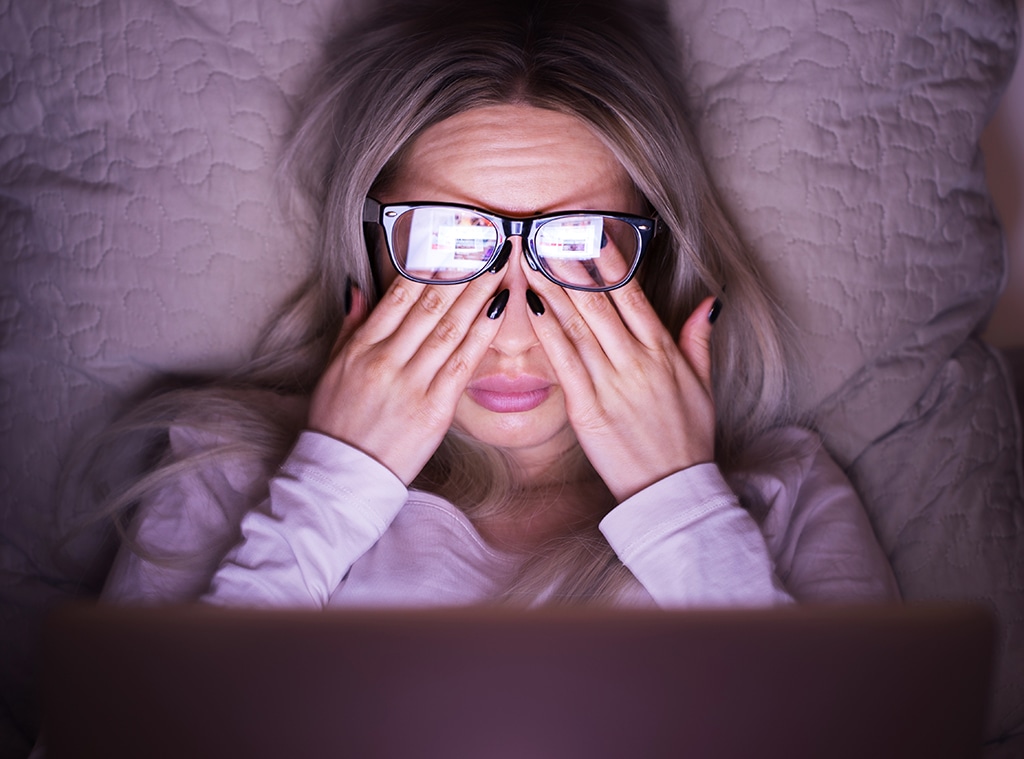 Shutterstock
We love these products, and we hope you do too. E! has affiliate relationships, so we may get a small share of the revenue from your purchases. Items are sold by the retailer, not E!.
If you're like us, you're probably finding yourself spending more time in front of screens these days. Computer screen to phone screen, then maybe a little TV time, and how about some gaming just to mix things up a bit? Add it all up, and it can equal some tired eyes.
But fret not, 'cause we found some things that can help ease the strain. From blue light-filtering glasses and blue-light screen protectors to LED desk lamps, and soothing eye creams to ultra-hydrating eye masks that can give you a little extra self-care after a long day of screenage, every little bit helps.
Shop our picks below, then give your eyes a break!
Blue Light Laurel Reader with Retinashield™ Protection
Make sure your WFH lifestyle remains safe and stylish! These celeb-loved blue light readers are a great way to protect your eyes from too much screen time.
Blue Light Blocking Screen Protector
Hours of scrolling on Instagram and TikTok will catch up with you! But you can use this screen protector as a preventative measure to help protect your eyes from blue light's damaging effects. Eye Just also offers screen protectors for other devices like laptops and Nintendo Switches!
Durand Eyglasses
If you rock a prescription, it's recommended you ditch the contact lenses for now and go with glasses to help with strain and dryness. But if you want to go the extra mile, get a pair of frames with blue light filtering lenses to help alleviate issues associated with blue light like eye strain, headaches, insomnia, dry eyes, blurry vision and more. We love these simple versatile frames from Warby Parker, but you can pop a pair of blue light filtering lenses in any of their frames for an additional $50.
3D Contoured Sleep Mask
When you really need to give your eyes a break, go for a blackout mask to help you sleep. This innovative mask contours to your face and uses a unique 3D design to block out 100% of outside light. They're also easily adjustable so you can get a comfortable fit that won't tug at your hair or snag your pillowcase.
Farmacy Dew It All Total Eye Cream
What about eye care for when you're away from your screens? We recommend this moisturizing eye cream, which can help minimize stress and fatigue. Better yet, it hydrates and soothes your eyes, which is a must after a long day of work/gaming/scrolling through Insta/whatever else you do with your screen.
TaoTronics LED Desk Lamp
And last but certainly not least, get good lighting. Natural light is the best, but if you insist on working in a cave, at least get an LED lamp that can help with some of the strain. This desk lamp offers five color modes and seven brightness levels to suit your mood and working mode. Plus, it also has a functional USB port, and thousands of Amazon reviewers have given it five stars.
Ocushield Anti Blue Light Screen Protector
Bright Eyes Masks
Even better? Give your under-eyes a little extra love with these ultra-hydrating eye masks. Made with a blend of cucumber, hyaluronic acid and aloe juice, the skin around your tired peepers will be replenished and feel nourished. For added soothing, pop them in the fridge to get them cool, then place them on your undereye area for 20 minutes while you zen out. Grab a pack of five for $30, or one set for $7.
Lumify Redness Reliever Eye Drops
Sometimes, your eyes can get a little too red from too much screen time... and no matter how many times you blink, you can't seem to get them (ugh) moist. Enter eye drops, which can help solve both your problems. These eye drops target redness related to eye fatigue, and help add a little more lubrication when your peepers feel overworked.