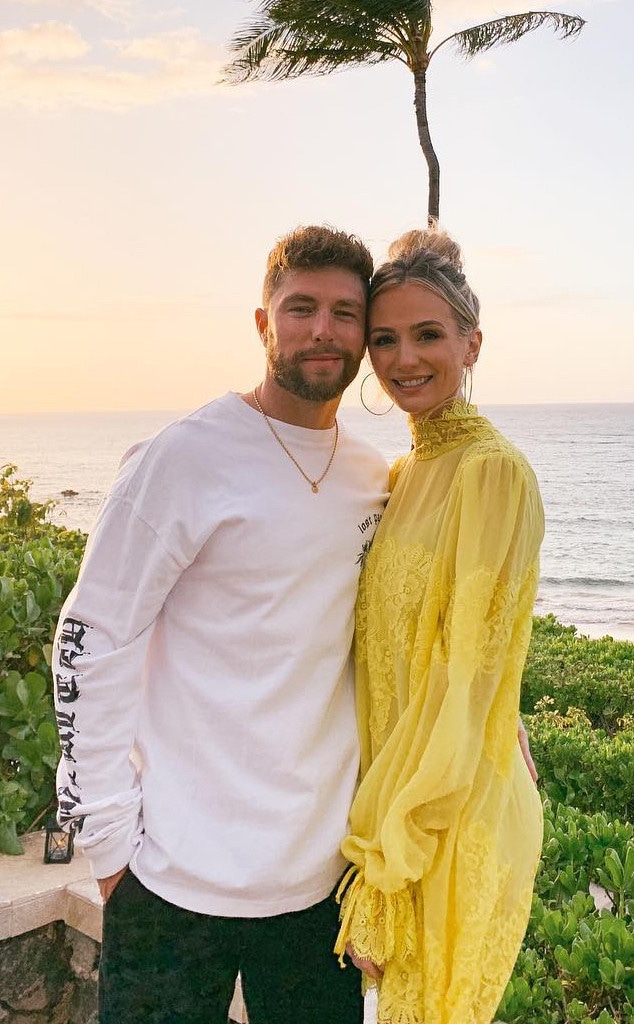 Instagram
In times like these, big acts of thoughtfulness go a big way.
Like many married couples, Chris Lane and Lauren Bushnell Lane have found themselves social distancing and staying indoors in hopes of flattening the Coronavirus curve. 
And while some partners have found these times to be challenging, it's brought others even closer together. For the country music singer and his leading lady, they have quickly found plenty of ways to keep their romance strong.
"Honestly, when I'm home in Nashville and not on the road, we typically spend most of our nights in with our dog, Cooper. We have tried to be outdoors as much as possible like going on walks, hanging out in our backyard and we've been having a blast playing games," Chris shared with E! News exclusively. "Pool, ping pong, cards. I think right now, just being there for each other, checking in on each other and taking care of one another is helping us stay closer than ever." 
While indoors, the newlyweds have been cooking and pouring a glass of wine together.
In addition to making tons of soup, the couple calls Spaghetti one of their go-to's with a side of roasted veggies or broccolini. And who knows, maybe they will get dressed up to enjoy the meal too. 
Watch:
Newlyweds Lauren Bushnell & Chris Lane Reveal Wedding Secrets
"Getting ready and dressed for date night feels even extra glamorous due to the amount of time spent in loungewear. Even if it's a date night at home, get dressed up, open a bottle of wine and do a movie or game night" Lauren shared. "If it's a clear night, go outside and look at the stars! Make a plan for the evening so it feels special and thought out rather than just another night at home." 
During the day, Lauren can often be found working on rooms that still need to be decorated while Chris heads outside for yard work.
The "Big, Big Plans" singer is also writing and recording new music as a follow-up to his second studio album titled Laps Around the Sun.
And not to make anyone jealous, but his wife absolutely has a front-row seat to all the new sounds and lyrics.
"Even before all this time at home, Chris would typically reach for his guitar right before bed and play a few songs.  I think for him it's therapeutic, and for me it helps take my mind off everything else going on," Lauren revealed. "I think it's cool to see artists continue doing what they love using social platforms to play songs and also connecting with other artists on those same platforms. But yes, I'm very happy I have a front row seat to Chris' right now."