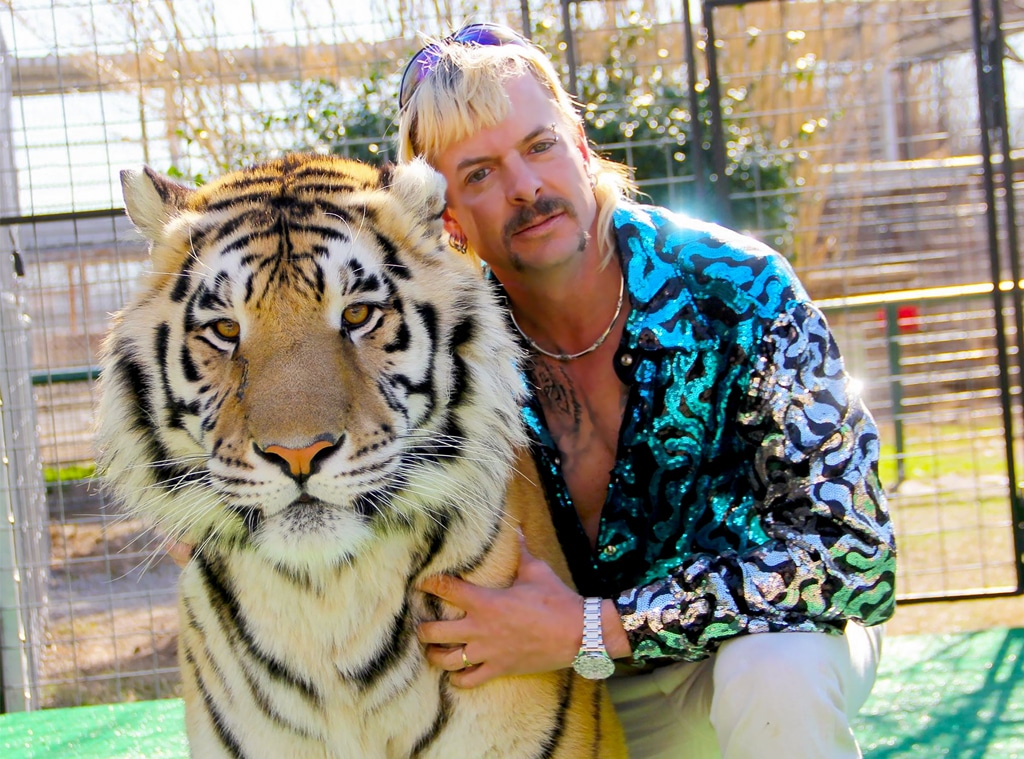 Netflix
"Animal people are nuts, man. And I might be one of em, I don't know. But they're all half out there, man, they're crazy."
"The monkey people are a little bit different, they're kinda strange. But the big cat people are backstabbin' pieces of s--t."
So offer a couple of the colorful characters in Tiger King, a seven-episode series that just dropped on Netflix that tells the stranger-than-fiction tale of Joe Exotic, the owner of an big cat park in Oklahoma who was convicted last year of trying to put a hit out on animal welfare activist Carole Baskin.
Lyin' and tigers and swears, oh my!
The series draws you in immediately with a hint of what's to come as you're introduced to a world of exotic-animal enthusiasts you may have known existed—for instance, magician team Siegfried & Roy performed on the Vegas Strip for years with their trained pet tigers, until one of them attacked Roy onstage—but that you didn't realize was populated by so many people.
Horst Ossinger/picture alliance via Getty Images
Cue the retro footage of the man swimming with a leopard, followed by another guy driving his convertible, a lion next to him in the front seat, both of them living their best lives.
So yes, there are exotic beasts aplenty in Tiger King—and the animals are pretty impressive, too, the loving close-ups on the ever-regal lions and tigers, adorable bear cubs and other creatures threatening to steal the show from any human-wrought malfeasance.
Sue Ogrocki/AP/Shutterstock
But at the center of the story is Joseph Maldonado-Passage, aka Joe Exotic, keeper of pet tigers and owner of the Greater Wynnewood Exotic Animal Park in southern Oklahoma since 1999. At one point he had 187 big cats on the property, which included a tiki bar and pizza restaurant, a Burger Barn, a party deck and, of course, a gift shop. He welcomed a motley crew of staffers, including his head keeper, Erik Cowie, who found the job opening on Craigslist.
"The only difference between my pet and your pet is mine have 3-inch teeth and they weigh 400 pounds," Joe is seen telling a rapt audience during one of the shows he offered as an attraction, an up-close-and-personal encounter that offered the very real possibility of getting peed on by one of the animals.
Already prone to filming everything, the actor and singer eventually expanded into YouTube videos with Joe Exotic T.V. A natural showman with a very particular view of how to get things done, Joe ran for president as an Independent in 2016 as a pro-gun, pro-choice, pro-LGBTQ rights candidate who said that being gay had given him "the ability to open my heart and my mind to let people live how the hell they want to live." 
"I am gay. I've had two boyfriends most of my life. I currently got legally married—thank God it's finally legal in America," he said in a campaign video that caught the attention of Last Week Tonight With John Oliver. "I've had some kinky sex. I've tried drugs through the younger years of my life. I'm broke as s--t."
"Joe Exotic is truly the candidate you'd want to sit down and have a beer with, then another beer, and then several more beers until you're drunk enough to try meth for the first time," Oliver quipped during a segment about the lesser-known third-party candidates running against Donald Trump and Hillary Clinton at the time.
"What we started understanding in the big cat world is [the owners] have a unique commonality between them, which is, 'Look at me'…[it's] the status of having a tiger and the attention that gets them," Tiger King co-director Eric Goode explained to Vanity Fair.
His eyes were first opened to this world more than five years ago when he was in Florida investigating the illegal reptile trade, and while visiting a dealer a man drove up in a van with a snow leopard sitting in the back. 
"That set us on this journey to really understand what was going on with the private ownership of big cats in this country," Goode told Vanity Fair. He also said that he and co-director Rebecca Chaiklin originally intended for their project to be more of an indictment of operations such as GW Exotic Animal Park.
"The real takeaway should be to give your money to conservation programs around the world that are really working hard to save tigers in their range countries and not give your money to sanctuaries, which are really, effectively just caging tigers and cats," Goode said.
He couldn't help it that Joe's [personal story took such an unpredictable turn.
The love and affection Joe has for his cats is real, so it's a tragedy to learn that in the course of a months-long undercover investigation in 2011, the Humane Society says they found numerous instances of mistreatment of tiger cubs, as well as unsafe conditions for human patrons of the park.
Tiger King features multiple reports documenting instances in which private exotic-animal ownership ran amok, such as in 2011 in Zanesville, Ohio, when an owner deliberately set his animals—which his neighbors didn't even know were on the property—loose, and 48 tigers were killed.
It's also no surprise that Joe would treat any perceived threat to the unusual world he had carved out for himself in Wynnewood as a personal threat. Also in October 2017, his husband Travis Maldonado died in a gun accident, having shot himself with a gun he didn't think would fire because of something he'd read on the Internet.
It was during this time, according to prosecutors, that Joe offered someone $3,000—with the promise of more money once the job was done—to kill animal rights activist Carole Baskin, who in no uncertain terms wanted his operation shut down, and who isn't particularly popular in big-cat-keeping circles.
"Anybody who poses with an exotic cat is a problem," Baskin says in Tiger King, "and that just drives more and more and more breeding of these cats, who will never live free."
Loren Elliott/Tampa Bay Times via AP
When his initial plan didn't pan out, a few months later Joe approached another man—who turned out to be an undercover FBI agent.
In the meantime, Joe was multitasking. In May 2017 he also threw his hat into the Oklahoma governor's race as a Libertarian Party candidate, one of several people from the party vying for the state's top office. (Republican Kevin Stitt was elected in November 2018.)
"I was the youngest police chief in the state of Texas history at the age of 19 years old," he told KSWO-TV in May 2018 while campaigning. "I took 16 bare acres in Oklahoma and $1,000 in my pocket and turned it into the largest privately owned zoo in the world. As a businessman, and being in politics since I was 19 years old, I know where the corruption is, I know how to fix it."
Joe, the most famous face of the resistance to stricter oversight of big-cat ownership, is also seen telling CBS This Morning, "[My place] is a ticking time bomb if somebody thinks they're gonna walk in here and take my animals away. It's gonna be a small Waco."
Santa Rose County Jail/AP/Shutterstock
He was convicted in April 2019 of two counts of murder-for-hire, eight counts of violating the Lacey Act for falsifying wildlife records and nine counts of violating the Endangered Species Act.
In January, Joe was sentenced to 22 years in federal prison. 
"The self-described Tiger King was not above the law," First Assistant U.S. Attorney Robert J. Troester said in a statement.
Joe has vowed to appeal, calling all of the animal-related charges part of a ploy to get him to take a deal in the murder-for-hire case.
"They superseded my indictment with 18 wildlife charges using a dirty Garvin County cop and a confidential informant who was offered $100,000.00 by Jeff Lowe to get rid of me so that he could steal everything I ever worked for," he said in a statement on Facebook.
Jeff Lowe is the man who now runs GW Exotic Animal Park with his wife, Lauren Lowe. The two men first met in 2015 when Jeff visited the park to buy a cub (he paid $7,500 for a tiger-lion hybrid called a tiliger) and they hit it off.
Texas Monthly reported that Joe said Lowe offered to put the zoo in his name, to help protect it from Baskin should anything happen to Joe. Lowe, who isn't without a criminal record, moved onto the property and was still there when Joe left.
The Lowes cooperated with Tiger King and a March 11 statement on the park's Facebook page says, "After you see the lurid story, come visit the zoo and see where it all took place. But most importantly, come see how healthy and happy all the animals are, now that the horrible abuser rots in Federal Prison."
"The evidence showed that over the course of many years, he has tried to coerce others into killing me, and in the end, resorted to hiring others to kill me," Baskin, who runs the 69-acre animal sanctuary Big Cat Rescue in Tampa, Fla., and had won a $1 million judgment against Joe in a civil lawsuit, said in a statement posted after Joe's sentencing.
"Because of his constant threats to kill me, I have found myself seeing every bystander as a potential threat. My daughter, my husband, my mother, my staff and volunteers have all been in peril because of his obsession with seeing me dead."
But the wildest thing about it all is that Joe seems utterly delightful—albeit a little off his rocker thanks to all the horsing around with claw-baring animals he does—when you first get to know him. It's the telling of how his world starts to unravel that makes for a can't-look-away story, and that's where Tiger King rules.