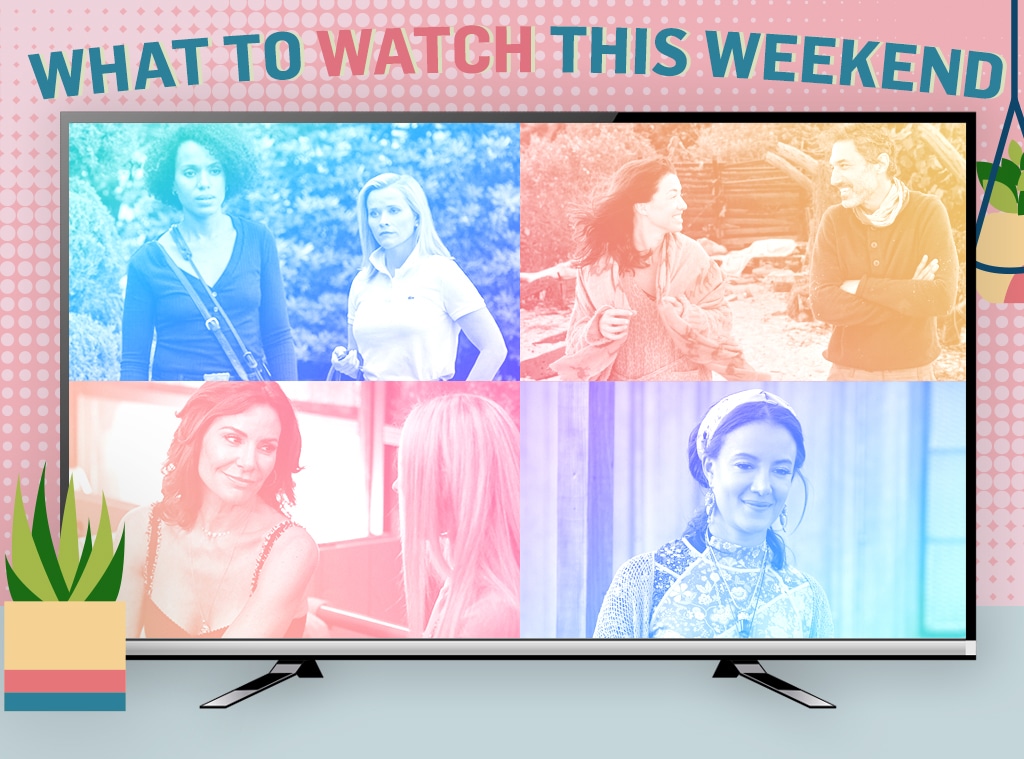 E! Illustration
So...anyone in desperate need of something new to watch? 
As we all continue to practice social distancing in the midst of the ongoing Coronavirus pandemic, we're been practicing what we like to call "binge approaching," turning to our TVs and streaming devices for some much needed comfort and distraction.
Should you be looking for something new (or old) to stream, E!'s What to Watch is here to provide some options for this weekend, March 21-22. Spoiler alert: just because we just celebrated the first day of Spring doesn't mean you can't celebrate Christmas right now. (So good news for those of you who were too lazy to take down your decorations!)
From Reese Witherspoon and Kerry Washington's secret-filled new drama everyone is tweeting about to the resurgence of a reality TV legend to a kid-friendly option that isn't Frozen or Frozen 2, we've got something for whatever mood you're in and whichever streaming services you are subscribed to. 
As always, take what you need and add it to your feed...
If You Are Like Us and Worship At the Altars of Both Reese Witherspoon and Kerry Washington: It's almost like the universe knew we needed these two powerhouses in our lives right now and gifted us with their new show Little Fires Everywhere, continuing Reese' streak of starring in (and producing) must-see TV based on best-selling novels. 
You will devour the first three episodes of the drama, which stars Reese and Kerry (also serving as a producer) as two very different moms whose very different lives become forever linked and changed, along with their kids' lives as well. Ugh, we know, can we vague that up for you? But we don't want to reveal too much.
Plus, it's set in the '90s so prepare for nostalgia overload, thanks to the music, fashion and pop culture references, and Pacey Witter is also in it. we don't know what more you could need. (Where to Watch: Hulu)
If You Want Some Event TV to Look Forward to Watching Live Each Week: Breaking news: Survivor is f--king cool again! OK, real fans know it's always been cool, but the CBS reality juggernaut's 40th season (!) is delivering what truly feels like must-see TV, with 20 winners returning to try and outwit, outplay and outlast each other for $2 million.
Legends like Boston Rob, Sandra Diaz-Twine and Parvati Shallow are back and better than ever, while underrated Sole Survivors like Adam Klein, Michele Fitzgerald and Denise Stapley, with one of those latter three delivering what was arguably one of the franchise's "most vicious" blindsides ever. And those are Jeff Probst's words, not ours!
So grab your buffs and get your butts to your couch this weekend to catch up or you'll be left out of the vote come the merge! (Where to Watch: CBS All-Access)
If You Want to Avoid Feeling FOMO on April 2: Listen, before you argue...before you ...just don't. You need to stop resisting. Resistance is futile. Because the women of The Real Housewives of New York City are unstoppable. And they are coming back for season 12 on April 2. Which means you have enough time to catch up before their return.
And we're almost jealous of all of the delicious, daffy, delightful, dramatic shenanigans coming your way, should you choose to change your life for the better. In these uncertain times, there's nothing quite like watching the iconic "Scary Island" vacation that went down in season three or Bethenny Frankel screaming at Luann de Lesseps "You f--k everyone!" in season eight. 
Like, if we had access to that Men in Black pen that can erase memories, we would consider wiping out our viewing of RHONY just to experience it all again. So do it for us, OK? (Where to Watch: Hulu)
If You Are Looking For an Out-Of-This-World Escape: Roswell, New Mexico returned for its second season last week and we forgot how much we missed these attractive aliens (and humans, obviously). (attractive people on The CW? We're shocked too.) We very much recommend spending the weekend in Roswell, as season one delivers a concise sci-fi mystery-epic love story-hipster cowboy concoction that'll go down reaaal smooth and gives you plans for Monday nights. Did we mention they are very attractive? (Where to Watch: Netflix and The CW)
If You Want to Have a Movie Night Without Paying $20 for Popcorn: Given the closure of cinemas across the country, many studios are adding their newer releases to VOD early, giving movie lovers access to movies like Frozen 2 (Where to Watch: Disney+) and Star Wars: The Rise of Skywalker (Where to Watch: On Demand) earlier than anticipated. (You're welcome, parents!)
Other offerings we suggest checking out this weekend include Emma for a stylish and sassy take on the Jane Austen classic (Where to Watch: iTunes and Prime Video, $19.99) or The Invisible Man, which is one of the best movies of 2020 (Where to Watch: iTunes and Prime Video, $19.99).
And while we have you: if you have m&ms (or any other chocolate really), add them into your popcorn and thank us later. 
If You Need Something to Watch With Kids That Doesn't Feature Olaf: There are only so many viewings of Frozen and Frozen 2 a person can take! Why not try something new that will also fill your nostalgia tank, as The Amazing Stories can appeal to every member of the family. The remake of the cult-fave '80s sci-fi mystery series features a different story in each of its five episodes, which feature stars like your Tik Tok-obsessed cousin's beloved Dylan O'Brien, You's breakout Victoria Pedretti (We love Love!), and Edward Burns, among others. (Where to Watch: Apple TV+)
And what better time to start sharing the magic of Harry Potter with any youths in your life than now? All eight films are available for you to enjoy together and transport to Hogwarts for a weekend visit. Accio butterbeer! (Where to Watch: On Demand)
If You Want to Feel Better About Your Cooking Skills And/Or Get Some Culinary Inspo: On this weekend's menu, we're serving up some comfort food in TV form. For your appetizer, let's binge watch Food Network's Chopped, where you can get some ideas from the random assortment of ingredients the contestants are forced to work with. Maybe even have your own mini-Chopped episode, and pick three items from your pantry? (Where to Watch: Hulu)
For the main course, we have three options: Top Chef (Where to Watch: Hulu), which just kicked off its most recent season filled with returning favorites who have never won; Ugly Delicious (Where to Watch: Netflix), which will scratch your wanderlust itch as celeb chef David Chang explores global cuisine; The Great British Bake-Off (Where to Watch: Netflix), which is basically chicken noodle soup and will soothe you.
And for dessert, turn to Nicole Byers' and co. for Nailed It! for some giggles and some relief in knowing you are not alone in your baking woes. PSA: Let your cakes cool before frosting, party people! (Where to Watch: Netflix)
If You Need Some Christmas Spirit: Hallmark Channel is bringing back its Countdown to Christmas programming to inject a little merry into your weekend. The marathon will go on all weekend, airing 27 original films. You know what they say: the best way to spread Christmas cheer is by sitting on your couch, away from other humans you will stay clear. (Where to Watch: Hallmark Channel)
(E! is part of the NBCUniversal family)