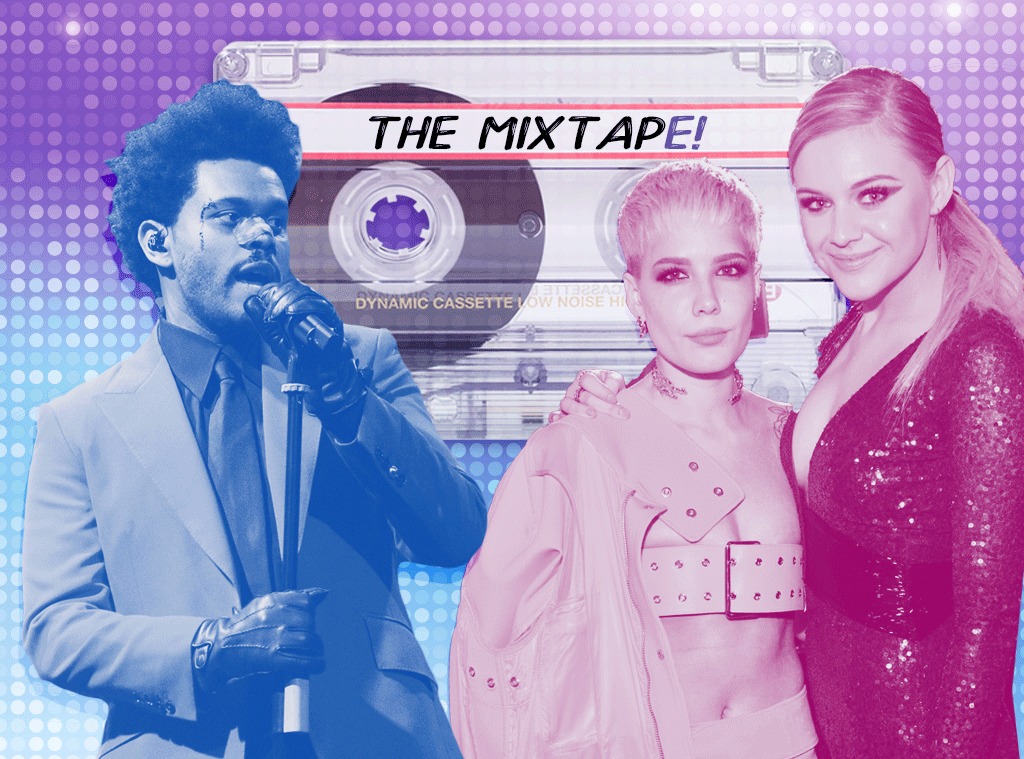 Getty Images/E! Illustration
New music Fridays are a thrilling, yet daunting prospect for any music lover. 
It's essentially a weekly holiday where fan-favorite artists and fresh faces alike drop their latest offerings for all the world to hear, flooding streaming services and digital retailers with an onslaught of aural goodies. But who has the time to sit there and listen to everything before updating their playlists? There's just too much good stuff! (And, if we're being honest, usually a few stinkers, too.)
As it turns out, we do. Welcome to The MixtapE!
In unique and uncertain times like these, where social distancing has become a necessity, music feels more important than ever, doesn't it? It has the power to soothe, to give us a sense of connection amidst feelings of increasing isolation. It can bring a smile to our face, give us the urge to get on our feet and shake it out, or even remind us that we're not the only ones feeling the things we're feeling, however dark they may be. 
With that in mind, here are the tracks released this week that have moved us in one more or another. May they do the same for you.
The Weeknd — "Too Late": Abel really did the damn thing on After Hours, his fourth studio album, out today. The album is a wild, sensual ride through the emotions of a life lived in the wee hours. While the entire moody thing is worth your time, if you're looking for an entry point, start with this track written and produced with frequent collaborators DaHeala and Illangelo and featuring the magic touch of superproducer Ricky Reed (Lizzo). Every time we hear that beat drop, it absolutely sends us.
Kelsea Ballerini and Halsey — "the other girl": Days before the premiere of their episode of CMT Crossroads on Wednesday, Mar. 25, the country star and the pop princess have unveiled this excellent mid-tempo duet, featured on Ballerini's new album, kelsea. Rather than fighting over their shared man, a la "The Boy Is Mine," the track finds the two wondering just who is the "other woman" in their messy love triangle. And from the sound of things, it just might be both of them.
Conan Gray — "Wish You Were Sober": On this standout track from the rising pop star's highly-anticipated debut album Kid Krow, out now, Cone takes us all back to our college days and those confusing mindf--ks who could only show us any affection when they're on their way to an inebriated blackout. Between the confessional lyrics and the excellent alt-pop production, he's more than living up to our designation as one of the 15 future pop stars you need to know now. Get into it.
dvsn feat. Snoh Aalegra — "Between Us": On this latest taste of the Canadian R&B duo's third studio album, A Muse in Her Feelings (due April 17), they've teamed up with the Persian-Swedish songstress for a sultry mid-tempo steamer that'll have you in your feelings. Keep this one in mind for when the social distancing is over and you and that special someone can get up close and personal once more.
Perfume Genius — "On The Floor": On the second single off his forthcoming fifth studio album, Set My Heart on Fire Immediately (due May 15), the queer artist brings to life the maddening and fantastic way a crush can take on a life of its own. Between this and excellent lead single "Describe," the LP is shaping up to be something truly special.
Adam Lambert — "Velvet": "Whether that's joy, comfort… I hope it makes them ready to dance and have a good time." That's what Lambert told E! News he hoped his new album, out today, would inspire amongst listeners. And on this groovy title track and across the entire 13-track LP, he's accomplished just that. The disco-kissed late '70s-early '80s sound fits his always impeccable vocals like a sequined glove. Turn this one up loud.
Nothing but Thieves — "Is Everybody Going Crazy?": The English alt-rock band kick off their third album era with this moody stomper that couldn't feel more timely. As lead vocalist Conor Mason marvels at an increasingly dystopic world that's left him more and more isolated, he wonders what we're all wondering: Does anyone else feel as untethered as I do? Ultimately, he gets to a truth that we're all learning these days: "In this restless, disfigured place, we've only got each other."
Holly Humberstone — "Falling Asleep At The Wheel": On her intimate second single, the rising UK star lays her soul bare with a set of confessional lyrics that paint her as perhaps the villain in a relationship that's falling apart because of her. "I should be your ray of light," she sings over a propulsive piano and synth-forward production. "But that's not me." Oof. An exceptionally brave release from an artist worthy of your attention. 
Arlissa — "Healing": The first release of the new year from the soulful British singer-songwriter is a rousing, riveting success. From the string-heavy production to a powerful vocal reminiscent of Leona Lewis, there's a lot to be excited about here. Consider us officially excited for The Broken Hearted, her forthcoming debut album. 
Lauren Jauregui & Tainy — "Lento": After making waves with "Nada" last month, the former Fifth Harmony singer reteams with the Puerto Rican producer for this seriously sultry bilingual bop. "I had planned to give you this first taste of what's coming for some time," she said of the track's timing. "There was truly no way any of us could have prepared for what is happening right now, so I hope you receive''Lento' with as much grace and love as is intended. I hope dancing to it helps your spirit feel joy."
Bonus Tracks:
Wallows — "OK": 13 Reasons Why star Dylan Minnette and his band's new track was written about searching for stability in a relationship, but the song's main hook "Can we get up and try to feel OK again?" has certainly taken on a whole new meaning.
Melanie C — "Who I Am": The erstwhile Sporty Spice grapples with all her past selves in a quest for self-acceptance on this cathartic bop.
Isaac Dunbar — "scorton's creek": The preternaturally talented queer up-and-comer, who's all of 17, grabs a hold of your heart and squeezes hard with this stirring track about young and confusing love.
The Avalanches feat. Rivers Cuomo and Pink Siifu — "Running Red Lights": The Australian EDM outfit team with the Weezer frontman and the prolific chameleonic musician for a dreamy, if slightly melancholic track.
TOKiMONSTA feat. Sunni Colón — "Phases": On this standout track from the DJ's new album Oasis Nocturno, she teams with the L.A.-based singer-songwriters to pair his soulful vocal with a chill, blissed-out production perfect for self-soothing during these uncertain times.
Happy listening!