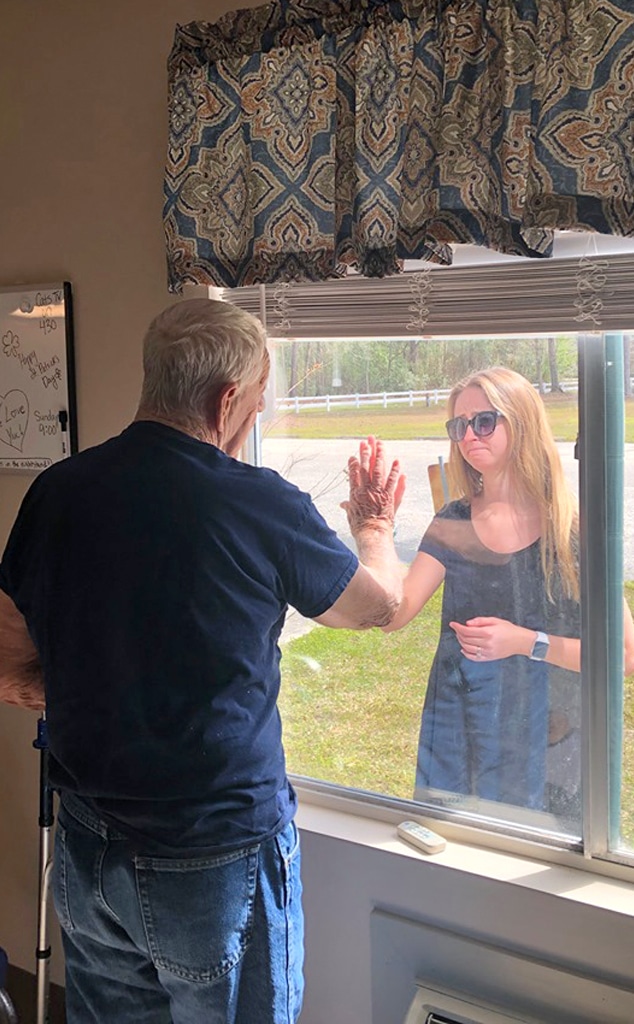 Premiere Living & Rehab Center / Carly Boyd
One North Carolina woman found an extra special way to include her quarantined grandfather in her engagement.
Carly Boyd recently surprised 87-year-old Shelton Mahala through the window of his nursing home, where he's currently in isolation due to the coronavirus pandemic. 
"When I arrived at the nursing home," the 21-year-old told ABC News, "I run around the building to get to his bedroom window and they pulled up his blinds. I point to my ring and he realized I was engaged!"
Carly said staff at the nursing home helped coordinate the unforgettable moment, which brought some much-needed sunshine to her grandfather's day. "He was so happy he kept asking me, 'When's the wedding?'" the bride-to-be shared. "I know he feels a little trapped right now because of all the restrictions. We both said we love each other and it was just a really emotional moment."
Carly told ABC News she hopes her story inspires others to take the outbreak seriously and work to prevent its spread to more vulnerable populations, like the elderly. 
Premiere Living & Rehab Center / Carly Boyd
As she put it, "When people think about going out and having a good time this weekend, I hope they realize that others are sacrificing very personal relationships and the social well-being of loved ones to keep everyone safe." 
Celebrities like David Beckham and Eva Longoria are also encouraging their followers to share the loved ones in their lives they're staying home for. Check out the #IStayHomeFor social media campaign here. 
Watch:
Kylie Jenner's Pregnancy "Prepared" Her for Coronavirus Outbreak