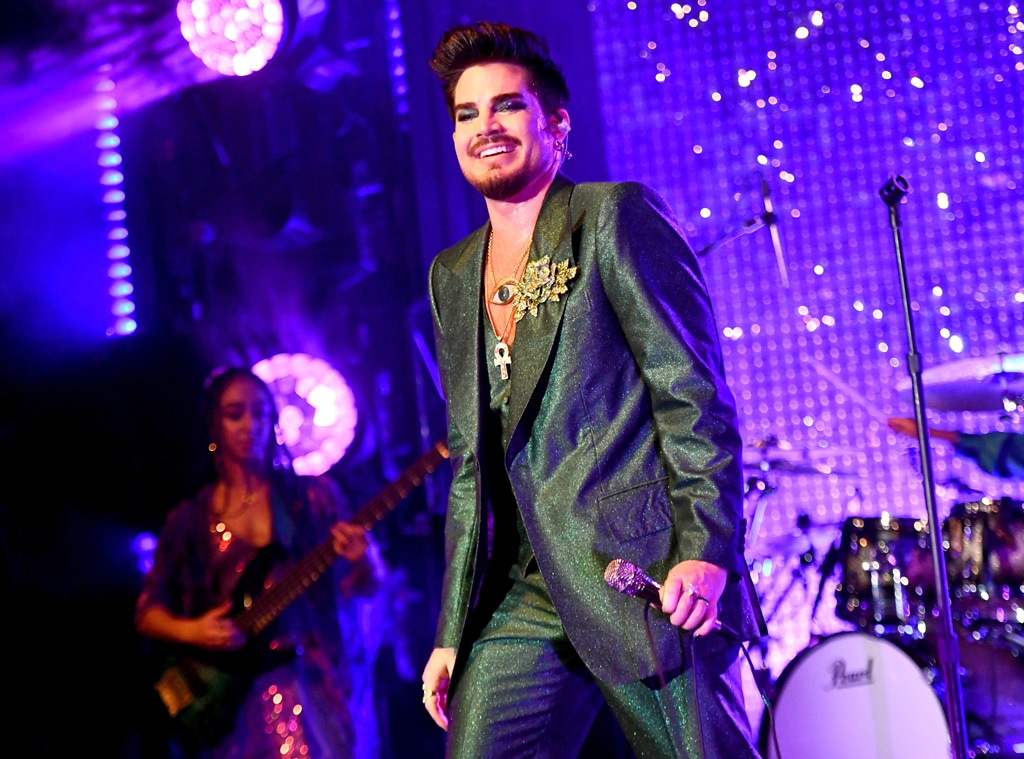 Scott Dudelson/Getty Images
This isn't exactly how Adam Lambert wanted to be sharing his new album with the world.
With a release date of Friday, Mar. 20 set for Velvet, the American Idol alum's fourth studio album, there was a whole promotional plan put into place. And then, the world came to a halt thanks to the coronavirus pandemic and the increased need for social distancing. 
"I've been able to reflect on the past busy few months," Lambert told E! News exclusively about the last few days leading up to the big release, "but obviously I'd rather out and about. I was due to be in New York for the album launch and then in London, so it's gutting I can't be."
He continued, "But what can you do? We have to stay positive and I feel like the music world is doing the best it can to make sure we are!"
With Velvet out now for fans to get lost in, Lambert's certainly doing his part.
After teasing his new sound last fall with the release of the Velvet: Side A EP, which included six tracks that would eventually be included on the LP, the occasional Queen frontman's first full-length album in nearly five years is finally here, influenced heavily by the disco and glam-rock sounds of the late '70s and early '80s and even featuring an appearance from legendary Chic guitarist Nile Rogers on the slinky lead single "Roses."
"I pull from quite a varied taste in music, and, of course, Queen inspire me too," Lambert told us of the inspiration behind the new sound. "Their music is timeless. Lyrically, just my life. My life and how it's been the last few years in both love and pain."
As for why he found himself so enamored with the specific sounds of past eras, he explained," I think just how it feels. The groove that's there. It's so varied as well--it can feel smooth and sexy, but also have a good rock riff! '70s/'80s music has a lot going on, sonically, to pick from, which I love."
Lambert's approach to writing and recording music has come a long way since he released his first album, For Your Entertainment, over a decade ago. "I've learned to be who I am," he told us. "I mean, I've always known who I am, but I've learned not to care about what the charts are doing or what's popular 'right now'. I make music that I like based on my influences. If people love it, great, but ultimately I'm at the point where I make music because I love what I make and that only."
He's just ready to have the album out there and, eventually, get the chance to perform the new material live for his fans. For now, though, he's just hoping it'll make listeners feel something during this unique period in our history. "Whether that's joy, comfort… I hope it makes them ready to dance and have a good time," he explained. "We all need that right now!"
For any fans looking for words of encouragement right now, Lambert had this to share: "Stay inspired. Stay creative! Let's spend this time valuing the little things!"
And, of course, stream Velvet, available now.
Watch:
Adam Lambert Excited to Open 2019 Oscars With Queen