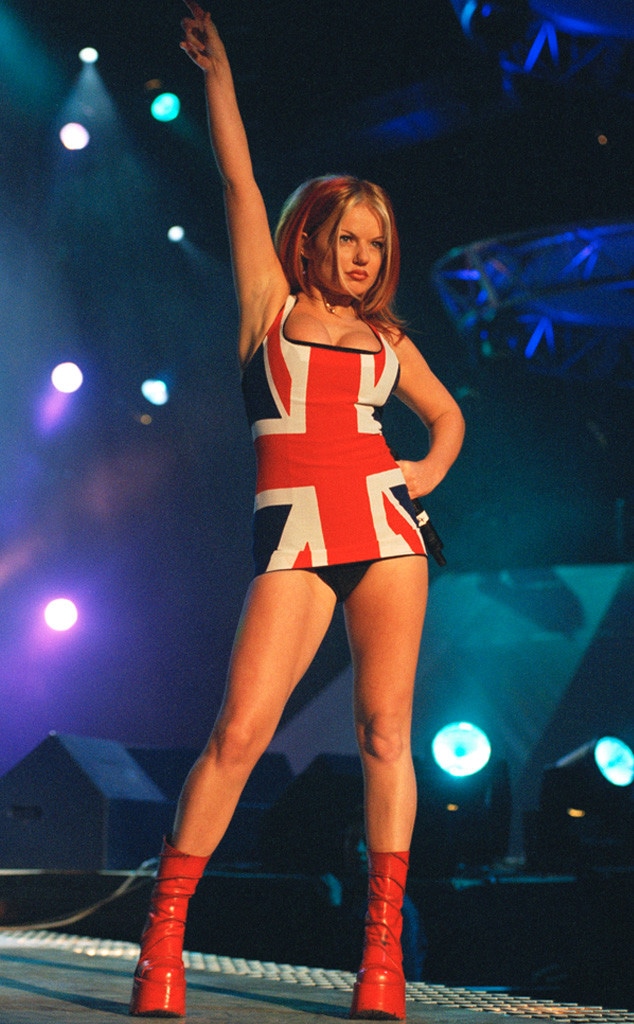 Dave Benett/Getty Images
When Spice Girls fans think of Geri Halliwell, one particular dress likely comes to mind. 
In 1997 on the Brit Awards stage, the songstress stepped out with her famed group mates donning a mini dress emblazoned with the Union Jack, the national flag of the United Kingdom. The dress has since become a symbol of Halliwell as a Spice Girl, but as the star recalled in an interview with Vogue, she was the brains behind the final design. 
As she told the magazine, she was presented with a black Gucci dress before the awards show, which she described was akin to the shape of '50s bathing suit Marilyn Monroe might have worn. However, it was "not really saying much" and given the British-focused event, Halliwell thought to incorporate the flag. 
Since she thought cutting up flags was frowned upon, she grabbed a tea towel with the same flag design and had her sister sew it on top of the dress. 
As she recalled to Vogue, she showed the revamped design to a stylist, who frowned upon it, worrying it resembled a racist political party in the United Kingdom. 
However, Halliwell rejected the thought and put the peace sign on the back of the dress as a clearer message that the Spice Girls stood for acceptance. 
The dress was famously paired with chunky red boots, which Halliwell also handled herself thanks to some red car spray in the garage from her mechanic father. 
Watch:
The Spice Girls: Then vs. Now
As fans well know now, that outfit has since taken on a life of its own. "When that tea towel was stitched to that little Gucci dress, I had no idea the reaction that was gonna come," she told Vogue. 
"That dress really became the identity of what girl power stood for."
In the decades since, Halliwell has donned revamped iterations of the dress, reflecting her growth as a woman in every new period of her life. 
Watch the video above to hear it all in Ginger Spice's own words!
As for that outfit, may it viva forever.