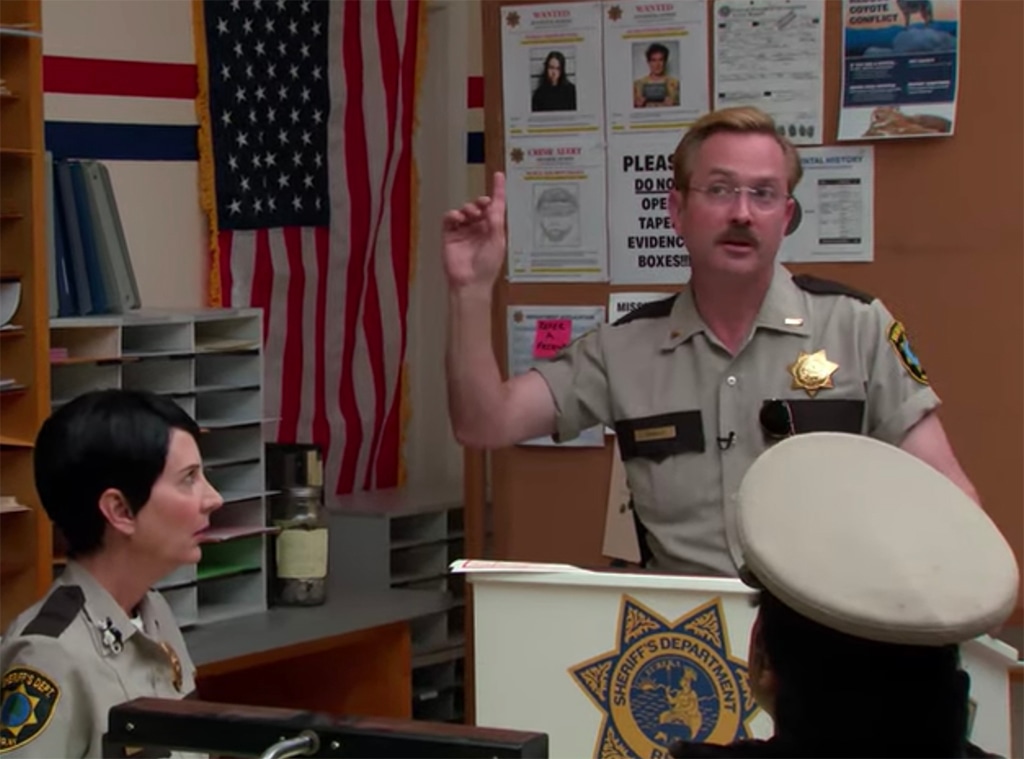 Quibi
Ready for the return of Reno 911? 
Quibi is bringing back the iconic Comedy Central show when the new streaming platform launches on April 6, and now we have a first look at the show's return that's honestly helping with a lot of things right now.
In the clip, which you can watch below, Dangle (Thomas Lennon) is trying to lead a meeting but he's interrupted by the squirrels in the ducts. He believes they're singing. 
"No one thinks that it sounds a little bit like they're tiny bit like they're singing? At all?" he says, to silence. 
Wiegel (Kerri Kenney-Silver) tries to back him up, but the rest of the team think it's time for him to take a break and head out for a spa day, which Dangle immediately sees as a ploy to "do Of Mice and Men." 
The series makes its return with pretty much the entire original cast and creative team, including Lennon, Kenney-Silver, Robert Ben Garant, Niecy Nash, Wendi McLendon-Covey, Cedric Yarbrough, Carlos Alazraqui, Ian Roberts, Joe LoTruglio and Mary Birdsong. 
Per Quibi, "a critically acclaimed, hit series which ran for six seasons on Comedy Central, Reno 911! let viewers ride shotgun with the courageous men and women of the Reno Sheriff's Department as they lay down the law and put their lives on the line. The Reno 911! camera doesn't blink—and when the bullets start flying, the Reno Sheriff's Department will be right behind you." 
Quibi is a new streaming platform for "quick bites," under 10-minute episodes that are designed to be watched on your phone. Some of Hollywood's biggest names have got shows in the pipeline, including Chrissy Teigen, Zac Efron, Sophie Turner, Kevin Hart and more. 
Quibi and its content will launch April 6.