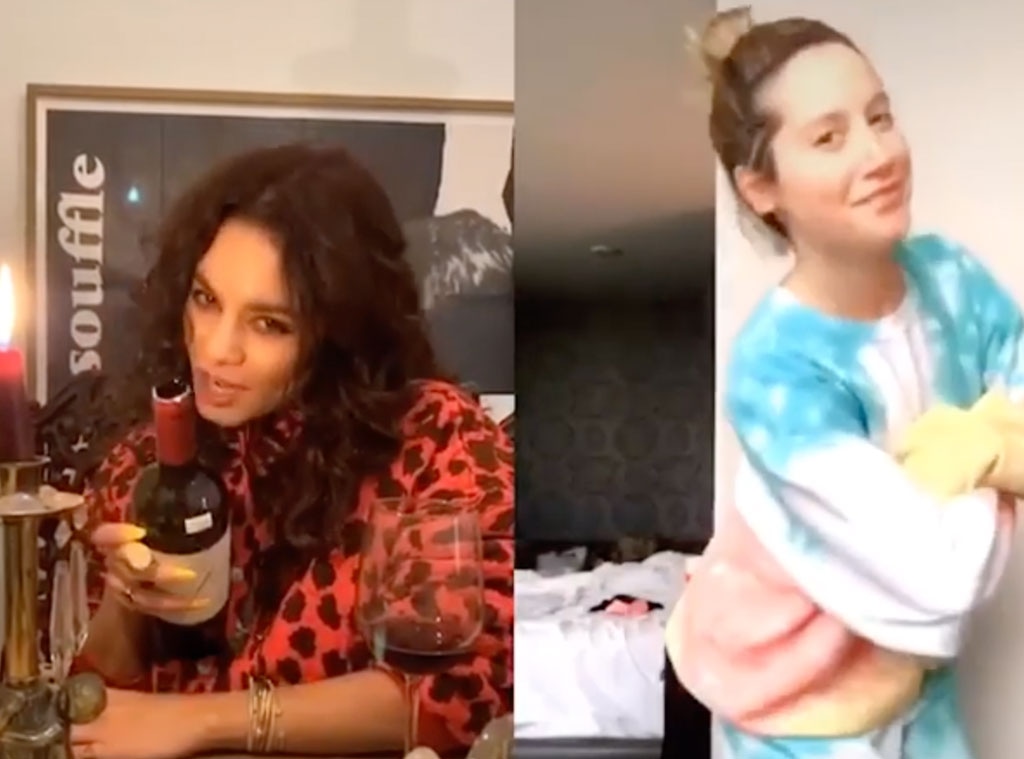 Instagram
Wildcats everywhere! 
On Monday, Vanessa Hudgens made her TikTok debut with an epic High School Musical­-inspired video. Following her HSM co-star Ashley Tisdale's lead, the Rent: Live star brought the nostalgia by putting her spin on the Disney Channel movie's hit song "We're All in This Together." But unlike her fellow Disney alum, who shared a video of herself dancing along to the song's original choreography earlier in the day, Vanessa decided to kick back with a bottle of wine while she lip-synching the lyrics.
"Well. It's come to this. Lol @ashleytisdale maybe I start getting into tik tok?" she captioned the video, where her and Ashley's posts are side-by-side with one another. "Username is vanessahudgens not vanessahudgens0 okay byeeee."
The Spring Breakers star's post caught the attention of another East High alum: Bart Johnson, who played Troy Bolton's (Zac Efron) dad Coach Bolton in the franchise. "Outstanding," he replied, adding the basketball and animal paws emojis.
Bachelor star Wells Adams also left Vanessa a comment, writing, "This looks like a 90's montage where you convince Ashley to sign away her soul for sold out tickets to lollapalooza."
This isn't the first time that Vanessa has revisited her HSM days in recent months. Back in November, she channeled her inner Gabriella Montez during karaoke night and performed "Breakin' Free." Thankfully, she captured the epic moment on social media.
Watch:
Vanessa Hudgens Pays Homage to Disney Channel Background
"Um. Here's a really bad, aggressive, and totally sober...version of breaking free," she shared on Instagram, along with a video of herself singing the hit song. "Yep. That happened lol it hurts my ears but also makes me laugh lol...the 'ooo yeah.' Dear lord lol."
Further proving that she's still a Wildcat, Vanessa opened up to E! News about how her early Disney days played a role in her 2018 single with Phantoms "Lay With Me." For the music video, the trio paid homage to HSM by re-creating one of the movie's iconic scenes. 
"Fans have been such amazing supporters over the years," she told E! News at the time. "They've been with me through so much and I'm just so grateful for all of them. And Phantoms grew up doing Disney and Nickelodeon as well, so we thought, 'Why not pay homage to where we came from and give the fans a little treat?'"