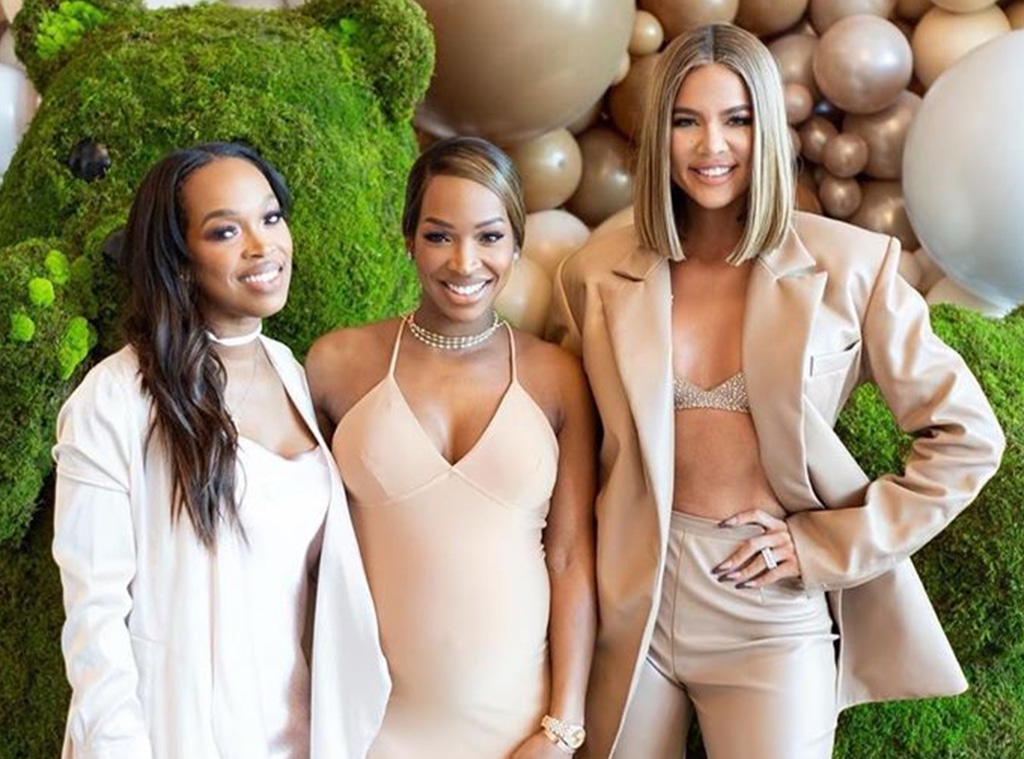 Instagram
Best friends forever.
On Tuesday, Khloe Kardashian wished her longtime pals Khadijah and Malika Haqq a happy birthday with a touching tribute. Sharing pictures of the trio from Malika's adorable teddy bear-themed baby shower, which took place last month, True Thompson's mama reflected on their 20-year friendship and thanked the famous twins for sticking by her through thick and thin, joking that she's basically "an honorary triplet at this point."
"Happy birthday to my besties!!!!" Khloe's post began. "I am so grateful to have met the both of you IN 1999 (could be earlier but my memory isn't the best)! I don't even want to know where my life would be if I didn't have you two in it! A 20 plus year friendship is hard to come by and I don't take this for granted."
She continued, "We've been through EVERYTHING and anything together and we all have stayed 10 toes down."
"You are more than my friends," Khloe wrote. "You're my sisters, my partners-in-crime. You are my memories! We have So many new chapters and phases to enter in and out of. We have so much more life to go together."
Concluding her b-day shout-out with more love, the Revenge Body star said, "Thank you Lord for blessing me with my magical circle! Truthfully, I would be lost if I didn't have you ladies. I love you madly! Until the wheels fall off I'm screaming Happy birthday!!!!!"
Khloe has been stepping up as BFF as Malika gets closer and closer to becoming a first-time mom. Back in September, she announced that she was expecting a son with her ex O.T. Genasis. With her due date only days away, a source shared with E! News that the Keeping Up With the Kardashians star has been doing everything she can to help her bestie prep for her baby boy's arrival.
Watch:
5 Reasons Khloe Kardashian & Malika Haqq Are BFF Goals
"[Khloe] has promised Malika she will help out and be there for her every step of the way," the insider said. "Malika was there for Khloe throughout her pregnancy and now Khloe can't wait to be there in the same way."
The source added, "Khloe knows she can give Malika advice on everything about pregnancy, newborns and having a baby. She wants to do everything with her because it's all so fresh. She is excited for True to have another friend in the crew and for Malika to experience motherhood. She knows she will be an amazing mom."