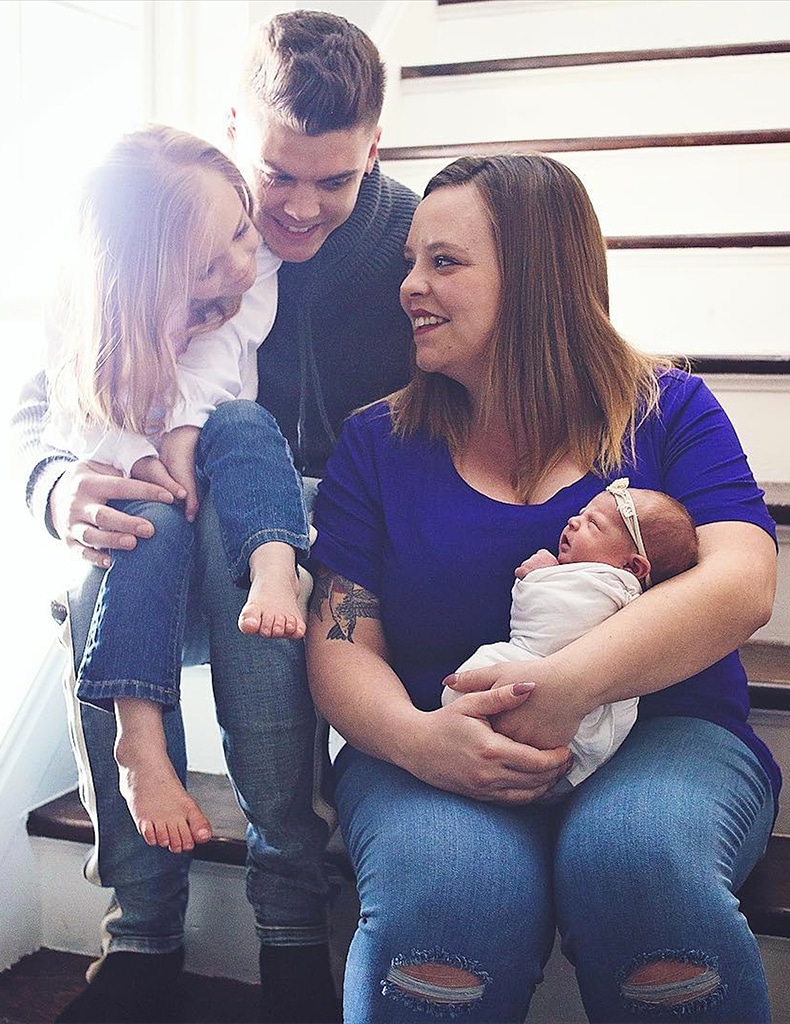 Brittni Marie Photography/Four 13 Photography
When it comes to reality TV, Catelynn Lowell always puts her children's needs first.
As excitement continues to build for a brand-new season of Teen Mom OG, one of the original cast members is teasing fans with what's to come.
While viewers were able to witness Catelynn and husband Tyler Baltierra reunite with their eldest daughter Carly last summer, this season may be a little different.
"The summer is coming up and if we were to have a visit, it would be during the summer," Catelynn explained to E! News exclusively ahead of tonight's season premiere. "Viewers got to see that last summer because we were filming in the summer when we went to go see [Carly and her adoptive parents]. Obviously she is a part of our story so when things come up on camera, we talk about her as much as we can."
Catelynn added, "We are in the process of talking with her parents about having another visit and if we can make it all work for everyone, then we will definitely try and do it."
Another factor that plays into Carly's presence on the show is the simple fact that she is getting older. With extracurricular activities, trying to fit in time gets harder.
Watch:
"Teen Mom" Star Catelynn Baltierra Celebrates 4 Years of Marriage
"Carly is getting older and she's about to be 11 and it's gotten to a point where her parents want to keep her private, which we respect," Catelynn explained. "But another part of it is that she's older and she's going to be explaining to her friends what her adoption story looks like from her view of it. I think it's important for her to be able to share with people going through it and share her story."
The Conquering Chaos author added, "And her parents aren't on a TV show and they like to have a private life, which I completely understand and it just comes from respecting their wishes and what they see for Carly and Carly's future and her being able to tell her own story when she's ready."
Until then, Catelynn and Tyler are happy to give fans a look inside their marriage that remains stronger than ever.
In the season premiere, fans will watch the couple escape to Hawaii where Catelynn surprises her husband with a vow renewal.
"We had a lot of bumps in the road. We had that separation so I just kind of wanted to renew our vows and have a fresh start and new beginning," she explained.
And because the couple experienced their honeymoon in Hawaii, it was the perfect location for a couple's getaway.
"We're open and honest with each other," Catelynn explained when explaining the rules she shares with Tyler to maintain a healthy relationship. "We don't ever call each other out with each other's names. We've put in a lot of work and learned tools over the years and that's why we are so open with the show and don't hide anything. It teaches us things and teaches the viewers things. But I feel for our relationship, it's huge for communication. Communication and trust are two huge things."
With such a strong bond, we couldn't help but wonder if another baby could be in this couple's future. As it turns out, Tyler really wants a boy.
"My baby fever has been through the roof but Vaeda is getting bigger and is no longer an infant," Catelynn shared. "One day we want to have another child but we're not like jumping on it yet but it's something we're thinking about."
"Nova says that she wants another brother and another little sister and I told her, 'Girl you are out of your mind,'' Catelynn joked. "I have a feeling she might jinx me."
Watch Catelynn and her family on a new season of Teen Mom OG airing Tuesday nights at 8 p.m. only on MTV.