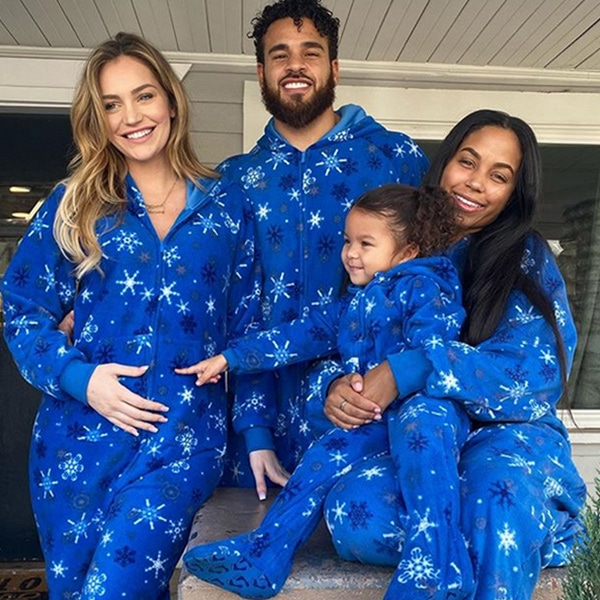 Instagram
When it comes to family, Cheyenne Floyd is the first to admit that hers isn't the most conventional.
As she continues to co-parent her daughter Ryder with ex-boyfriend Cory Wharton, the Teen Mom OG star has another element to her crew.
This season on the MTV reality show, Cory reveals that his girlfriend Taylor Selfridge is pregnant.
"It's definitely one big, weird, blended, dysfunctional family," Cheyenne shared with E! News exclusively ahead of Tuesday night's season premiere. "I actually helped them plan their gender reveal and gave them all the vendors and places to call. People hear that and they're like, 'You helped your child's father plan their new child's gender reveal?' and it sounds so weird but it works for us."
The MTV reality star added, "I would take our situation over us hating each other any day. It might be weird to some people, but it works for us."
While it's certainly been a process to get to this point, Cheyenne has always made it clear that she wanted the father of her child to be very involved from the very beginning.
"Our biggest thing since day one of Cory coming into Ryder's life was what kind of dad he wanted to be and what kind of parent he wanted to be," Cheyenne explained. "I wasn't going to allow him to be a Disneyland dad or an Instagram dad or just in the moment…He had to be 100 percent. I think from the beginning, he saw my mindset and appreciated it so that's why we co-parent so well."
Recently, the duo established a non-profit called Rage Regardless Ry that takes initiative in supporting the lifestyle changes that come with raising children living with metabolic conditions. The couple's daughter was diagnosed with a rare condition named VLCAD.
"She's doing good. With all the health stuff and viruses, we have to keep her close to us and take extra precautions," Cheyenne explained. "But she's doing well. She does regular doctor appointments and sees a nutritionist and a genetics doctor but everyone says her levels are really good. We are just trying to get through flu season."
Health obstacles aside, Cheyenne is also focused on continuing a healthy relationship with Cory and his current girlfriend. It certainly helps that Taylor gets along with Ryder so well.
"I'm not going to let my kid go anywhere if I'm not cool with the person and so we might as well be friends and get to know each other so it's a peaceful relationship," Cheyenne explained. "Ryder honestly loves Taylor and Taylor is really good with her and talks more about Taylor than her dad. I can't hate. I have to respect their relationship and Taylor and I have our own relationship."
And you never know when the rolls will reverse and Cheyenne will meet a special man in her life.
Watch:
"Teen Mom OG" Stars Give Updates on Their Men
"In the beginning of the season, viewers will see what happened between Matt and I," she teased. "I'm not really focused on dating. I'm just focused on being a good mom and starting the non-profit and the business. If someone comes into my life, I'd be open but I'm not looking. But if you have a nice guy that's single and six feet four inches tall, bring him my way. The DMs are open."
Teen Mom OG returns with new episodes Tuesday night at 8 p.m. only on MTV.