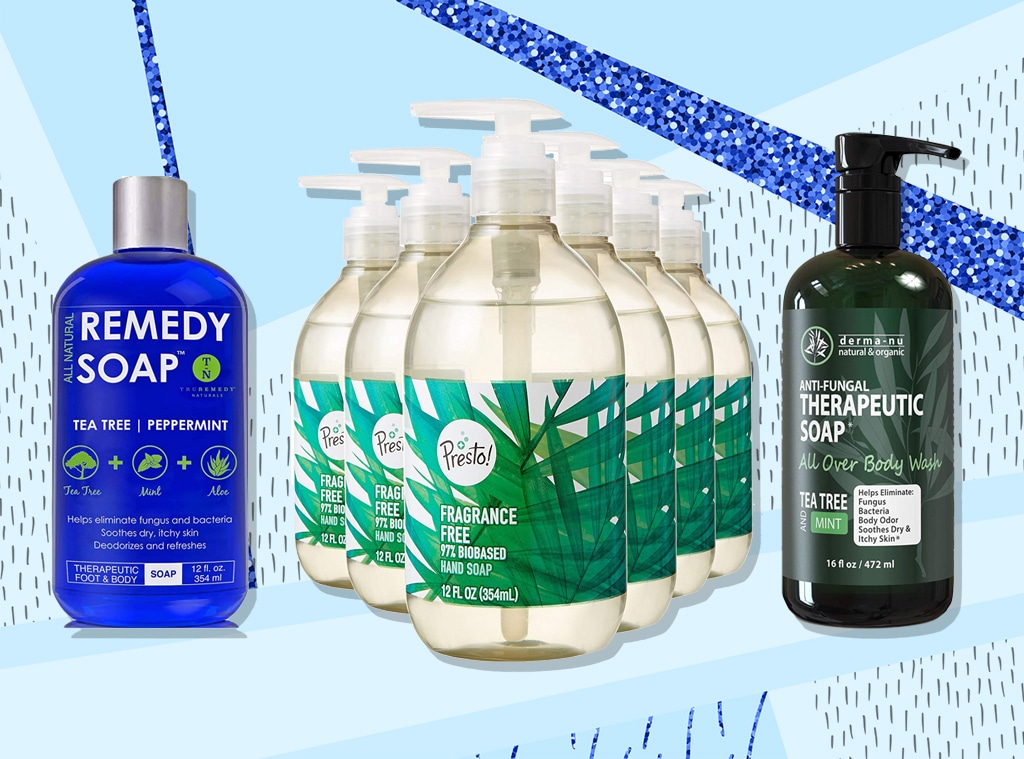 E! Illustration
We think these products are useful and we hope you do too. E! has affiliate relationships, so we may get a small share of the revenue from your purchases. Items are sold by the retailer, not E!.
Washing your hands throughout the day is always a must, but in order to protect yourself from all of the germs out there, you need to make sure you're using the best soap you can possibly use. 
The Center for Disease Control and Prevention (CDC), the leading public health institution in the United States, recommends that everyone should use both soap and water to clean your hands, because the surfactants in soap lift microbes from skin. Your CDC-approved hand-washing procedure should include lathering up your hands with soap, scrubbing your hands for at least 20 seconds, rinsing your hands under clean running water, and drying your hands either using a dry towel or you can air-dry them.
Below, we've rounded up our favorite antibacterial soap options that are available online.
How to Wash Soap
How To Wash's signature scents include Ocean Air, Lavender Fields, Fresh Lemon and Fragrance Free, and are all free of sulfates, parabens, SLS, SES, added dyes and are not tested on animals. Plus How to Wash's packaging features a step-by-step guide adopted from the World Health Organization to show users how to properly wash hands, stop the spread of germs and keep everyone healthy.
Aromavita Oregano Oil Soap
This Amazon's Choice product has over 200 five-star reviews and has pure oregano oil, which has antibiotic properties. The powerful soap is non-GMO, vegan-friendly, and cruelty-free.
Remedy Tree Tree Oil Soap
Cucina Coriander and Olive Tree Liquid Hand Soap
This liquid hand soap is phosphate-free, biodegradable and has a delicate coriander seed and olive wood scent. Cold-pressed olive oil acts as the base of the natural hand cleaner, which is packaged in a recycled bottle.
Derma-nu Antibacterial Soap
Help combat germs with this Derma-nu blend of tea tree, mint, menthol, wintergreen, and eucalyptus oils. It doesn't contain any synthetic fragrances, dyes, and parabens, along with being cruelty-free.
Mrs. Meyer's Clean Day Liquid Hand Soap - Lemon Verbena
This beloved brand makes cruelty-free hand soaps with thoughtfully chosen ingredients, which means there's no parabens, phthalates or artificial colors to be found in the product. The soap contains aloe vera and olive oil, along with a fresh lemon verbena scent.
Puracy Natural Liquid Hand Soap
Hydrate and cleanse your skin at the same time with the help of this doctor-formulated soap. It's fortified with Vitamin E, sea salt, and aloe vera, accompanied by a lavender and vanilla scent from pure essential oils.
Softsoap Antibacterial Liquid Hand Soap