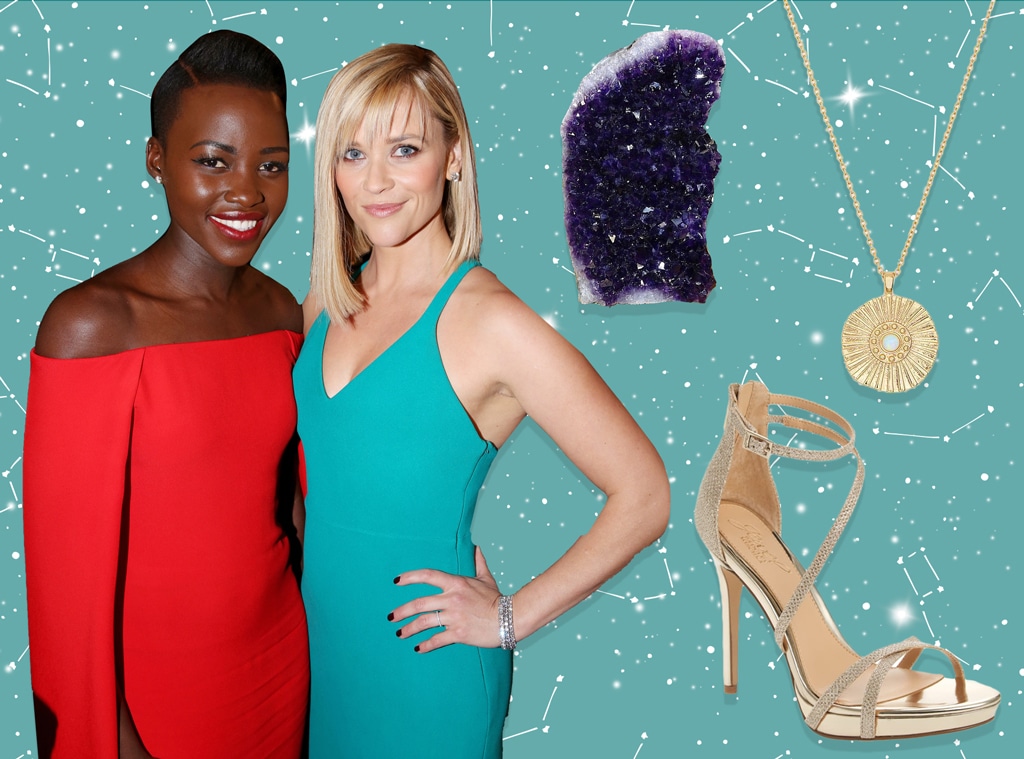 Shutterstock/E! Illustration
We love these products, and we hope you do too. E! has affiliate relationships, so we may get a small share of the revenue from your purchases. Items are sold by the retailer, not E!.
It's March! The month that comes in like a lion and out like a lamb, bringing us Daylight Savings Time, Spring Break, St. Patrick's Day and NCAA March Madness in between.
"Actions of any kind are magnified this month and require special care," forecasts our resident spiritual advisor Lisa Greenfield. "Slowly, slowly, slowly you can bring about much desired change, or you can rush and likely crash and burn. Anger loves speed, but speed is not your friend this month. Instead use all that Mars energy to coax, persuade, tempt your fear brain into trying something new. Think of it like shoe shopping; try on a slower response that appeals to you for size. If the new actions look good and feel good, they will serve you well, one step at a time. You have to break in those new responses just like you would a pair of shoes. Patience pays off and gives you both beauty and function."
Here's everything you need to March forward with intent... 
Pisces
"Oh, does patience pay off well for you this month, my tender one. Your attractor factor draws the good to you so easily you may not even feel the effort. You benefit from a great pair of boyfriend jeans to give you lots of comfort without sacrificing that sweet beauty that's uniquely yours. They may feel so good you have to have one in every denim wash too." 
Aries
"Patience, patience, patience will be rewarded, but first it will irritate you, my rushing ram. You need a fabulous button-up dress as a reminder that beauty is worth the step by step process. Yes, it takes time to fasten up all those little buttons, but don't you look smashing once you do?" 
Taurus
"Oh, the devil is in the details for you, stubborn bull. While most people this month need to slow down, you need to break free. Staying in a familiar safe space is where you live, with all your tangible things to reassure you. Invest in this Shattered Glass Ceiling Necklace to touch when you need proof of the beauty in breaking your limits and let go, let go, let go."
Gemini
"Oh, you are way too quick to ever slow down comfortably. So how can you make it more fun? Easy, grab Jenga Giant, and when your brain wants to rush ahead, stop and remember what's possible with a little finesse and craft. You've got that potential in you, time to bring it to life in a way that makes light of life's challenges and provides entertainment in the training." 
Cancer
"There is no way to tiptoe around it, you've got to muscle up for what's ahead, my tender crab. Add an amethyst geode to your desktop to reveal the beauty inside a shell when it's cracked open. The grounding energy of the earth and the loveliness of what's inside will give you strength and inspiration to overcome any difficulties with ease."
Leo
"Your words have power this month, my brave lion, so speak courage and not fear. The world needs you to roar bravely once you pause with love and remind others to do the same. Add a lip care kit to make sure what you say looks beautiful as you encourage others to stand firmly in the turbulent times."
Virgo
"Slow and steady helps you drop the bonds of old trauma and its limits this month, Virgo. It may not look perfect, but then healing never does. Get your best asymmetrical dress on and flaunt the imperfect splendor as proof of your beauty, just the way you are."  
Libra
"Patience and trust go a long way this month, my balanced one. You've had challenges, changes and even some loss. But new life arrives this spring. Invest in a gold sun pendant necklace that beautifully shows you day always follows night, and yours is about to dawn. Touch it when the shadows crowd in and trust the light will follow." 
Scorpio
"You are such calm, deep water this month for those who fear the changes around them. It's your gift, and you deserve to have something soothing for you too. Invest in a water fountain that soothes your soul when you hear it splash. It is proof that water can wear down all resistance eventually. Any opposition in life disappears over time with love and patience."
Sagittarius
"Bold is your nature and the world adores you for it. However they may need it in smaller doses this month. Put on your best boots and be ready to ride in to the rescue where your heart calls. Do wait for their invitation to help or you'll be resented more than rewarded, and who wants that?"
Capricorn
"You have been learning to harness the power in you like a spiritual ninja, brave Capricorn. So put on the strappy shoes to go with wisely handled limits and admire how good you look. Not all restraint is bad, in fact on the right shoe it's downright stunning. Wear yours proudly and remember how far you've come in spite of limitations."  
Aquarius
"Oh, you've got such a good month ahead, and still patience is required. Put on a soft silky gown to remind you to flow into things rather than race ahead. You can be bold with the color choice and restrained in your actions. That combination serves you so well and looks good in the winner's circle too."