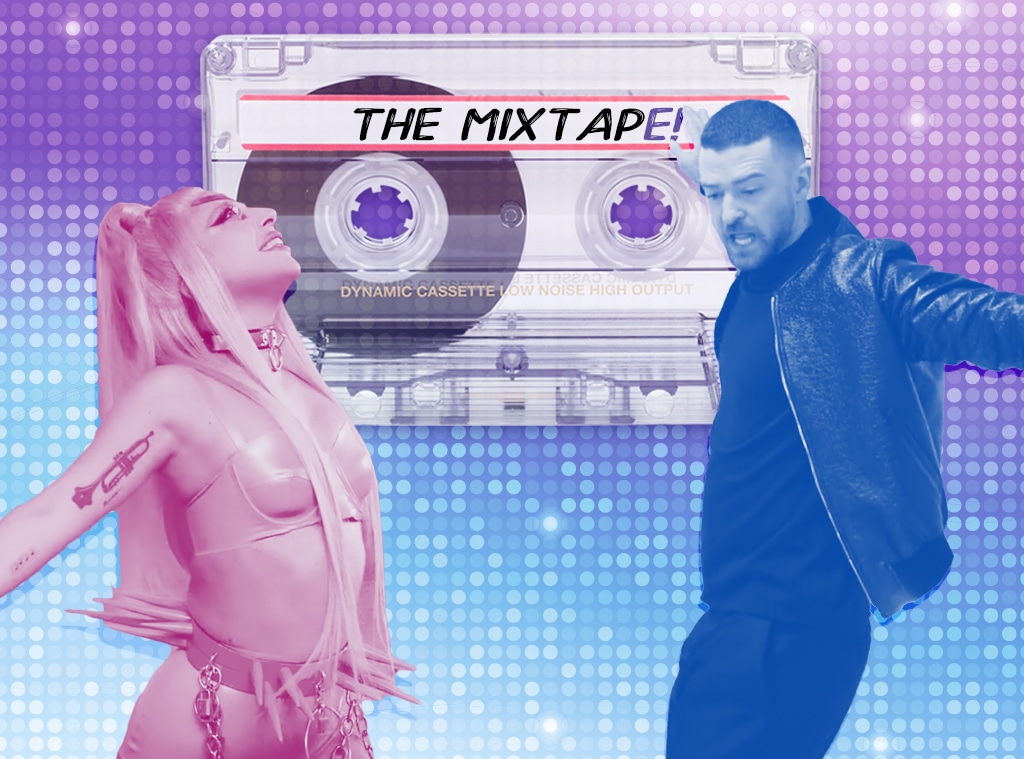 YouTube/E! Illustration
New music Fridays are a thrilling, yet daunting prospect for any music lover. 
It's essentially a weekly holiday where fan-favorite artists and fresh faces alike drop their latest offerings for all the world to hear, flooding streaming services and digital retailers with an onslaught of aural goodies. But who has the time to sit there and listen to everything before updating their playlists? There's just too much good stuff! (And, if we're being honest, usually a few stinkers, too.)
As it turns out, we do. Welcome to The MixtapE!
By now, there's no doubt that you've bopped around to "Stupid Love," the long-awaited return of Lady Gaga that finds Mother Monster returning to her dance-pop roots. And you've probably watched Taylor Swift and Harry Styles' videos for "The Man" and "Falling," respectively, over and over. But that's hardly all this week has to offer for music fans.
We've listened to (nearly) everything out there in the hopes of separating the wheat from the chaff. What follows are our picks for the best of the best on this New Music Friday. And just like that, your weekend playlist has arrived. You can thank us later.
Lady Gaga — "Stupid Love": Mother Monster has returned! A few weeks after the lead single for the still-untitled LG6 unfortunately leaked in its unfinished form, Lady Gaga has delivered her comeback track the way it was intended to be heard. And it was well worth the wait. The effervescent dance track, produced alongside heavy hitters BloodPop, Max Martin and Tchami, is an immediate joy and a return to the sound of her glory days after Joanne's sojourn into folk-pop. And the video, shot entirely on an iPhone 11 Pro? A total technicolor fever dream. The new era is off to fantastic start.
SZA & Justin Timberlake — "The Other Side": JT has worked his magic again, spinning gold on this lead single from the Trolls World Tour soundtrack, which he exec-produced following the success of its 2016 predecessor, which delivered unto the world the smash hit "Can't Stop the Feeling." On the disco-inspired delight, he wisely shares the spotlight with SZA, who comes to life here in a way we haven't quite heard her ever before. Expect to hear this one everywhere you go well into summer.
Mabel — "Boyfriend": Coming off a wildly successful 2019, Mabel isn't resting on her laurels. Rather, she's already gearing up for the release of her second LP, kicking off a new era with this fierce AF bop that finds the burgeoning pop princess making it clear exactly what she's looking for in a man. Good luck getting the insanely catchy chorus out of your head any time in the next week.
Christine and the Queens feat. Caroline Polachek — "La vita nuova": On the title track of her surprise drop EP, the French pop chanteuse born Héloïse Adelaïde Letissier teams up with alt-pop fave Caroline for a synth-driven slapper that finds the duo singing in both English and Italian. "I want to make love with this song," she sings in Italian at one point. After just one listen, she wasn't the only one.
ren — "i drive me mad": The rising Canadian singer-songwriter makes quite a splash with her latest single, a lyrical exploration of a panic attack with a sonic structure that brings to life the very feelings she's working through. As the song flows from the more languid verses into an absolute explosion of a chorus, you feel what she's feeling down into your bones.
Lianne La Havas — "Bittersweet": The English songstress behind 2015's absolutely sublime "Green and Gold" returns five years later with this stunningly soulful single. When the vocal opens up by the time she reaches the chorus, displaying the full power of her impressive pipes? Ain't nothing bitter about it.
Disclosure & Eko Roosevelt — "Tondo": The Brothers Lawrence have made their grand return with the five-track EP Ecstasy. And while they've stepped away from the pop star assists of the past (Lorde, Sam Smith, The Weeknd), opting for a more pure house vibe, the music's no less accessible. Take this track, built around an exceptional sample of the Cameroon musician they share billing with. There's something so instant about the supremely funky, globally-influenced song. A dance floor filler, for sure.
Diana Gordon — "Rollin": The latest release from the chameleonic chanteuse finds her melding rock, grunge and trap with a vocal that wouldn't be out of place in the church all to create something that's absolutely dripping with swag. "When I wrote this record, all I could think about was the live show," Gordon said in a press release announcing the banger. "It took me back to singing in the choir at my church in Jamaica, Queens. The culture of moshing feels a lot like the culture of black church. People shaking off them demons." 
Jessie Ware — "Spotlight": On the lead single for What's Your Pleasure?, her forthcoming fourth studio album, Jessie offers up the sort of sumptuous dance track that would've driven the folks at Studio 54 into a fit of ecstasy back in the day. Between her sultry vocal and the dizzying disco production, there's a warmth to the song that envelops you fully, beckoning you to the dance floor not just for the night, but for the rest of your damn life. It's that good.
Bryce Vine — "Baby Girl": For his latest release, the rising star wanted a club song, something perfect for the turn up. So he turned to Chad Hugo of The Neptune, who helped him and frequent collaborator Sir Nolan cook up this future smash. An intoxicating mix of pulsating production and Vine's smooth delivery, the track has an undeniable it factor that practically demands repeat listens. Is it too soon to declare contenders for song of summer? Because this thing will have you fanning yourself in no time at all.
Bonus Tracks:
100 gecs feat. Charli XCX, Rico Nasty, Kero Kero Bonito — "ringtone": The experimental EDM duo tapped a motley crew of artists for this remix of their absolutely bonkers track devoted to that one person whose texts and calls you actually pay attention to. With everyone on their A-game, the weird and wild track absolutely soars.
Max Leone — "Cautious": The up-and-comer delivers atmosphere in spades on this track, which bounces a bone-rattling beat off a cinematic guitar riff that acts as the song's spine. The production is just next level. And his vocal performance, which finds him battling the loneliness that comes along with independence, more than rises to the occasion. Keep an eye on this one.
Martin Garrix feat. Clinton Kane — "Drown": The Dutch DJ/producer taps the YouTuber for an unbelievably soulful vocal performance on this massive track that's tailor-made for Top 40 radio. With the right push, this one could be unavoidable come summer.
Hailey Whitters — "All the Cool Girls": On this standout track off the country up-and-comers second LP The Dream, she pays tribute to the time in a young woman's life when all that matters is going out with her girlfriends, backed by a production that hints at something slightly menacing just beneath the surface. The guitar throughout is just next level. 
Winnetka Bowling League — "CVS": Hilary Duff's hubby Matthew Koma and his band have a hit on their hands with this alternative ode to love. An immediately intriguing track that plays around with structure to great success. 
Happy listening!