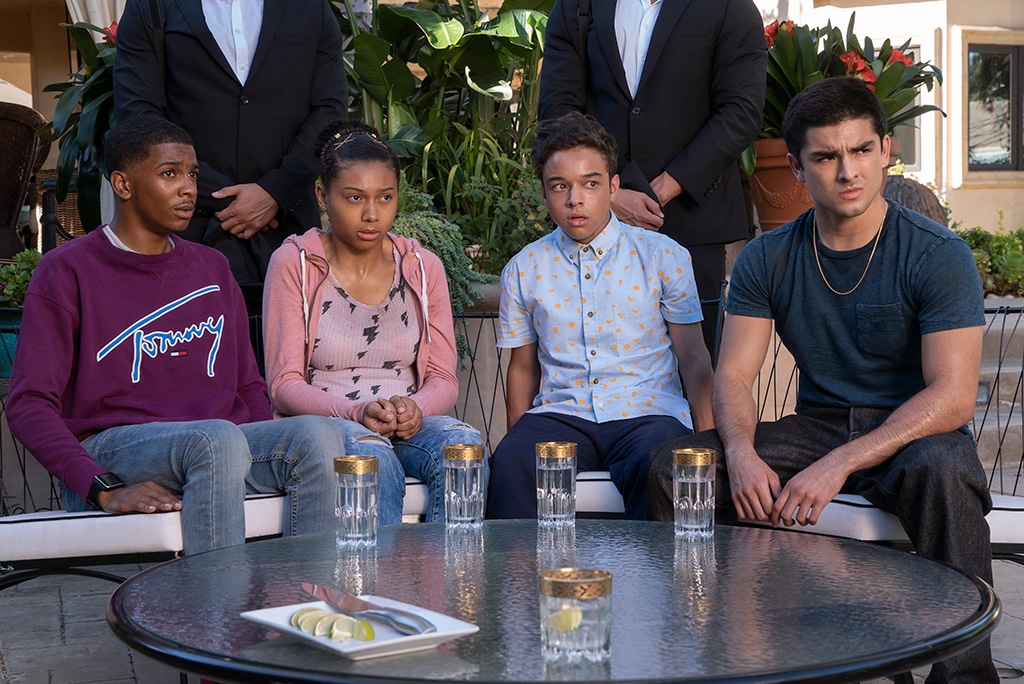 Netflix
So, they've been kidnapped. What happens next to the On My Block crew? You don't have to wait until the March 11 premiere of On My Block season three.
In the trailer below, Cesar (Diego Tinoco), Monse (Sierra Capri), Ruby (Jason Genao) and Jamal (Brett Gray) meet their captors, but they haven't been taken by force for any nefarious reason. No, they're being thanked—and tasked with a job. After the fall of the Prophet$, the head of the Santos gang tasks the crew with finding Lil' Ricky.
Yeah, that will go well.
Can they accomplish their task and keep the secret? Well, it's not much of a secret because Jasmine (Jessica Marie Garcia) clearly already knows.
Meanwhile, Jamal has a stalker, the crew is turning to Jasmine for protection—she even has her own "crime board"—there's grave digging and so much more.
Click play on the video below to see more. Looks like life in Freeridge is definitely not returning to normal.
"We're lose ends. We're already dead," Jamal realizes in the trailer above. Can they all escape unscathed yet again?
It's not all action. There's still plenty of comedy to come. Stay through the trailer for the finale scene with Ruby's abuela (Peggy Blow). Hey, she doesn't look at pictures of penises at the dinner table. She has some class.
On My Block, co-created by Lauren Iungerich of Awkward fame and Eddie Gonzalez and Jeremy Haft of All Eyez On Me, season three premieres Wednesday, March 11 on Netflix.