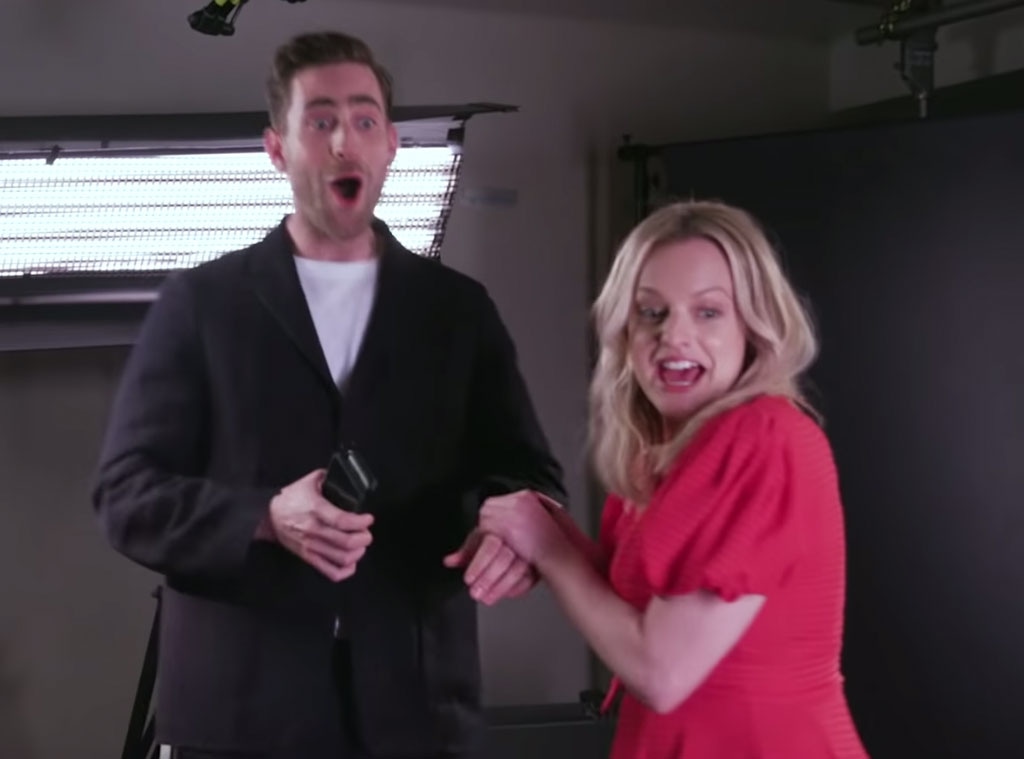 YouTube
It's only a video…it's only a video…
On Wednesday, Elisabeth Moss got a visit from the Invisible Man during an elaborate prank celebrating the release of her upcoming film The Invisible Man. Orchestrated by Universal Pictures during The Handmaid's Tale star's press junket, Experiential Director Josh Randall and the rest of the special effects team surprised Moss, her co-star Oliver Jackson-Cohen and the journalists that were interviewing them with supernatural encounters that appeared to be done by an invisible presence.
"So, the gimmick is that they interview one of the stunt coordinators," Randall said into the camera before beginning the prank. "At which point, we are free to do what we do." 
As the journalists settled in and prepare for their interviews, Randall and his team kicked things off by playing a suspicious ominous noise and making an unattended briefcase slam shut suddenly. Immediately shaken up, one journalist shrieked and yelled, "Okay, I think I'm going to run away now…Oh, okay. I'm done." 
Taking things up a notch for their next prank, the journalists gasped in fear as an unsuspecting item fell from the empty chair in front of them. Frightened from what he just witnessed, another reported shuttered, "Oh, my God. I hate it."
When it came time for Moss and Jackson-Cohen to sit in the hot seat, the Mad Men alum heard a terrifying muffled whisper. "I heard something!" she told her co-star, who couldn't help but laugh at her reaction. Still spooked, the whisper played again. This time, it clearly said, "You shouldn't be here," which scared Moss even more. 
Then, the duo heard a loud thump and immediately jumped back in fear. Meanwhile, the members of the press watched the special effects team's prank take a terrifying turn. As they continued to wait, the cloth banner displaying the film's logo began to move, making it seem like someone was walking behind it. For one unfortunate reporter, the sudden movement coincided with a loud thump and left him startled. Looking around the room for answers, he pleaded, "You gotta stop messing with me."
Watch:
Elisabeth Moss Wants a Rom-Com Next...Or Else!
After witnessing the "Invisible man" move the backdrop, another journalist immediately whipped out his phone to document the supernatural antics that were ensuing. "I was gonna ask questions," he said as he filmed the room. "but I don't think I can anymore."
Brace yourself and watch The Invisible Man prank in the scary video above! 
The Invisible Man hits theaters on February 28.