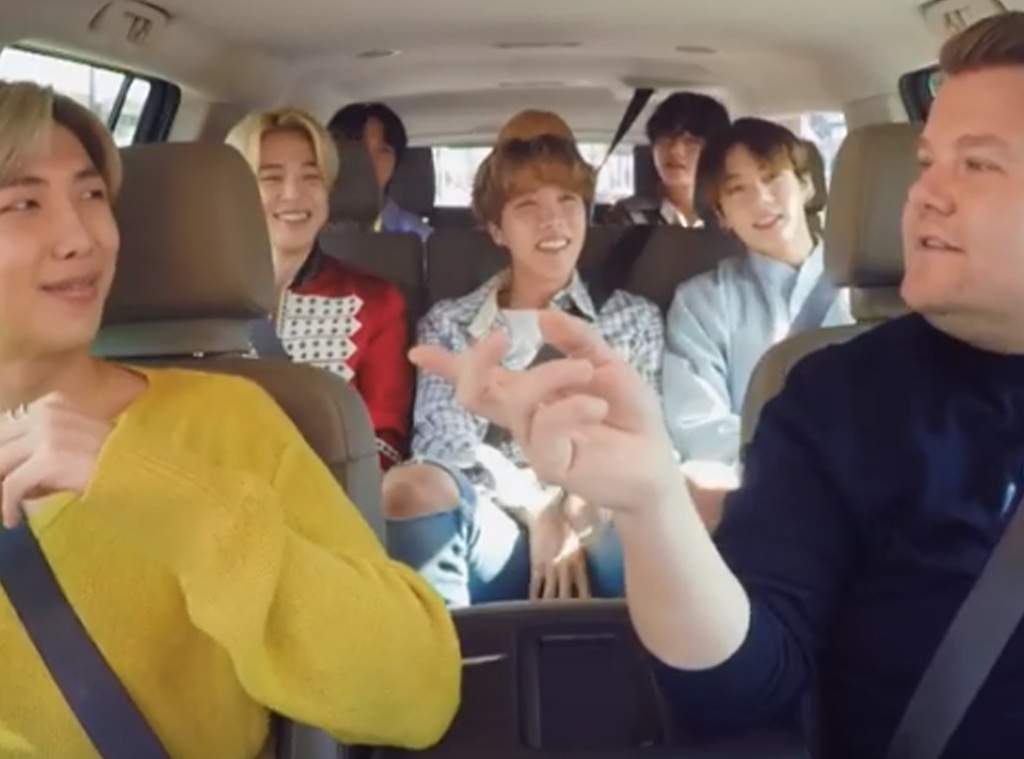 YouTube
This is truly epic.
On Tuesday, BTS joined James Corden for the latest installment of The Late Late Show's fan-favorite segment Carpool Karaoke. With each member of the popular K-Pop group accounted for, the Cats star drove V, Jungkook, Jimin, RM, Jin, SUGA and J-Hope around Los Angeles for an episode filled with tons of fun surprises.
Once he delivered his spiel about getting to work, James kicked things off by playing the band's song "MIC Drop" and it wasn't long before everyone was singing and dancing along. In true boy band fashion, BTS broke out in a synchronized dance as the song approached the pre-chorus.
Before diving into the next song, James made sure to clear the air. "This shouldn't shock you," he told RM, who is the only member of the group that speaks English fluently. "My Korean is not great." Curious to know how the singer learned English, RM credited Friends with helping him pick up the lingo.
As he explained that watching the hit '90s sitcom with the English subtitles made it easier for him to understand, James quipped, "So, for a few years, were you just walking around going, 'We were on a break! Could my English be any better?'"
For their next tune, the car jammed to Bruno Mars' "Finesse (Remix)" featuring Cardi B. Once they effortlessly rapped the "Bodak Yellow" singer's verse and harmonized beautifully for the chorus, Jungkook stole the spotlight with Bruno-esque falsetto—all while the late night host led the band in another synchronized dance.
Known for their passionate fanbase, James asked the band to weigh in on some of the nicknames they've dubbed from the ARMY. Jin began, "I'm WWH: Worldwide handsome, you know?"  A fan of the nickname, James joked, "That's so weird because that was my nickname in school." Chiming in, V said, "I'm Good Boy." But perhaps the best one goes to Jimin, who has been nicknamed "Mochi" after the popular Japanese dessert.
Next up, BTS sang their single "ON," which is featured on their new album Map Of The Soul: 7. And again, Jungkook showed off his pipes by mastering the high notes.
Watch:
BTS Reveals Their Dream Collabs & Tour Must-Haves
After singing along to their song "Black Swan" and vibing with the band, James seized the opportunity to join BTS: "I will quit this job in a heartbeat to join BTS...I was born ready." To put his boy band skills to the test, BTS insisted that the funnyman audition for a spot in the group. 
Still trying to convince BTS that he'd be a valuable asset, James continued, "I think I can come as a dancer 'cuz I've got moves. I've got moves. I dance every week. I dance every week at PLYOJAM, my exercise dance class and I am telling you now, I can keep up." 
Determined to show them that he's got what it takes, James brought BTS to his dance studio and busted some moves. 
Watch James audition to be in BTS in the hilarious video above!