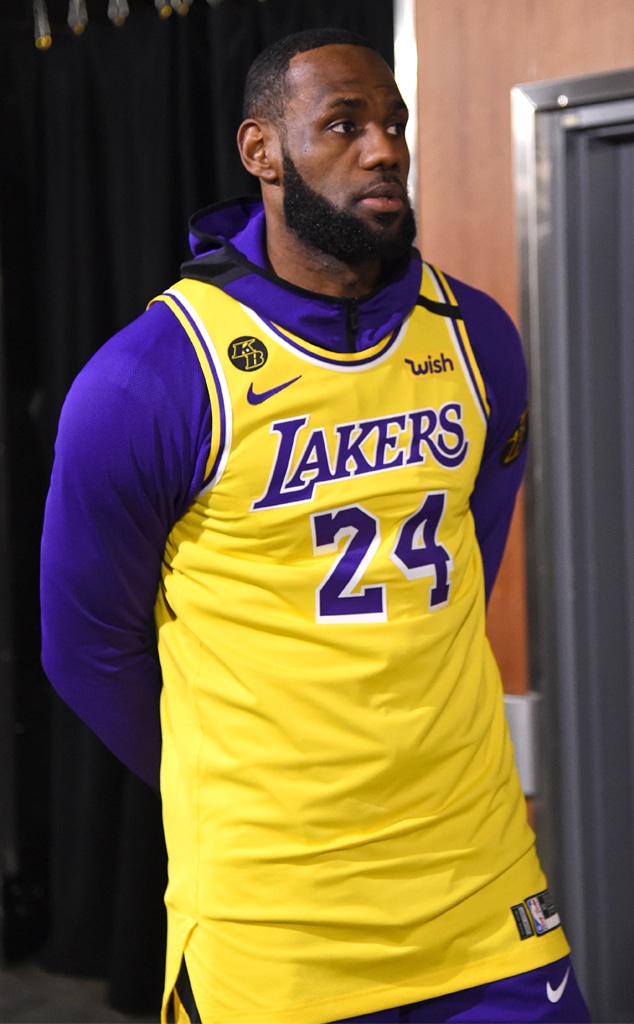 Adam Pantozzi/NBAE via Getty Images
LeBron James is not willing to engage with speculation regarding his attendance at yesterday's celebration of life for Kobe Bryant. 
The Los Angeles Lakers star and close friend of Kobe appeared notably absent from the service, which was attended by several of LeBron's teammates as well as other famous figures in the NBA. The cameras often panned to the celebrities seated inside Staples Center, but never to LeBron. 
The Los Angeles Times asked LeBron whether or not he skipped out on the memorial, but didn't get a clear answer on the matter. 
"Like I said, man, it's just... I respect your question, for sure," he said during Tuesday's shooting practice. "It was very emotional, very emotional day, very tough day for myself, for my family, for everyone involved."
LeBron did, however, give praise to Vanessa Bryant, who eulogized her late husband and daughter, Gianna Bryant, in a touching speech. 
"The one thing I can come out of this saying is how strong and how bold and how powerful Vanessa is to stand up there the way she did, to give the speech the way she gave that speech. I commend her. My heart is with her family still, with his three daughters that's still here, with his wife, with his mom and dad, his sister. It was just a very difficult day. Obviously celebration, but it was a difficult day for all of us. I'd appreciate it if we can move on tonight. That would be great," he told the publication. 
LeBron said he doesn't expect to ever get "closure" from the tragedy, but looks forward to continuing Kobe's mission as an athlete and father. 
"I mean," explained, "we continue to live on his legacy and continue to have our hearts heavy with both sadness and with happiness for his family that are still here. So, it's not a closure. But it was a celebration, which was well received from not only the Laker faithful, not only the family here, but everybody around the world."
Diego Azubel/EPA/Shutterstock
At the Lakers' first game since Kobe's death in late January, LeBron reflected on Kobe's impact in a heartfelt speech. 
"The fact that I'm here means so much to me," he said at the time. "I want to continue on with my teammates to continue his legacy, not only for this year but as long as we get to play the game of basketball that we love because that's what Kobe Bryant would want."
Kobe and Gianna were among nine individuals killed in a helicopter crash on Sunday, Jan. 26. Vanessa has since filed a wrongful death lawsuit against the helicopter company. 
To honor Kobe and Gianna's legacy, the Mamba and Mambacita Foundation provides opportunities to young people through sports. For more information or to donate, please click here.