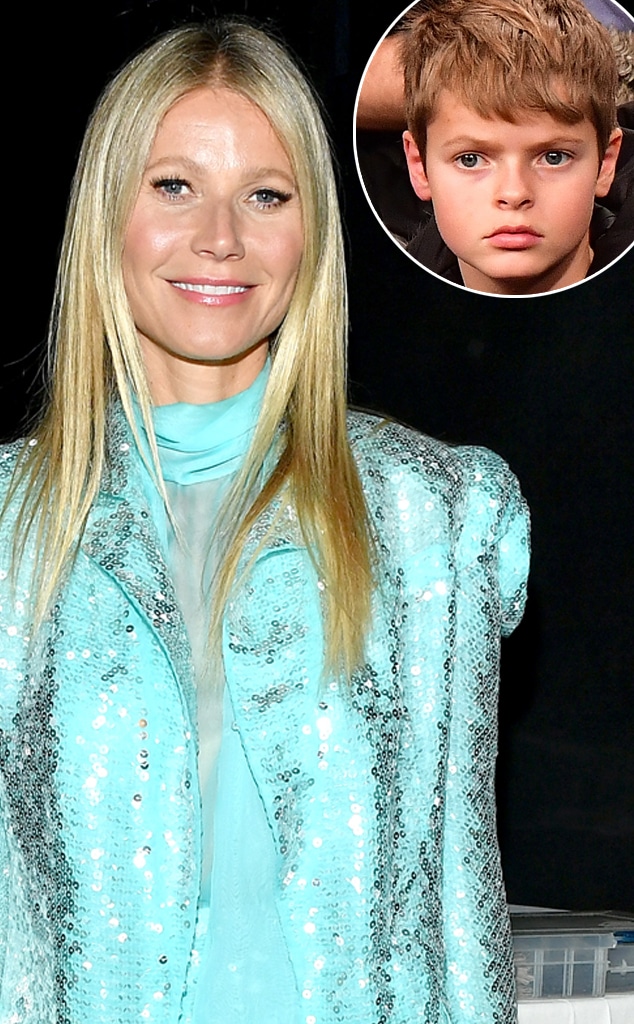 Amy Sussman/Getty Images for WGAW, James Devaney/GC Images
Gwyneth Paltrow isn't a regular mom, she's a cool mom!
On Monday, the Goop founder stopped by Jimmy Kimmel Live and revealed that her children Apple Martin, 15, and Moses Martin, 13, who she shares with ex Chris Martin, have started to take an interest in her wellness empire. While on the topic of how her kiddos have embraced her Goop-ness, Gwyneth admitted that her son was actually quite embarrassed by it at first. 
"You know, it's funny actually, my son said to me the other day—he was like, 'You know, at first, I thought it was really embarrassing that there were vibrators on your website. And now I think it's a great thing,'" she told host Jimmy Kimmel. "He's like, 'You're a feminist, mom. You're a badass.' I was like, 'Thank you.'"
Amused by her son's reaction, the late night host quipped, "Wow, yeah, no, I don't think I've ever said the word 'vibrator' with my mother in the room. You guys are really ahead of the game there."
While gushing over her teenagers, Gwyneth reflected on how Apple and Moses have slowly begun gravitating towards her and Chris' professions.
"You know, it's so interesting. I think, it must be pretty surreal for them to be the kids of somebody—well, both of their parents are in the public eye," she explained. "And it's interesting to watch them evolve along with our careers as we go."
As Goop followers know, vibrators aren't the only buzz-worthy products that the brand sells on their website. Last month, Gwyneth made headlines for its latest innovation: A candle called "This Smells Like My Vagina."
And of course, the Avengers: Endgame star brought a sample to Jimmy Kimmel Live so that Jimmy could test the controversial fragrance. Before the comedian could smell the scent, Gwyneth offered a little context as to where the name came from.
"One day we were smelling different fragrances and I was joking around and I said—'[This smells like my vagina]'—as a joke," she assured Jimmy. "But then I was like, 'Wouldn't that be cool if somebody actually had the guts to do that? What a punk rock feminist statement to have that on your table.'" 
Watch:
Why Gwyneth Paltrow Came Out of Semi-Retirement at 2020 Golden Globes
Gwyneth added, "And then [Heretic Fragrance founder Douglas Little] made it. I thought he just made me one as a joke and the next thing I knew it was on my website."
After hearing the story of how the candle was born, Jimmy lit it up and cautiously offered his take on the scent. "It smells nice," he said. "It smells a little masculine, really. It has kind of woody…I don't know. But it doesn't really…you know what I'm saying?"
Once Gwyneth reassured Jimmy that the candle wasn't actually intended to smell like a vagina, she explained that its purpose is to spread an empowering message: "It's supposed to…you know, I think, a lot of women have grown up with a certain degree of shame or embarrassment around this part. So, we're like, 'Yo!'"