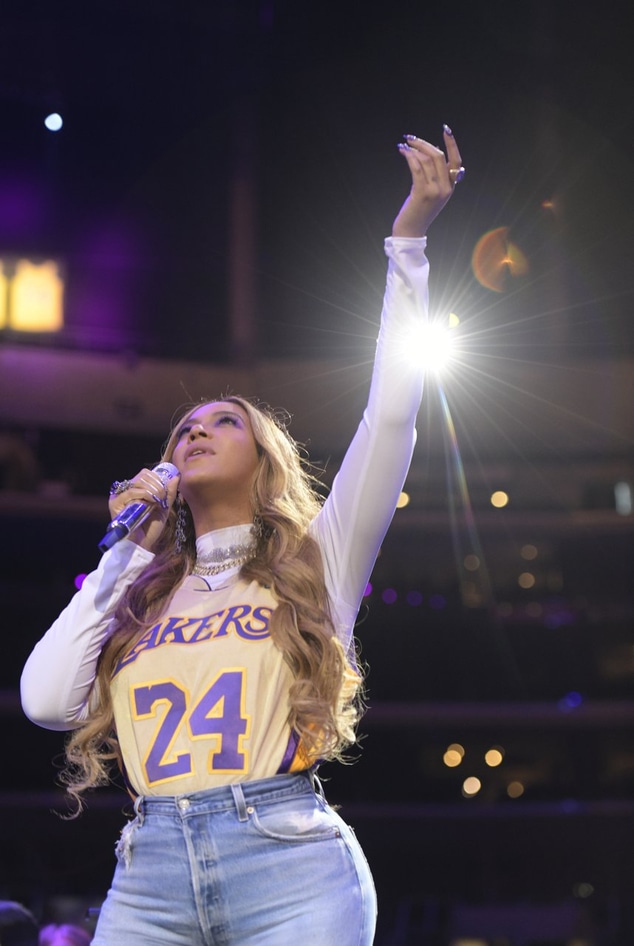 https://beyonce.com
Beyoncé is honoring Gianna and Kobe Bryant with new photos from her rehearsal for their celebration of life.
Shortly after the the celebration of life, the singer posted behind-the-scenes pictures to her website, including up close images of her personalized nails and the custom jersey she had made for the occasion. She had Kobe and Gigi's names emblazoned in small rhinestones across her almond-shaped, purple nails. Then, she complimented the manicure with two rings with purple jewels and diamonds, as well as two flashy chokers. 
For makeup, the musician had her eyelids covered in a shimmering purple shade and a natural nude lip. 
During the rehearsals she also wore a gold jersey with the number 24, in honor of Kobe. However, she changed into a bright and bold gold suit for her performance of "XO" and "Halo."
"I'm here because I love Kobe and this was one of his favorite songs so I want to start that over but I want us to do it all together and I want you to sing it so loud that he hears your love," she explained as she kicked off the celebration of life. 
She said more in an Instagram post after the celebration drew to a close. In the emotional message, Beyonce promised Kobe she "will continue to diligently for your Queens." She added, "You are deeply missed beloved Kobe."
Other artists who performed at the event include Alicia Keys and Christina Aguilera. Both artists gave stunning renditions of classical songs, like Ludwig Van Beethoven's "Moonlight Sonata," which Keys said was one of Kobe and Vanessa's "favorite numbers."
To honor Kobe and Gianna's legacy, the Mamba and Mambacita Foundation provides opportunities to young people through sports.  For more information or to donate, please click here.