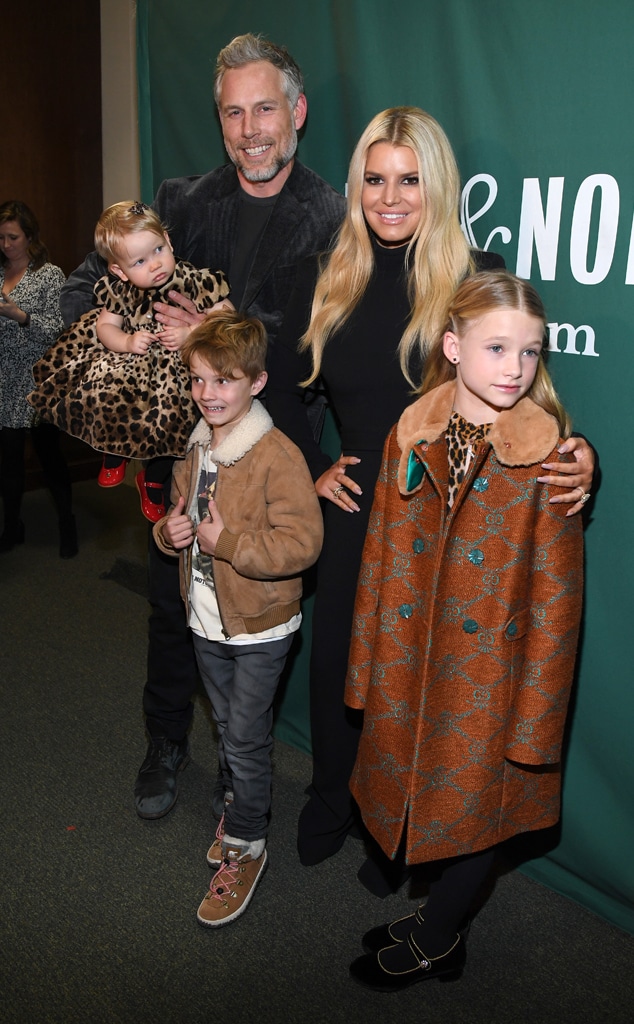 Kevin Mazur/Getty Images
The gang's all here!
On Tuesday, Jessica Simpson's book signing in New York City proved to be a family affair. Joined by her husband Eric Johnson and their three children Maxwell Drew, 7, Ace Knute, 6, and Birdie Mae, 10 months, the Open Book author signed copies of her emotionally raw memoir and looked effortlessly chic in her structured black jumpsuit.  
Excited to have her family by her side, Jessica posed for pictures with her brood inside the Barnes & Noble in Union Square. Channeling her stylish mama's love of statement-making coats, Maxwell looked like Jessica's mini-me in her oversized printed coat, which she paired with a leopard print top. Also donning the fierce print was baby Birdie, who rocked a leopard dress. Looking cool like his dad, Ace wore a shearling bomber jacket and matched his shoes to his brown outerwear.
She even treated her older children to a mini book signing of their own. For Maxwell, the "With You" singer wrote, "Maxwell, you are my best friend! I [heart] you." And for Ace, she wrote, "Ace, you make my life the best ever! I [heart] you."  
Motherhood is a common theme in Jessica's memoir and she one topic that she's been open about is how her children played a role in helping her get sober. After detailing how she spent her Halloween in 2017, the "Public Affair" singer reveals that she had been drunk the entire day and that she had her first drink at 7:30 A.M.
That morning, Jessica and Eric were on their way to a school assembly for Maxwell. She writes, "It was 7:30 in the morning and I'd already had a drink." Later in the day, the couple hosted a Halloween party, where she nearly broke the Internet with her now-iconic Willie Nelson costume, and admits that she "zoned out" while her team got her ready. Realizing she wasn't in any state to help out, she withdrew herself as Eric got the kids get dressed for the festivities.
"I was terrified of letting them see me in that shape," Jessica continues. "I am ashamed to say that I don't know who got them into their costumes that night." Still feeling ashamed, she says she took an Ambien sleeping pill that night and "slept in, afraid to see them, afraid I had failed them. She adds, "I hid until they left, then drank."
Crediting that day with encouraging her to get sober, she revealed that Eric "gave up drinking the second I did." She writes, "He said, 'I'll do it with you, babe.' It was like no biggie and he hasn't gone back or looked back."
Reflecting on her decision and how far she's come, Jessica says that she's focused on living in the present and prioritizing her sobriety. "I had room for so many wonderful moments that I would have missed: sober for the first time ever in my studio and seeing Maxwell grab a guitar," she says. "Ace in pajamas he put on himself, proudly adding a sticker to his bedtime chart."
She continues, "There's just no better gift. There's no better gift I can give my kids, there's no better gift I can give my husband. More importantly, there's no better gift I can give myself."